Sponsor SustMeme Magazine, published online twice daily (details below).
Or, for fast and flexible buy-now advertising menu:
please click here 

for SustMeme Magazine; and
Sponsorship – Exclusive benefits as Magazine Sponsor include:
• Branding banner + hyperlink on masthead;
• Acknowledgement + hyperlinks in descriptive text;
• Option to embed within Sponsor's own website;
• Mention daily by name in Tweets to 24,000+;
• Promotion and branding here on SustMeme blog.
With a choice of package options available, the cost* of Sponsorship is either: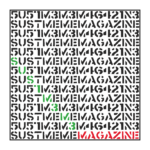 • A: 12 Months –

£295.00
;
• B: 6 Months –

£175.00
; or
* Value Added Tax (VAT) is charged at the Standard Rate, where applicable.

If you are interested in raising market profile, supporting your presence on social media and reaching out to valuable new audience numbers in their thousands, then please do contact SustMeme to discuss our working together.
Look forward to hearing from you.