Making the transition work, from policy to plant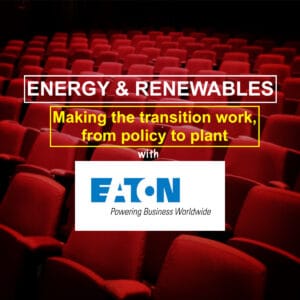 This deep-dive series of three 1-hour debates over three days took place 8/9/10 February, 2022. Hosted by SustMeme in association with Eaton the global power management company, it explored the future of Energy & Renewables.
Over the course of three 60-minute sessions with moderated panels of industry experts, these free-to-access live webcasts took attendees on a journey — from the big-picture issues around policy legislation, grid innovation and Big Tech, via the delivery challenges of project finance, engineering, procurement, construction and cyber threats, through to the campaign for clean and green switchgear, free from electricity's 'dirtiest' gas.
To view the webcasts in full and free, you can access the on-demand recordings via the Eaton website.
---
Day #1: Policy
Date: Tuesday, February 8, 10:00am (CET)
Topic: Energy Transition & Renewables
Title: How Policymakers, the Grid and Big Tech are Key to Net Zero
In the aftermath of a flurry of Net Zero target announcements made either side of to COP26, our opening panel debate looked at the evolving policy landscape, assessing both the level of future ambition and the reality of current achievement (or lack thereof).
The webinar explored the growth potential for renewables as the primary driver of the energy transition, featuring insights from the panel around both global policy frameworks and individual pieces of regional and national legislation.
The discussion also assessed the implications for grid operators throughout Europe, addressing a range of key questions including resilience planning; decentralised and distributed generation; connection, capacity and storage; and the impacts of EV charging.
In addition, the debate spotlighted the critical role to be played by the decarbonisation of the ever-expanding digital revolution, as our lives at home and work go online and virtual.
Big Tech is already the largest investor in renewable energy generation worldwide and one of the fastest-growing client groups for clean-power projects. It is moving far beyond the status of a disruptor and with over 70% of new economic value forecast to be digitally enabled over the next decade, the market is getting bigger and more valuable, too.
At the core of all this growth are data centres running 24/7 behind the scenes. With their energy consumption and carbon footprint increasingly under scrutiny, our opening debate will focus on the pioneering work done to date and the challenges that remain for the sector to address.
PANEL Day #1:
Miguel Herrero Cangas, Senior Policy Advisor, Solar Power Europe;
Dipali Raniga, Public Affairs and Policy Manager, National Grid ESO;
Helen Dewhurst, Senior Associate, BloombergNEF; and
Dirk Kaisers, Distributed Energy Management Segment Leader, Eaton.
Moderator: Jim McClelland, Founder & Editor, SustMeme
You can view the webcast in full and free via the on-demand recording on the Eaton website here!
---
Day #2: Project
Date: Wednesday, February 9, 10:00am (CET)
Topic: Solutions for Utility-Scale Solar PV
Title: Making Solar Work: From Investment to Project Delivery & Security
As we progress towards a clean power future, solar PV has a central role to play in the sustainable energy transition, with as much as 194GW of new capacity forecast to come online during 2021, according to the latest trends and analysis from BloombergNEF.
However, the successful adoption and development of utility-scale solar at a project level is not without its challenges, including issues around investment, innovation in technology, changes to regulations, complexities of grid connectivity and security, plus storage.
The second webinar in this live debate series zoomed in on the particulars of project success for the likes of solar farms and parks, starting with insights from the panel around finance and funding, providing an expert perspective from the investment community, plus looking at the issues around security and cyber threats.
The discussion then turned to the specifics of engineering, construction and procurement (EPC), with dedicated input around both the challenges faced, and the solutions sought.
The panel explored some of the more common areas of potential conflict on a project, including the challenge of an EPC company typically seeking to reduce its CapEx cost, at the same time as the investor involved is trying to boost performance and add revenue.
Opportunity to optimise the electrical balance of plant (eBOP) was also discussed as a means of helping an EPC company meet its performance guarantees cost-effectively.
Finally, this deep-dive debate considered security issues — from concerns around climate-induced power shortages and outages, plus the threat of terrorist activity and the rising incidences of headline-making cyber-attacks, as the industry goes digital.
PANEL Day #2:
Gregor Paterson-Jones, Managing Partner, NGPJ Consulting;
Alex Brierley, Co-Head, Octopus Renewables;
Rafael Narezzi, CTO, CF Partners; and
Dirk Kaisers, Distributed Energy Management Segment Leader, Eaton.
Moderator: Jim McClelland, Founder & Editor, SustMeme
You can view the webcast in full and free via the on-demand recording on the Eaton website here!
---
Day #3: Plant
Date: Thursday, February 10, 10:00am (CET)
Topic: Sulphur Hexafluoride — SF6 Gas — and the Challenge of Going SF6-Free.
Title: A Call to Action on the 'Dirtiest' Greenhouse Gas in Clean Energy
You cannot see it or smell it, but SF6 is the worst gas on the planet for global warming.
SF6, or sulphur hexafluoride, is a colourless, odourless, synthetic gas, with chemical properties that make it an excellent insulator, suited for use in electrical switchgear
However, according to the United Nations' Intergovernmental Panel on Climate Change (IPCC), SF6 tops the list of the most potent greenhouse gases with a global-warming potential 23,500 times greater than that of CO2 over a 100-year period. Once in the atmosphere, it becomes a very long-term problem, remaining active for up to 3,200 years.
SF6 is already banned in the EU from use in a range of everyday items, such as double glazing and tennis balls, but it is still allowed in switchgear. As a result, 80% of total global emissions of SF6 are caused by the energy industry.
With revelations already published in mainstream media around ongoing use of SF6 in green and renewable electricity, SF6 can no longer be considered an industry secret and the time is now right for transparency and accountability.
Therefore, this final webinar, focused on plant, discussed both the climate risk posed by SF6 and the opportunity for the electricity industry to fix the problem by going SF6-Free in switchgear specification and installation, so eliminating the danger of leaks and emissions.
With revisions to the F-Gas Regulation in prospect, the Live Broadcast Series on Energy & Renewables with Eaton then close with a Call to Action for the clean power sector — and indeed all players in the electricity industry — to go SF6-free.
PANEL Day #3:
Dr Axel Friedrich, International Expert for Transport and Sustainability, DUH;
Vincent Brongers, Expert Asset Management, Stedin;
Professor Manu Haddad, School of Engineering, Cardiff University; and
Frits Besseling, Electrical Systems and Solutions Business Development Manager, Eaton.
Moderator: Jim McClelland, Founder & Editor, SustMeme
You can view the webcast in full and free via the on-demand recording on the Eaton website here!
---