Want to know Who's Who in your sector? Need to identify the people and organisations of influence and interest? Welcome to the SustMeme e-Data open platform, home to the unique easy-to-access Top 500 global rankings designed to help you do just that… for free!
Followed by over 29,000 people on Twitter as @SustMeme, Jim McClelland enjoys a high-profile social-media presence, publishing popular global rankings online.
Released weekly in association with a Sponsor partner, each ranking provides a league-table-style index of the Top 500 influencers worldwide in a key sector. Please click links below to visit: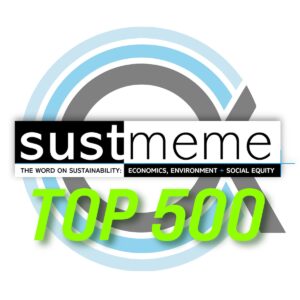 • (Mon) Built Environment Top 500;
• (Tue) Climate & Energy Top 500;
• (Tue) #GreatLakes500;
• (Wed) Building Services Top 500;
• (Fri) CSR & Business Top 500.
---
• Subscribe FREE to stay up to date with news and Top 500 rankings from SustMeme.
---
To receive notifications and news via Twitter about launches and updates for all Leaderboards, please follow the dedicated stream at: @SustMemeTop500.
• FAQs: SustMeme User Guide — learn how best to enjoy the benefits of being in a Top 500 — understand scoring, track performance, edit profile + more, with helpful answers to the most Frequently Asked Questions!
---
• Want to Sponsor a SustMeme Top 500? View Rates & Benefits here.