In response to growing interest and involvement worldwide in the SustMeme Top 500s, we have created a User Guide to provide explanatory background to the curation of the rankings, information about scoring and profiles, plus a few handy hints and tips.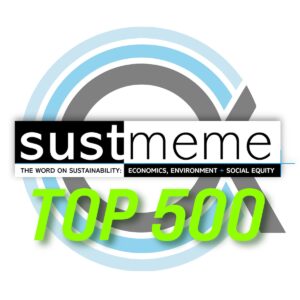 • What is a SustMeme Top 500?
Each SustMeme Top 500 is a league-table-style Leaderboard which ranks Players on the basis of scores measuring interactions and influence across social media. The rankings update every week. Having a Twitter account is a pre-requisite for inclusion, as it provides the original data source.
• Who manages the Top 500s?
The Top 500s are curated and managed by Jim McClelland @SustMeme, with the data published by McClelland Media Ltd. They are hosted on the Rise ScoreBook Platform.
• How does the scoring work?
The Top 500s rank Players on the basis of scores that measure interactions and influence across social media.
• How do people get nominated for inclusion as a Player?
To nominate a person or organisation for potential inclusion in a ranking, please simply Tweet the Twitter Username of the nominee to @SustMemeTop500, using the relevant hashtag for the Top 500 – #Top500ADDBuilt, #Top500ADDCNrg, #GreatLakes500, #Top500ADDBuildingServices, or #Top500ADDCSR. Self-nomination is also perfectly acceptable – don't be shy!
• I have been ranked as a Player – what does it mean?
Being included in a Top 500 as a Player means SustMeme research has indicated that you are a party of influence and note within the particular specialism, industry, or field covered by the ranking concerned. The recognition is its own reward: there is no cost to being a Player; neither are you necessarily required to do anything, as such.
• How can I track my performance and receive updates?
To receive notifications and news via Twitter about launches and updates for all current and future Leaderboards, please follow the dedicated stream at @SustMemeTop500.
To receive dedicated email notifications each week for the particular Top 500(s) in which you are featured, simply click the blue Follow button at the top of the ranking. The weekly email bulletin will highlight the top 20 Players and highest climbers, plus keep you updated on your own score and progress, week-by-week.
• Are there any hints or tips for improving my score and ranking?
The Top 500s reward engagement and interaction, rather than just activity. So, the rankings promote Players who share interesting content, but also ReTweets and @Mentions, replies and likes — in other words, it is good to talk!
Simply pumping out one-way promotional messages on social media, without participating in debate, or even listening to others, is rightly regarded less favourably.
• What options do I have as a Player about inclusion?
Rise has helpfully provided an extensive KnowledgeBase for Players and we have listed (with links) some of the most common FAQs below:
• How do I view and edit my profile, change my name and photo?
• How can I track my performance in detail?
• How do I get notified about changes?
• How can I leave a Scorecard?
• How do I deactivate my Rise profile?
• Finally, what is Sponsorship about?
To help fund the ongoing publication of each Top 500, SustMeme looks to partner with a Sponsor organisation or brand of relevance to the ranking. Further details of Sponsorship costs, benefits and packages can be found here.
Hope all the above info helps – any questions or queries, please do contact SustMeme.