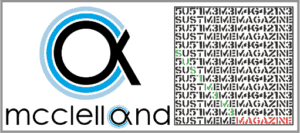 SustMeme Magazine is an online newspaper curated twice daily via Twitter by Jim McClelland, on the paper.li platform. It provides a fast and convenient way for those interested in sustainability to keep abreast of breaking stories from around the world.
To view, you have several options, all free: Use the widget window below to cycle quickly through some of the highlights and headline stories; access the embedded version underneath for enhanced text and images; or, finally, view in full here on the paper.li platform, where you can also take the mag on subscription.
For details of branding and promotional opportunities in SustMeme Magazine, including Sponsorship & Advertising rates, please visit the Media Shop. You can also view and 'Like' the magazine Facebook Page.
---