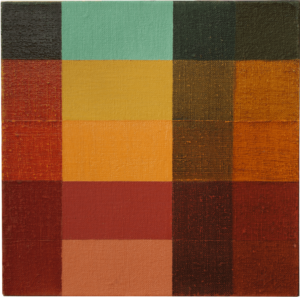 Art meets activism in the form of Green Perspectives, a dedicated eco segment of an auction taking place this weekend. The show within a show has been specially curated to present the work of 10 independent artists reacting and responding to climate change and associated environmental concerns.
The gallery of handpicked contemporary artworks will go under the hammer on Saturday, 28th March, when The Auction Collective host their popular Spring Auction — which, due to Covid-19, will be taking place online for the first time ever, via Invaluable.
Amongst the artists showing and selling will be Goldsmiths MFA Fine Art graduate David Mullen, who is working with plant-based non-toxic paints.
Eco-Geo 1 (Lot 41, est £150-250, pictured above) is the first in an ongoing series of geometric abstractions based on the colour interactions of naturally occurring pigments. With its title a play on the term Neo-Geo, this work specifically explores how plant-based glazes can colour natural earth pigments. Four different iron oxide pigments (a burnt sienna, Indian red and two yellow ochres) and a terre verte have each been glazed with yellow from weld, blue from indigo and red from madder.
Mullen's stated ambition is to create oil paintings that, if unsuccessful, could safely be put onto a compost heap rather than into landfill. As an ecologically sustainable artform, they must therefore be biodegradable and non-toxic.
Angela Gilmour presents a series of paintings responding to her experience on an Arctic Circle residency program. Her photo-realist works look at the way nature is affected by climate change, plus the impact of human actions.
Her painting 78° North, Sint Johnsforden (Lot 45, est £480-580, below) forms part of a series of pieces made during her three-week expedition over the Summer Solstice, in 2019. The Arctic Circle residency invites international artists, scientists and innovators to live and work aboard a Barquentine Tall Ship while sailing the waters of the international territory of Svalbard, an archipelago just 10 degrees latitude from the North Pole.
Gilmour's practice concentrates on the study and survey of shorelines and the way we interact with these natural borders. This theme is urgent in the context of ongoing and increasing discussions around climate change and the commons, with topics ranging from global warming to extractivism, from land possession and use, to sustainable consumption.

Established in 2017, The Auction Collective offer a new way of looking at art buying and was founded by former Christie's auctioneer and Post-War & Contemporary Art expert, Tom Best. The Collective create affordable, fun and easy-to-understand auctions of emerging and under-represented art. To make buying more accessible, each artwork is capped at under £3,000, there are no buyer's fees and bidding in the Spring Auction starts at just £50.00. Auctions are free to view, but people will need to sign up to Invaluable in order to bid.
---
Further Reading:
---
>>> Do you have sustainability news to broadcast and share? If you would like to see it featured here on SustMeme, please use these Contact details to get in touch and send us your Press Release for editorial consideration. Thanks.
---