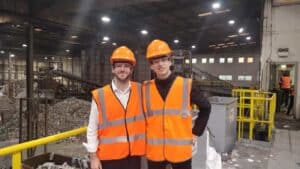 Two award-winning start-up businesses, launched to help drive the transition to a circular economy, have received £10,000 in prize money from Grosvenor Britain & Ireland.
It is not perhaps often that AI-driven analytics and camping equipment rental share the same stage, but the teams from Recycleye and Tempo Market are joint winners of the Social Impact Award, in the Venture Catalyst Challenge (VCC). VCC is the flagship innovation and entrepreneurship programme at Imperial College London which supports and accelerates student innovations.
Since the programme's inception in 2013, VCC alumni teams have gone on to raise millions in investment, launch spin-outs, merge with tech companies, and, most importantly, have a profound and positive impact on the wider world. This year, 260 start-ups submitted ideas and business plans to the awards scheme with 25 invited to pitch live to a panel of judges.
A recent spin-out from Imperial College London, Recycleye is working to accelerate the world's transition towards a circular economy through AI-powered waste sorting and analytics. By developing technology that can provide smarter characterisation, ubiquitous tracking and automated sorting of waste at scale, the application has the potential to drastically increase the rate and efficiency of recycling.
Tempo Market also supports the shift to a more circular economy by providing access to camping equipment when you need it, without having to buy, store, or clean it. The company's rental model involves repairing and re-using equipment, so helping to reduce the volume of products manufactured and transported. Renting equipment also cuts the cost of camping making it more accessible to a greater range of people.
If we hope to meet both the challenge of the climate emergency and sustainability in general, there is an urgent need to innovate and invest in transformative ideas, says Director of Sustainability and Innovation, Grosvenor Britain & Ireland, Tor Burrows:
"Many of the solutions to the big issues we've faced over time have been born on university campuses, and we are proud to be supporting two young businesses with ideas that can change society for the better. In their pitches, both Recycleye and Tempo Market demonstrated a hugely credible solution to their identified issue and the potential to have a positive impact."
As part of a progressive global property business, Grosvenor Britain & Ireland chose to support the Social Impact Award due to its emphasis on positive action and its alignment with the company's purpose of creating financial and social benefit.
---
Further Reading:
---
>>> Do you have sustainability news to broadcast and share? If you would like to see it featured here on SustMeme, please use these Contact details to get in touch and send us your Press Release for editorial consideration. Thanks.
---