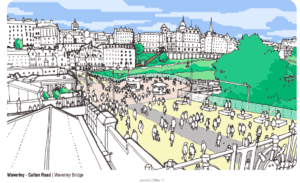 The leaders of London's pedestrianisation movement have launched a new report calling for lessons learned from temporary pandemic distancing in the urban public realm to inform future plans. Advocating car-free days, the study also flags up opportunities for global land conversion away from roads and parking. As well as the UK capital, it considers scenarios through to 2030 for other cities including New York, Milan, Edinburgh, and Vancouver, too.
In general, the new report calls for walking and cycling measures supporting global coronavirus recovery to be made permanent as part of climate emergency response — arguing, for instance, that 'pop-up cycle lanes should not pop-down'.
In London, the City of London, Soho and Covent Garden could all be pedestrianised this summer, hailing the start of a global land use and transport transition to zero emissions.
The Scape the City report by London Car Free Day highlights how the over-allocation of space to parking and roads — amounting to 30%-60% of all urban areas — could be freed up to enable businesses to operate outdoors, support rewilding, and foster local food production.
The land currently occupied by cars in just 10 major European cities is worth close to £1 trillion, suggesting a massive opportunity for local governments to capture more value from public land.
In London, roads take up 80% of all public space, and the City could lead the way in the global conversion of redundant road and parking space to alternative, higher value uses, starting with the pedestrianisation of the Square Mile this summer. Soho, Covent Garden, and other town centres across London could follow the City's example and embrace pedestrianised high streets.
The report shares a vision of London with hundreds of traffic-free town centres and adds weight in support of action to realise the economic and environmental benefits of a systematic global transition to car-free city centres.
Heading into Car Free Day celebrations across the city this September, the London Summit publication highlights future scenarios for cities including London, Milan, Paris, New York, Edinburgh, and Vancouver.
Such major urban environments are working to permanently remove private cars from their city centres. This would not only achieve the zero-emissions transport and land-use targets set in the Paris Agreement, but also help enable safe social distancing. All of the cities have plans to convert redundant road and parking space into new public realm, parks, housing and commercial space.
According to Car Free Day Co-Founder Hamish Stewart, London should be looking build on The Mayor's Streetscape Strategy to catch up with other cities such as Paris, Brussels, Jakarta, Addis Ababa and Edinburgh that now have regular car-free days, car-free weekends:
"New approaches are needed to address congestion, road safety, and the public-health scourge of air pollution. The introduction of regular Car Free Days across the city could improve the quality of life for all Londoners through the coronavirus recovery and beyond.
"Car Free Day 2020 is an opportunity to test the transformative potential of traffic-free streets — to catalyse long-term reductions in air pollution and to improve London's transport system and land use."
There are also insights to be drawn from recent experience, said report contributor, Sheila Watson, Deputy Director of the FIA Foundation:
"We have seen flashes, in these difficult times, of how cities can function with fewer motorised vehicles, a small sliver of hope in a dark moment in the world's history."
The chance to build back better is real, added Daisy Narayanan, Director of Urbanism at Sustrans, who is working on the pedestrianisation of the Edinburgh town centre:
"During the pandemic, people all over the world have rediscovered their neighbourhoods, their streets, their green spaces. People have discovered how easy it can be to get around on foot, or by bike — if they just have the space.
"The pandemic has laid bare the inequality of access to space. It has also revealed how much space we currently sacrifice for cars. There is a once-in-a-lifetime opportunity to make our places greener, safer and better for people."
---
Further Reading:
---
---
>>> Do you have sustainability news to broadcast and share? If you would like to see it featured here on SustMeme, please use these Contact details to get in touch and send us your Press Release for editorial consideration. Thanks.
---