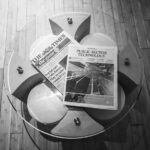 New writing… Pleased to say I have had another piece published in The Times newspaper, as part of a special report on Public Sector Technology by Raconteur. It looks at the emergence of Bristol as a leading advocate and achiever in smart city thinking and doing, tacking challenges and pioneering solutions:
• 'Why Bristol's a city of the future'.
There is also a short footnote box-out (please scroll down) on smart traffic management in the city where cycles outnumber cars – 'Copenhagen's Intelligent Infrastucture'.
The full 16-page Public Sector Technology report is available to view/download here.