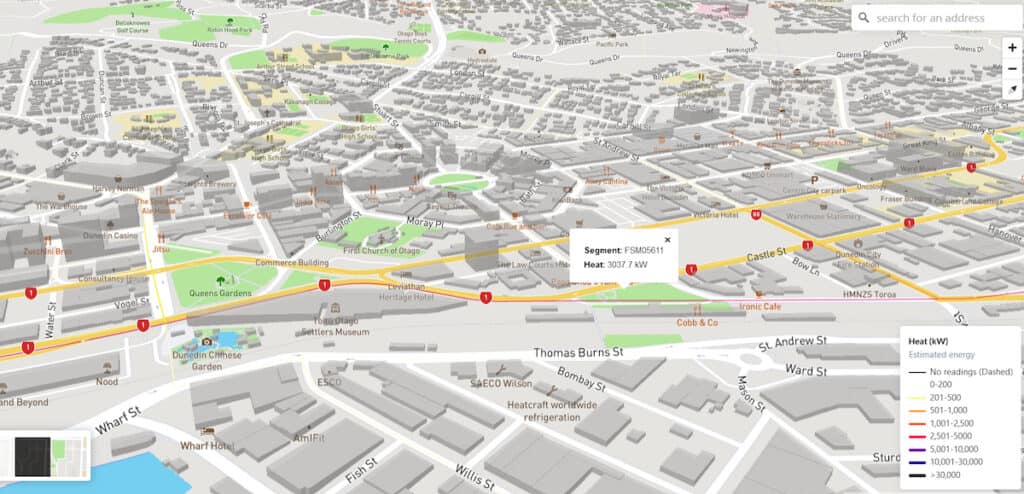 Every single day, every city on the planet is flushing vast and valuable quantities of thermal energy literally down the drain, wasting the opportunity to recycle wastewater heat. In response, a new information and global mapping portal for wastewater heat recycling has been launched by a leading group of experienced engineers and expert map-makers.
This free-to-access and easy-to-use resource provides both general information about the wastewater heat recycling topic (written in non-technical language to make it easy to understand for people from all sectors) and a web map portal for displaying wastewater network heatmaps, city by city.
The aspiration is for the mapping portal at Wastewaterheat.online to be truly global, showing the built environment of every city in 3D and providing details on the thermal energy available within wastewater networks, as well as supporting information on how to capture and recycle this resource.. Three cities in New Zealand have already been uploaded, complete with wastewater network heatmaps for Christchurch, Dunedin, and Nelson.
The portal allows building owners or designers to go to the library of city wastewater network heatmaps and perform a simple search for their site address. If their city has a heatmap uploaded, they can quickly assess whether wastewater might be an option to supply the heating or cooling they need.
Starting a conversation with the wastewater utility concerned would then be the next step facilitated via the portal, bringing people together.
With multiple improvements and additions planned over the next couple of months — including more case studies and map markers with information links — the portal remains a work in progress, but offers dynamic opportunities for interaction and collaboration, explains one of the Founders of Wastewaterheat.online, Nick Meeten:
"We are excited to see people using the portal and giving us some early feedback. It is a great way for cities to quickly decarbonise using existing infrastructure by harnessing the power of untapped thermal energy for super-efficient heating and cooling. This energy is an increasingly valuable asset and the wastewater heat involved must start being recycled sustainably to stop this precious resource being wasted all around the globe."
The thermal energy potential of wastewater
The amount of thermal energy available within wastewater is enormous — typically 20%-35% of total housing energy and up to 40% of low-temperature heat used in commercial and industrial sectors gets turned into hot water, which then goes down the city sewers, simply flushed away, every single day..
The high-level value of this energy was recently estimated to be worth around £30 billion a year to a large UK water utility, based on actual prices currently being paid on-site for wastewater heat.
According to the team behind Wastewaterheat.online, the barriers to recycling this energy are:
Lack of awareness — many people just do not know about wastewater heat recycling; and
Disconnects that exist between different sectors, or 'worlds' — namely, the worlds of water and buildings, also those above and below ground, plus the public- and private-sector worlds.
The portal and associated heatmaps effectively form the bridge needed to bring these worlds together.
Ultimately, it is a matter of recognising the resource hidden in the so-called waste, concludes Meeten:
"There is an old saying in English 'Don't throw the baby out with the bathwater', which means 'Don't discard something valuable along with something undesirable'. This fits perfectly with wastewater heat recycling — the water may be dirty, but the energy within it is clean! So, don't throw out the clean energy with the dirty water."
---
Further Reading:
---
---
>>> Do you have sustainability news to broadcast and share? If you would like to see it featured here on SustMeme, please use these Contact details to get in touch and send us your Press Release for editorial consideration. Thanks.
---