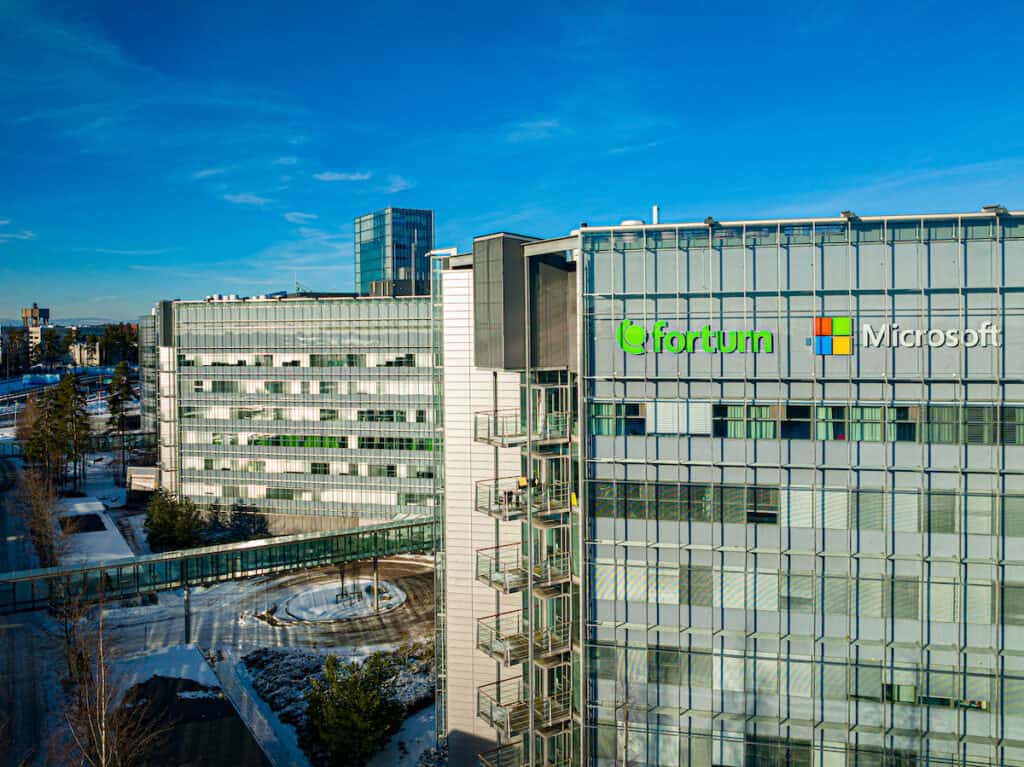 One of the sustainability challenges of digitalisation concerns the energy consumption and efficiency of data centres, plus the recycling of the waste heat produced. The logical solution being pioneered in Southern Finland is to build the state-of-the-art tech facilities that generate the waste heat directly in a location where distribution infrastructure already exists and there are tens of thousands of users set to benefit from the clean energy supply.
This month, therefore, Finnish state-owned energy firm Fortum and global tech giant Microsoft have announced a unique collaboration project, which will see Fortum capture the excess heat generated by a new data centre region to be built by Microsoft in the Helsinki metropolitan area, in Finland.
The region will feature what's Microsoft calls Azure Availability Zones — unique physical locations equipped with independent power, networking, and cooling for additional tolerance to data centre failures.
The data centres will use 100% emission-free electricity, and Fortum will transfer the clean heat from the server-cooling process to homes, services and business premises that are connected to its district heating system. The waste heat recycling concept from the data centre region will be the largest of its kind in the world.
The concept is unique in that the location for the data centre region was chosen specifically with waste heat recycling in mind. It makes use of Fortum's existing district heating infrastructure, the second largest in Finland, for heat capture and distribution. The infrastructure includes about 900km of underground pipes that transfer heat to approximately 250,000 users in the cities of Espoo and Kauniainen, plus the municipality of Kirkkonummi. Fortum has collaborated with the local cities and municipalities for years in order to pave the way for these investments. 
Developing climate solutions together with partners is a strategic priority for the Finnish energy company, but does not necessarily call for complex scenarios, says President and CEO of Fortum, Markus Rauramo:
"Sometimes the most sustainable solutions are simple ones: By tapping into waste heat from data centres, we can provide clean heat for homes, businesses and public buildings in Espoo's and the neighbouring communities' district heating network in Finland, and reduce about 400,000 tonnes of CO2 emissions annually."
District heating is the most popular method of heating premises in Finland. A district heating system is infrastructure used in cities that generates and captures heat and distributes it to buildings on a large scale. Heat is transferred in hot water that is pumped through pre-insulated underground pipes. The new generation of district heating is based on replacing fossil fuels with smart and flexible solutions, such as renewable electricity, heat pumps and waste-heat utilisation. Artificial intelligence will optimise the operations of the entire system.
Once the new data centre region's waste-heat capture is in operation, a total of about 60% of the area's heating will be generated by climate-friendly waste heat. Of this, 40% results from the data centre region, with the rest coming from other waste heat sources such as purified waste water.
The project could prove a trailblazer for similar collaborations, says Sanna Marin, Prime Minister of Finland:
"The decision to invest in a data centre that also provides surplus heat to our cities and homes is a win-win. It will accelerate Finland's digital growth while making our energy system greener. I also hope that this collaboration can serve as a model to other countries and cities looking to achieve the double transformation of climate neutrality and digital competitiveness."
The culture of working together is a strength, adds Mika Lintilä, Minister for Economic Affairs of Finland:
"It comes naturally to us Finns to search for partnerships and solve global issues together. Fortum's work is an excellent example of this: it has developed this project with long-term climate targets in mind and has found a world-class partner in Microsoft."
Sustainable digitalisation calls for innovative thinking
The joint project takes place at the intersection of two megatrends: digitalisation and the energy transition. Fortum and Microsoft are bringing together world-leading expertise and innovation in heating, energy efficiency solutions and cloud technology to support the growth and competitiveness of the Helsinki metropolitan area, plus that of Finland in general, through sustainable decarbonisation and digitalisation.
The scheme is a flagship for a tech-forward Finland, says Cindy Rose, President of Microsoft Western Europe:
"Finland is at the forefront of digitalisation and innovation, and the nation's world-class companies and forward-looking public sector organisations are leading in the digital transformation of their sectors. We are incredibly proud of the novel way this data centre will sustainably power Finnish digital transformation, while also heating Finnish homes and businesses and helping cities achieve their emissions targets. In this unique collaboration, Microsoft and Fortum combine their world leading expertise in cloud computing and sustainable energy solutions, transforming the design thinking of data centres of the future."
The investment on the part of Microsoft comes in response to Finland's growing demand for high performance, sustainable computing. The new data centre will play a pivotal role in accelerating the digital transformation of the government, businesses, customers, and partners across Finland.
According to a recent IDC study, over the next four years, Microsoft, its ecosystem, and cloud customers together could generate more than €EUR17.2bn in new revenue and add over 11,000 skilled IT jobs to the Finnish economy.
Once live, public sector institutions, enterprises, small businesses, and individuals will be able to benefit from Microsoft's world-class enterprise-grade security, privacy and compliance services with ultra-low data latency and the ability to store data in Finland.
Microsoft has more than 45,000 customers and 2,000 partner companies in Finland, with leading users, including Nokia, Elisa, Fortum, S-Bank, Tietoevry, HUS, Vero and Valtori, all positive about the potential for a new Azure Region.
Ultimately, all such achievements at regional level should also be seen as steps towards shared global climate goals, concludes Nebahat Albayrak, SVP Corporate Affairs, Safety and Sustainability at Fortum:
"If we are to limit global climate warming to 1.5°C as required by the Paris agreement, we need innovative thinking to drive change at higher pace and bigger scale. This investment in the data centre region is a flagship example of climate action and circularity. The project is the first of its kind of this size, but we hope to inspire further development in the use of waste heat to deliver clean energy."
With 20,000 professionals and operations in 40 countries, Fortum and Uniper form a European energy group committed to enabling a successful transition to carbon neutrality for everyone. Uniper is Fortum's strategic subsidiary and one of its five business segments. As Europe's third largest producer of CO2-free electricity, their growth businesses focus on clean power, low-carbon energy, and infrastructure for tomorrow's hydrogen economy.
---
Further Reading:
---
---
>>> Do you have sustainability news to broadcast and share? If you would like to see it featured here on SustMeme, please use these Contact details to get in touch and send us your Press Release for editorial consideration. Thanks.
---