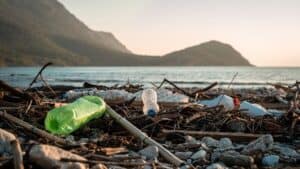 New writing… Pleased to say I have had another article published in The Times newspaper — as part of a special Raconteur report into the Future of Packaging — exploring the emergence and effectiveness of mandatory measures to tackle the problem of plastic pollution.
As plastic waste continues to grow, there are serious doubts over the effectiveness of voluntary initiatives. In fact, despite years of appeals and encouragement, plastic pollution is only getting worse.
The question has to be asked: Is it time to drop the carrot, and pick up the stick?
The carrots have been positive and plentiful. There are international public-private projects, such as the Afri-Plastics Challenge, backed by the Canadian government, which is tackling the alarming rise in plastic waste across Africa. There are other efforts in domestic markets, like the UK Plastics Pact from the Waste Resource Action Programme (WRAP).
Industry-led initiatives abound, too. Last June, for example, five of the UK's biggest names in branded fast-moving consumer goods — Mars UK, Mondelēz International, Nestlé, PepsiCo and Unilever — formed a £1m Flexible Plastic Fund to make recycling more economically viable for operators and easier for consumers. Individual retailers like Boots also have their own programmes.
For all this wave of activity, the scale of the plastic problem appears to dwarf the efforts of business and industry. The reality is that the world produces twice as much plastic waste as it did two decades ago, with the bulk of it ending up in landfill, incinerated or leaking into the environment. Just 9% of plastic waste is successfully recycled, according to the OECD.
So, must we resort to regulation, legislation, taxes and bans? Are sticks the answer?
The full published feature article is free to access and examines in much greater depth the issues, opportunities and challenges of tackling the problem that packaging has at present with plastic waste. It comes with expert comment and insight addressing the burning the question: Plastic pollution: is it time for mandatory measures?
The full 12-page Future of Packaging report 2022 is available to view/download here.
---
Further Reading:
---
---
SUSTMEME: Get the Susty Story Straight!