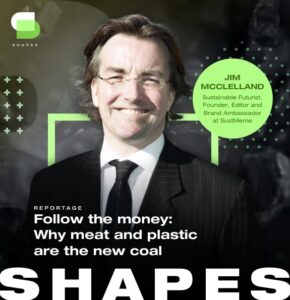 New writing… Exploring issues around divestment, ethics and sustainability, my first article for SHAPES ask whether meat and plastic are about to follow in the dirty footsteps of coal, as both private individuals and global institutions increasingly choose to make their money align with their values.
To date, fossil fuels have been the primary target for divestment — with coal considered Planetary Enemy No 1. Now, the divestment drive is gathering pace and scope, as environmental, social and governance (ESG) criteria continue to go mainstream. The questions my editorial piece asks is what is forecast to come under fire next? What is effectively set to become the 'new coal'?
It is not all meat and plastic, I should add, only the worst kinds — namely, the factory-farmed and single-use varieties, that are socially and environmentally unsustainable. The argument is that, as the cash starts to exit and avoid these commodities and markets, they become financially unviable and economically unsustainable. The so-called 'assets' behind animal cruelty and marine pollution become liabilities on the balance sheet.
In the divestment world, the business case for factory-farmed meat and single-use plastic is fading and failing, fast.
SHAPES was set up as a space for analysis, as well as a meeting place for expressing different views, opinions and ways of understanding our world. You can read the article in full, plus check out my introductory video, by clicking the link below:
Follow the money: Why meat and plastic are the new coal
(Please note, the article is also available in translation in both Spanish and Portuguese.)
---
---
SUSTMEME: Get the Susty Story Straight!