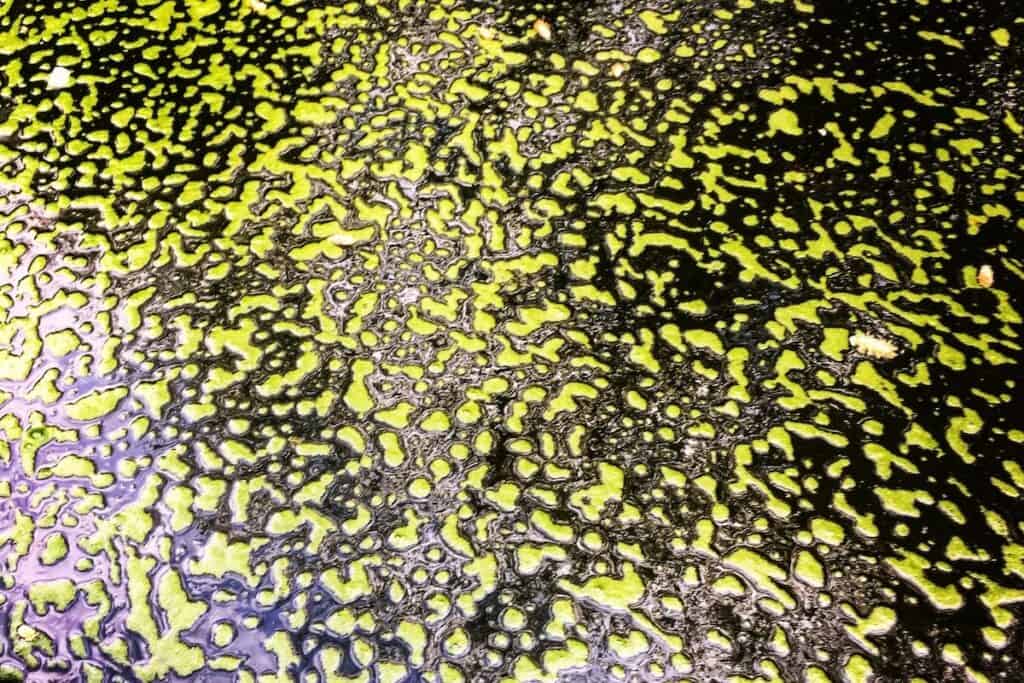 New research from the world's largest ESG data-science firm has found that one in four climate-related ESG risks globally was linked to greenwashing in the last 12 months, up from one in five last year.
Moreover, the trend is getting worse year-on-year. In the banking and financial services sectors, the new report from RepRisk reveals a huge increase in the number of climate-related greenwashing incidents.
The research also uncovers a connection between greenwashing and social washing. Almost one-third (31%) of publicly listed companies linked to greenwashing over the last five years are also linked to social washing.
Banking and finance still run on oil and gas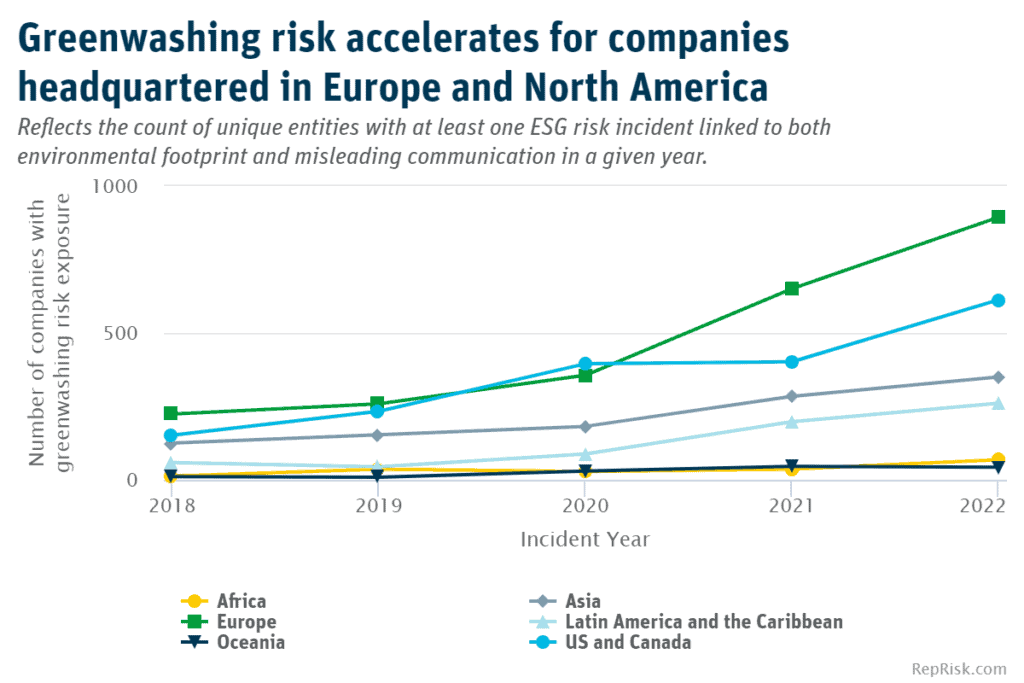 While greenwashing incidents have accelerated globally, the practice has experienced significant growth in Europe and the Americas, particularly in the banking and financial services sectors.
In the past year, the banking and financial services sectors saw a 70% increase in the number of climate-related greenwashing incidents. Over 50% of these climate-specific greenwashing risk incidents either mentioned fossil fuels or linked a financial institution to an oil and gas company.
Such incidents are not happening in isolation. Regulators are increasingly aware of the scale of the problem.
In May 2023, the European Banking Authority utilised RepRisk data on greenwashing to categorise misleading communication in the banking sector and measure its rise in the European Union over time.
Lack of accountability keeps door open to abuse
The structure of greenwashing has also evolved and become more complex, even since last year's report.
Greenwashing now goes beyond directly misleading consumers — its scope extends to include pledges, certifications, and commitments. The lack of accountability helps to further obscure greenwashing, making it possible for companies to benefit from setting future goals, without addressing issues head on.
False reputational gains are tempting, but risky, explains Dr Philipp Aeby, CEO and Co-Founder of RepRisk:
"Expectation of competitive advantage derived from an image of sustainability has opened the door to greenwashing and social washing. A lack of accountability has helped keep this door open for a long time. Despite this, in recent years symbolic sustainability has backfired for many as the media, public, and regulators criticise unfounded claims."
Social washing revealed across spectrum of issues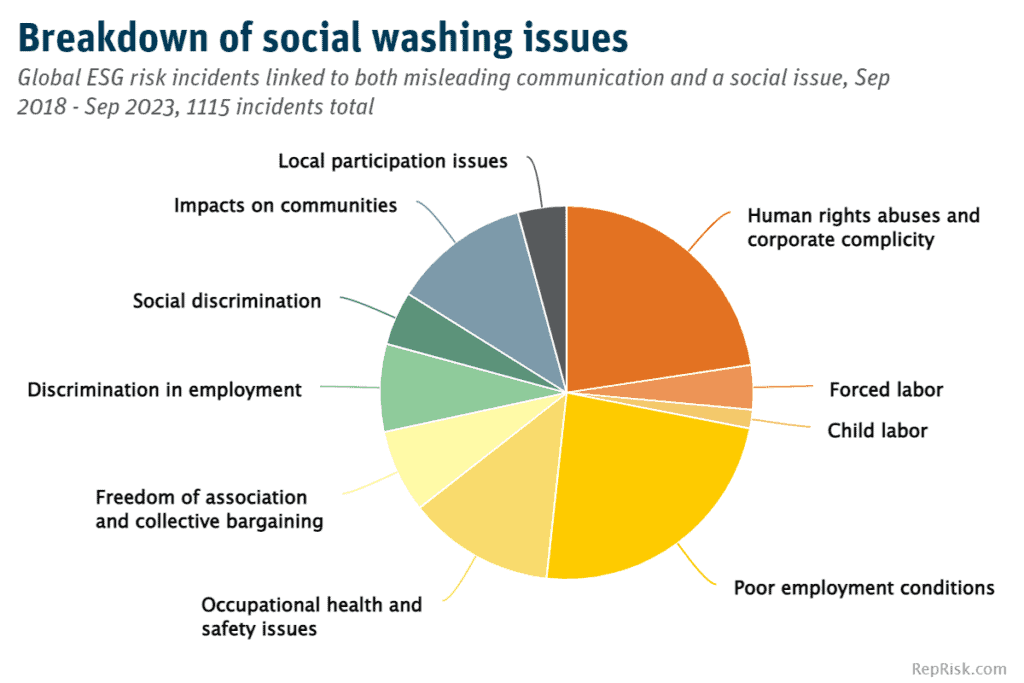 Social washing takes place when companies make misleading claims about their social responsibility, painting themselves in a positive light while obscuring an underlying social issue.
Greenwashing and social washing are often connected, with 55% of greenwashing risk incidents globally having a social component. In the US, 44% of public companies linked to greenwashing also have a record of social washing, compared to 39% in the UK and 31% globally.
While most current research focuses on diversity, social washing is found across a spectrum of issues.
According to RepRisk's findings, the most common social washing issue in both the UK and US is human rights abuses and corporate complicity, accounting for 26% and 25% of each nation's incidents respectively.
That said, diversity is still a key issue: In the US, 18% of social washing incidents are linked to either social discrimination or discrimination in employment, compared to 11% in the UK.
Research criteria and categories
In terms of methodology, RepRisk captures greenwashing through the intersection of two criteria:
Misleading communication; and
An environmental issue such as local pollution or impacts on landscapes, ecosystems, and biodiversity.
ESG risk incidents in this scope may include:
Criticism of an advertising campaign deceiving consumers on environmental impacts;
Research findings revealing that a company is overstating the impact of an initiative; or
Coverage of company actions in direct contrast to climate commitments.
RepRisk defines social washing as a contradiction between a company's positive image and a social issue in their business conduct, by capturing overlapping issues of:
Misleading communication; and
A social issue such as human rights abuse and corporate complicity, child labor, or community impact.
Company self-disclosures excluded from data
Founded in 1998 and headquartered in Switzerland, RepRisk leverages a combination of AI and machine learning with human intelligence to analyse public information and identify material business conduct risks.
RepRisk maintains the world's largest due diligence database on ESG and business conduct risks, with coverage of over 240,000+ public and private companies, plus more than 65,000 infrastructure projects.
Updating its data daily, RepRisk systematically analyses public sources in 23 languages to catch risk early and at the local level, plus the company includes more than 100 ESG risk factors in its research scope.
By excluding company self-disclosures in its data generation, RepRisk also strives to illuminate business conduct risks that could otherwise be obscured and could materialise into adverse impacts.
---
Further Reading:
---
---
Check out the full archive of stories on the SustMeme Finance & Business Channel, now available to Sponsor.
---