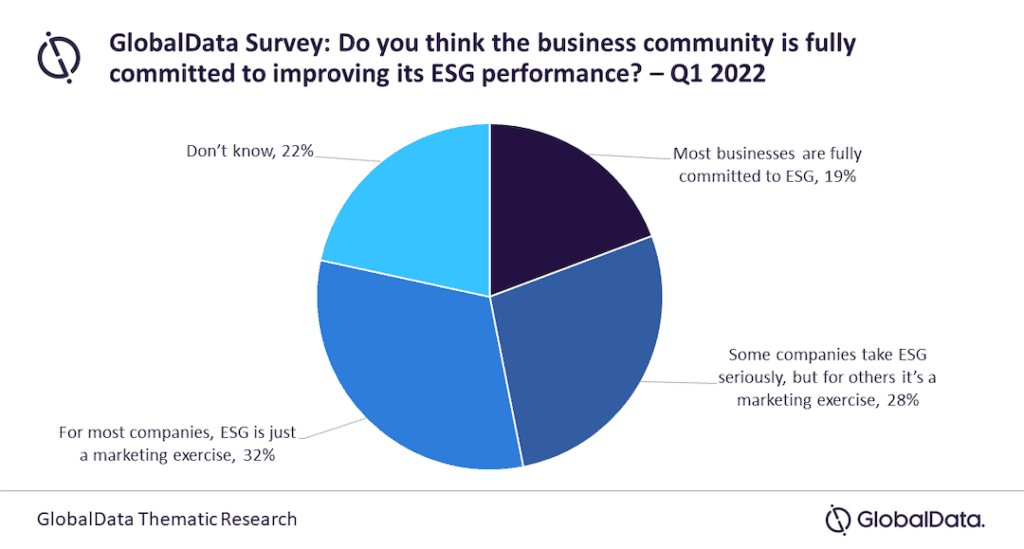 New research into whether business is 'walking the talk' on ESG has raised serious concerns around greenwash and the credibility of corporate promises. The shocking results of a first-quarter survey reveal that fewer than 1 in 5 people (19%) believe businesses are fully committed to tackling environmental, social and governance (ESG) issues.
The majority of respondents (60%) feel companies are not taking ESG seriously..
The ESG Sentiment Polls Q1 2022 were conducted by leading data and analytics specialist GlobalData. In its notes to accompany the findings, the company highlights the degree to which greenwashing represents a serious risk for businesses — especially in today's world, where businesses are increasingly held accountable by all stakeholders.
Ultimately, the poll results show that neglecting ESG can have long-term adverse effects on performance — in short, the writing is on the wall, says Cyrus Mewawalla, Head of Thematic Intelligence at GlobalData:
"The reluctance of many CEOs to fully engage with sustainability can be attributed to the age-old view that it will hurt profits. However, our research suggests the opposite. Companies that embrace all three elements of ESG will outperform their peers.
"CEOs that are too slow to improve their company's approach to sustainability will see an exodus of customers and a drop in profits far sooner than they ever imagined."
Diving deeper, the latest report from GlobalData — ESG (Environmental, Social, and Governance) Top Trends by Sector – Thematic Research — discusses the technology and macroeconomic trends driving ESG actions across 16 industries.
Worryingly, the research has identified that only 16% of those surveyed believe ESG will impact their business the most in the next 12 months. Respondents are concerned that their business is preoccupied with other issues such as the impact of COVID-19, increased regulation, trade disputes, and (to a lesser extent) digital transformation.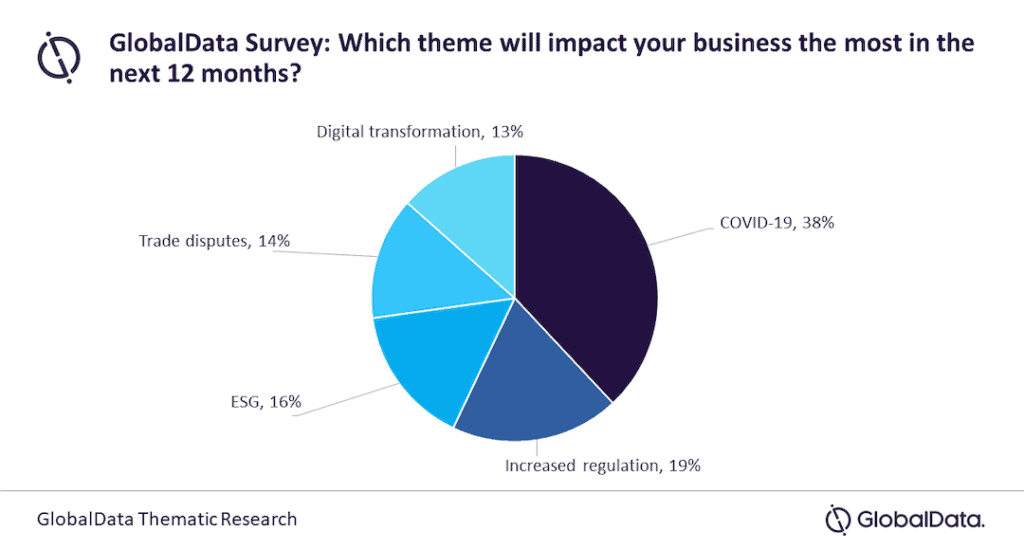 This air of short-termism is undermining the credibility of companies on business-critical issues such as sustainability and climate action, concludes Sapana Maheria, Director of Thematic Intelligence at GlobalData:
"Faith in the business community's commitment to tackling ESG has not been restored. Unless recordable progress is made, people will continue to question the effectiveness of governing bodies in imposing existing regulations on businesses to meet international emissions targets. Ultimately, ESG is being considered by many businesses as 'tomorrow's problem'."
---
Further Reading:
More about the ESG Sentiment Polls Q1 2022, conducted by GlobalData,
Access full report ESG (Environmental, Social, and Governance) Top Trends by Sector – Thematic Research;
Also on SustMeme, Davos: Storm brewing up in the Swiss Alps;
Also on SustMeme, Scoring analytics platform to unlock potential of ESG data;
Also on SustMeme, CSR job vacancies up 74%, as companies focus on ESG;
Also on SustMeme, Supply Chain: ESG strategies mission-critical for sustainability;

Also on

SustMeme

,

ESG ups the stakes for supply-chain risk and reward

;

Also on

SustMeme

,

The problem with ESG: 'Responsible Investment' in The Sunday Times

;

Also on SustMeme, Divestment: Are meat and plastic the new coal?
---
---
>>> Do you have sustainability news to broadcast and share? If you would like to see it featured here on SustMeme, please use these Contact details to get in touch and send us your Press Release for editorial consideration. Thanks.
---