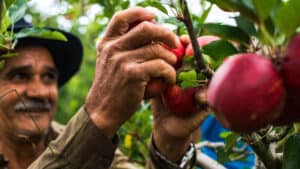 New writing… In his latest article, Jim McClelland looks at both the importance and the challenges of implementing environmental, social and governance (ESG) criteria in the supply chain. The piece forms a double-page spread in a special report into The Path to a Greener Future, published by Raconteur in The Times newspaper. The feature captures some of the key takeaways and core insights from an international Roundtable of C-suite thought-leaders at global companies, hosted by Jim for Raconteur, sponsored by ethics and compliance software experts Navex Global.
ESG criteria are fast emerging as key indicators adopted by the investment community for measuring and tracking business sustainability. As a result, driving ESG through the supply chain has become a prime focus for responsible businesses keen to manage reputational risk in the face of increasing shareholder and activist scrutiny.
Brought together exclusively for this special report, the roundtable featured a diverse mix of perspectives drawn from across a range of industries and business sectors: recruitment and employment, healthcare, software, industrial sustainability, logistics and parcel delivery, and ethics and compliance. The panelists participating in the debate were:
While driving ESG in supply chains is doable and can be a dynamic force for positive change and growth, it is still far from easy. The panel debate addressed six key areas of challenge that are particularly difficult to tackle, but critical for success: governance, scope three emissions, 'walking the talk,' culture change, partnerships and compliance.
The feature article, as published in the report in The Times — highlighting these six tough challenges, with insights from each of the panelists — is free to access and explores how ESG strategies are mission critical for sustainability.
The hour-long video of the virtual Roundtable can also be viewed in full here.
The full report into The Path to a Greener Future is available to view here and can be downloaded as a PDF.
---
Further Reading:
---
---
SUSTMEME: Get the Susty Story Straight!