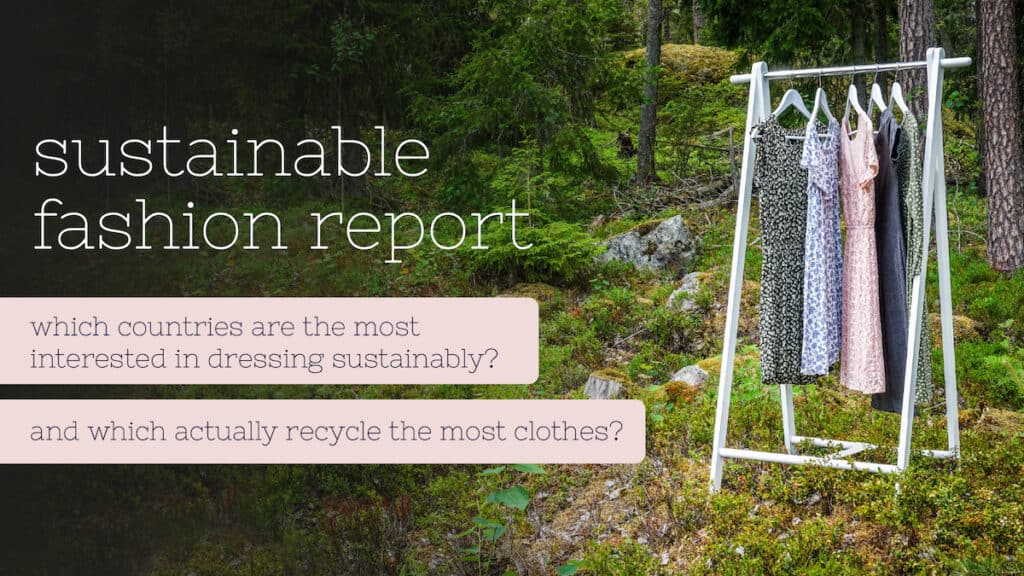 When it comes to sustainable fashion, there often seems to be a disconnect between the good intentions of aspirational shoppers and the reality of associated environmental impacts. The relevant data can be particularly revealing when broken down country-by-country, as shown by new analysis in a report that contrasts statistics around trends in consumer demand on the internet, with figures for clothing waste and reuse, on the ground.
The research by online retailer JewelleryBox casts a critical eye over consumer interest in sustainable clothing — crunching search data to reveal which countries appear to be leading the way on demand.
According to the research, the 10 countries most interested in sustainable fashion are: United Kingdom, Ireland, New Zealand, Iceland, Australia, Netherlands, Luxembourg, Norway, Denmark and Canada.
Who ranks top for interest?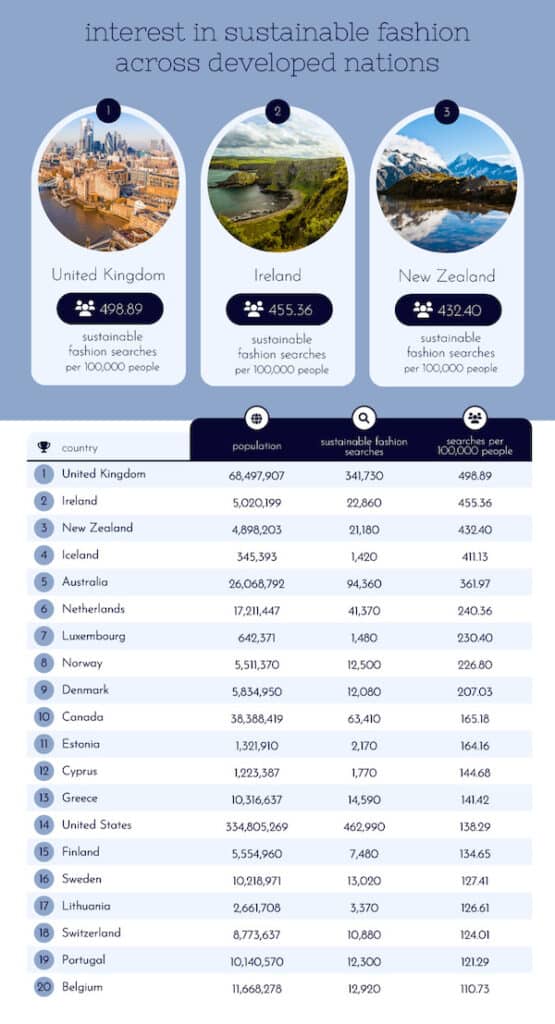 So, UK citizens seem to be the most interested in sustainable fashion, with over 300,000 more annual Google searches on the topic than any other country in the study.
The most researched UK term is 'second-hand clothing', with over 84,000 annual Google searches.
However, research also shows that the country ranks 7th for the most exports of clothing waste, with 379,490,752kg of garments disposed of each year.
So, whilst the UK appears to be one of the most interested nations when it comes to running internet searches for sustainable fashion, its performance on recycling and reuse is still very poor.
In fact, pre-pandemic research conducted for the Dutch clothing brand LabFresh found that out of the 3.1kg of textile waste produced every year by the average UK citizen, only 0.3kg gets recycled and as little as 0.4kg is reused.
Who exports and imports most waste?
Belgium exports the most worn clothing per head, with a NET export of 1,228,523kg per 100,000 people in the country.
The small island nation of São Tomé and Príncipe receives the most worn clothing per head of any country, with NET imports of 680,919kg per 100,000 people.
This data clearly shows that while the richer world nations produce much more clothing waste, not surprisingly, it is often the poorer countries that are left to process it.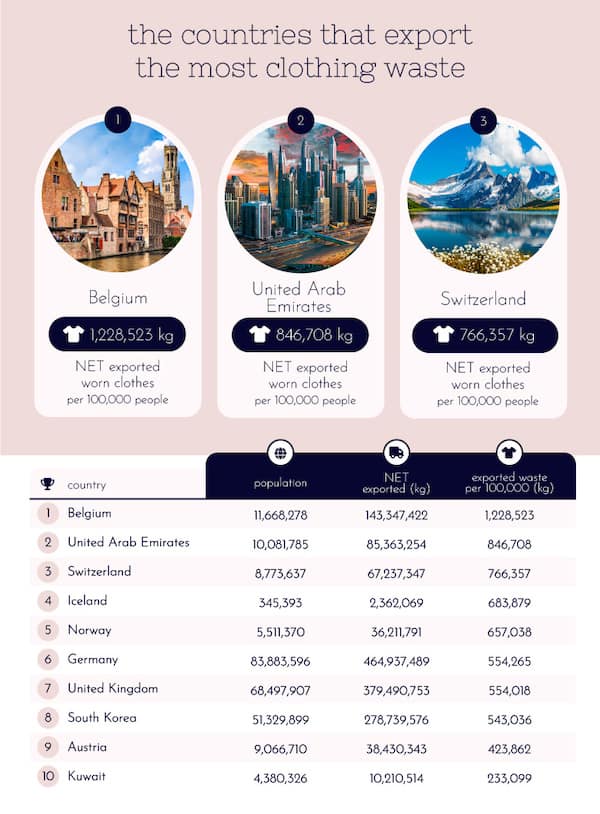 Textiles & Material Change; plus Fashion & Transparency
New analysis informing the fashion waste debate has also been released by the Textile Exchange.
Its comprehensive Material Change Insights 2021 report uses data from the Exchange's Corporate Fibres and Materials Benchmark (CFMB) to map out progress towards more sustainable sourcing at the raw material level of the fashion and textile supply chain.
This year's research saw 292 brands come together to collectively track their efforts, as part of the Material Change Index (MCI), which is the largest peer-to-peer comparison initiative in the industry.
The resulting report provides a holistic overview of the direction of travel within the industry, across all apparel, footwear and home textile sectors. In addition, it considers how companies reacted to the challenges of COVID-19, as well as how well they addressed alignment with global policy initiatives such as the UN Sustainable Development Goals and the Global Biodiversity Framework.
In other imminent news, the influential and authoritative Fashion Transparency Index, published by the global not-for-profit movement Fashion Revolution will soon be updated with latest findings for 2022.
---
Further Reading:
More about the full research behind the Sustainable Fashion Report, published by JewelleryBox;
More about the Thrifting Report 2022, also produced by JewelleryBox;
More on the pre-pandemic Fashion Waste Index produced for the Dutch clothing brand LabFresh;
More about Fashion Revolution and the annual Fashion Transparency Index;
Also on SustMeme, Fashion waste landfill piled high as the moon;
Also on SustMeme, Slow fashion first for new sustainability standard;
Also on SustMeme, Sustainability: 'Fashion Economy' in The Times;
Also on SustMeme, Ethics & Fast Fashion: 'Supply Chain Strategies' in The Times;

Also on

SustMeme

,

Cruelty-free vegan sneaker uses cactus, not cows

;

Also on SustMeme, Plastic waste gets Recycled for Radness into eco snow gear;
Also on SustMeme, Circling back to Nature: Timberland to go net positive;
Also on SustMeme, Guest Blog: Will hemp replace cotton in the next 10 years?
---
---
>>> Do you have sustainability news to broadcast and share? If you would like to see it featured here on SustMeme, please use these Contact details to get in touch and send us your Press Release for editorial consideration. Thanks.
---