New writing… Pleased to say I have had another article published in The Times newspaper, as part of a special Raconteur report on the Fashion Economy.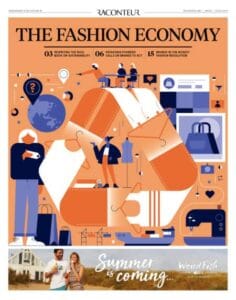 The piece profiles five pioneering brands employing innovative methods to reuse and recycle everything from textiles, to waste tyres, fire hoses and fishing nets. They are rethinking and remanufacturing the process of creating and crafting how we dress, responsibly. Whether it is upcycling on the catwalk, fully traceable T-shirts, swimwear that helps cut ocean plastic, or footwear and accessories that divert resource from landfill, these trailblazers are embracing the circular economy ethos and restyling sustainability for the 21st century, with transparency and accountability. Cutting waste and fighting pollution never looked so good!
To read the article in full, complete with expert insights and comment, please click the following link:
• 'Reuse and recycle: five brands show how it's done'.
The full 20-page Fashion Economy report is available to view/download here.
---
---
SUSTMEME: Get the Susty Story Straight!