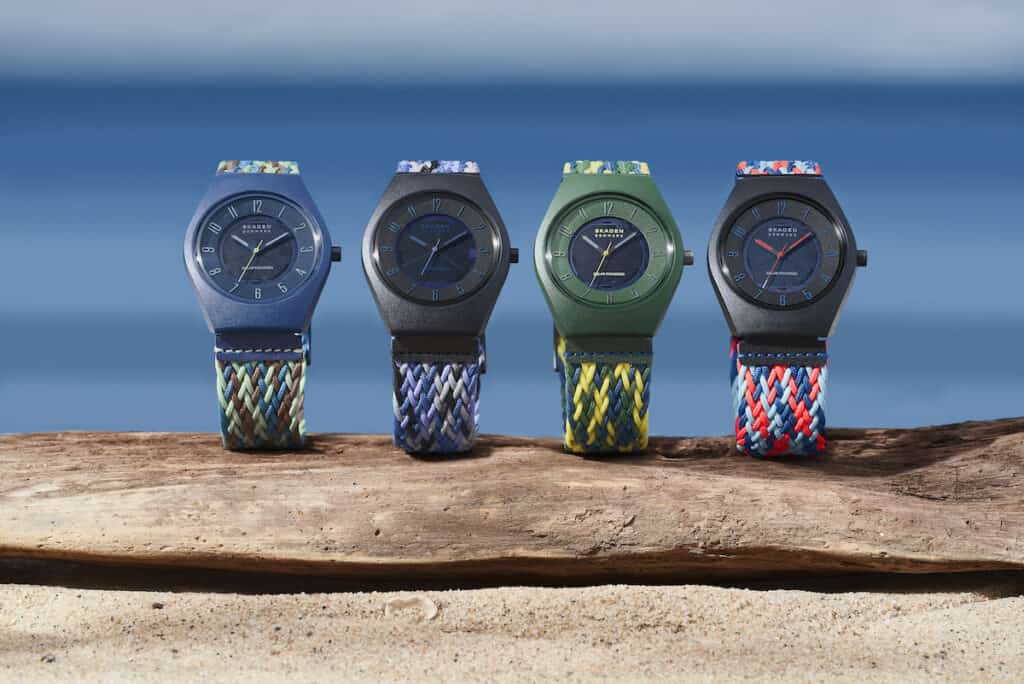 Inspired by the world's first renewable-energy island, Danish eco-design pioneer Skagen manufactured its new Samsø Series of solar-powered watches using upcycled ocean plastic and bio-based nylon.
This collection features #tide Ocean Material, which is upcycled, ocean-bound plastic waste transformed into a premium, second-life raw material, used in the case, caseback and outer dial ring components.
The colourful woven textile watch straps contain 100% recycled materials – rPET. Short for recycled polyethylene terephthalate, rPET is made from both recycled plastic and recycled polyester and, in this case, includes plastic bottles, polyester clothing yarn and plastic packaging waste.
World's first renewable energy island
The collection draws it design inspiration from Samsø Island in Denmark, which transformed its energy system by transitioning away from fossil fuels to become the world's first renewable-energy island.
Key results achieved on Samsø Island include: becoming carbon negative; 100% local ownership of renewable-energy investments; and significant socioeconomic benefits from the energy transition.
The Samsø Series combines Danish influence with intentional design. Working to increase material mindfulness in product development, the Skagen brand is committed to an ongoing circularity journey, says Ian Miller, Global Director of Concept and Design, at Skagen:
"The new Samsø Series allows us to showcase all the different materials and processes we can implement in a single style. As our knowledge and material library grow, we'll continue evolving collections with responsibility in mind. Our goal for the future is to have a timepiece that is made of all recycled components and is fully recyclable."
Bio-based nylon and solar movements
Apart from components crafted from ocean-bound plastic and other recycled materials, Samsø Series watches feature a crystal that is composed of partially bio-based nylon made with 45% castor oil.
Just as durable and practical as standard nylon, bio-based nylon is partially derived from natural materials. Unlike traditional nylon made from crude oil, bio-based nylons use fermented plant sugars to produce caprolactam.
Another sustainable design feature of this watch is the exposed solar-powered movement, visible on the dial. This has a power reserve of six months once it is fully charged, either from the sun's energy or artificial light sources.
The Samsø Series collection comes in four distinct colourways which are due to the multi-hued woven straps, cases and second hand's pop colours on the dial. The colour palette is unique, but easy to wear for seasons to come. Additionally, each watch features a 37mm case, a versatile size for different wrists.
From manufacturing methods to raw materials, Skagen continues to seek new ways to reduce its environmental footprint, integrating eco innovations into the crafting purposeful watches and jewellery.
Turning the #tide on ocean plastic
Tide Ocean SA is a Swiss company with offices in Basel, Lengnau, Ranong and Hong Kong. Originally connected to the Swiss watchmaking industry through its mother company Braloba Group, #tide collects plastic waste from the ocean, along coastlines and uncontrolled landfills.
In cooperation with scientists at the Swiss University of Applied Sciences in Rapperswil, Tide Ocean SA has found a solution for how damaged plastic can be repaired and upcycled into high-quality granules and yarns for new sustainable products.
For this achievement in circular economy, #tide was honoured with the German Materialica Design & Technology Award 2019, the Swiss Plastics Sustainability Award 2020 and the Hong Kong International Business Award. In its first operational year, #tide processed more than 15 million plastic bottles.
---
Further Reading:
---
---
Check out the full archive of stories on the SustMeme Circular Economy Channel, Sponsored by Dow.
---