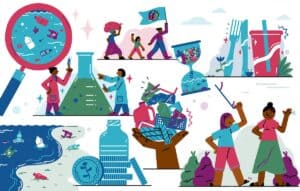 The latest round of prize funding has been announced for the Afri-Plastics Challenge, focused on tackling the problem of plastic in the packaging supply chain in Africa. The Challenge will award grants to individuals or organisations who offer a sustainable approach to reducing reliance on plastic, with innovations which also support the empowerment of women and girls.
Entitled Creating Solutions, the Second Strand has been launched by UK innovation prize experts Nesta Challenges. There are three Strands in total, funded by CA$14.5M from the Government of Canada. The Challenge will support African innovators with new ideas or early-stage solutions that support the reduction or elimination of plastic usage across Sub-Saharan Africa.
A total of 25 semi-finalists will be selected in February 2022, each supported with a £25,000 grant and additional expert input to develop and validate their solution. From these semi-finalists, 10 finalists will be selected in June 2022, supported by a further £75,000 grant to implement their development plans.
Finally, in January 2023, three winners of the Afri-Plastics Challenge will be chosen: first place will be awarded a further £750,000, second place will receive £250,000 and third place £100,000.
Plastic pollution: An urgent problem and an ecological disaster in Africa
In recent years, demand for plastic has increased substantially in Sub-Saharan Africa with over 17 million tonnes of waste generated by the region annually. At present, however, only 12% of that plastic waste gets recycled, with the remainder dumped or burned, plus significant quantities entering the marine ecosystem.
Africa urgently needs solutions, explains Constance Agyeman, Director of International Development, Nesta Challenges: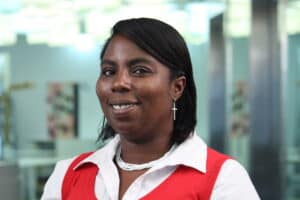 "Plastic pollution is a rapidly growing ecological disaster in Africa. The challenge the world faces is that plastic is actually quite useful — it's cheap and lightweight, it keeps food fresh and gives people access to clean bottled water — yet managing it as a waste product is an increasingly urgent problem.
"The Afri-Plastics Challenge is seeking to support and grow solutions to reduce plastic in the packaging supply chain, or even better, eliminate it completely. If Africa's innovators can develop solutions to drastically reduce the quantity of plastic being used in the first place, they will reduce the amount of waste that needs to be managed."
While scaling plastic waste collection and recycling is crucial, it cannot solve the problem alone. The quantities of waste produced easily outpace the development of waste management systems and infrastructure, plus recycling is still not an economically or technically viable option for several types of plastic.
The ideas submitted for the Challenge will be evaluated against criteria including innovation, empowerment of women and girls, social and environmental impact, plus the capability of applicants to achieve success.
In the long-term, the development afforded both the innovators and their ideas will encourage the creation of new, sustainable local enterprises, bringing economic opportunity to communities and contributing to poverty reduction.
Radiha Mtonga, Zambian social entrepreneur and member of the Afri-Plastics Challenge judging panel said:
"It's extremely exciting to be part of an initiative committed to finding innovative solutions that promote the circular plastic economy while simultaneously improving the social economic standing of women and girls in Sub-Saharan Africa."
The Afri-Plastics Challenge aims to reduce marine plastics in Sub-Saharan African countries by finding ways to minimise reliance on plastic, develop new ways of managing plastic waste, plus new uses for plastic that has been discarded. The Challenge is designed for innovators and entrepreneurs across the African continent.
Seeking to scale solutions to managing plastic waste, the First Strand of the Challenge, Accelerating Growth, was launched in July 2021 and is ongoing. The third and final Strand of the CA$14.5M Challenge is due for release in December.
Innovators from outside of Sub-Saharan Africa may apply for the Afri-Plastics Challenge as long as they are applying with a Sub-Saharan African partner who is the lead applicant.
The Challenge places particular emphasis on promoting gender equality and empowerment of women and girls. While not limited by gender, it encourages women and girls to participate by submitting their solutions.
Applications for the Afri-Plastics Challenge Strand 2: Creating Solutions the close on Wednesday, 1 December, 2021.
---
Further Reading:
---
---
>>> Do you have sustainability news to broadcast and share? If you would like to see it featured here on SustMeme, please use these Contact details to get in touch and send us your Press Release for editorial consideration. Thanks.
---