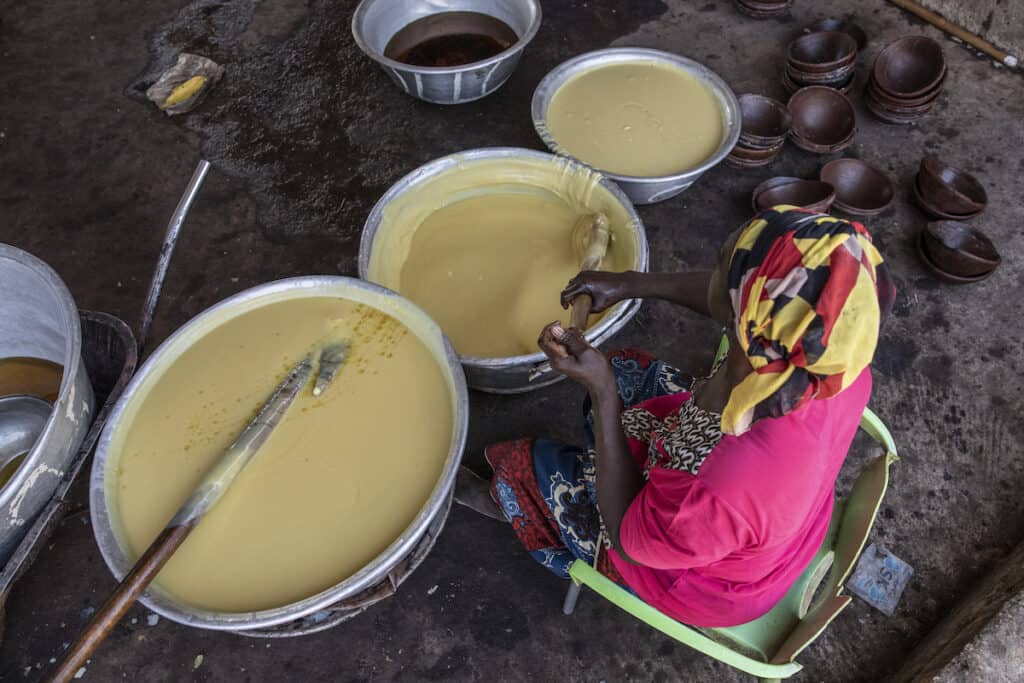 Extracts from the nut of the African shea tree can be found in a wide range of beauty and personal care products, from butters and creams to shampoos and soaps, but how fairly are they farmed?
The Fairtrade Foundation has kicked-off a campaign inviting the cosmetics industry to invest in and work alongside West Africa's pioneering women shea entrepreneurs, paving the way to a fairer, more ethical beauty industry.
Businesses are being asked to invest in four Fairtrade-certified shea producer groups in Ghana, Burkina Faso and Cote D'Ivoire, plus an additional six co-operatives in Ghana set to gain certification this year.
Just launched, the campaign also asks shoppers to 'tag a beauty brand' via Facebook, Instagram, or Twitter, to show the strength of consumer demand for products containing sustainably made shea.
Examples of beauty and personal care products made with shea where consumers might want to tag a brand include: body butters, hand creams, lip salves, shampoos, conditioners and bars of soap.
Market share sustainably on the rise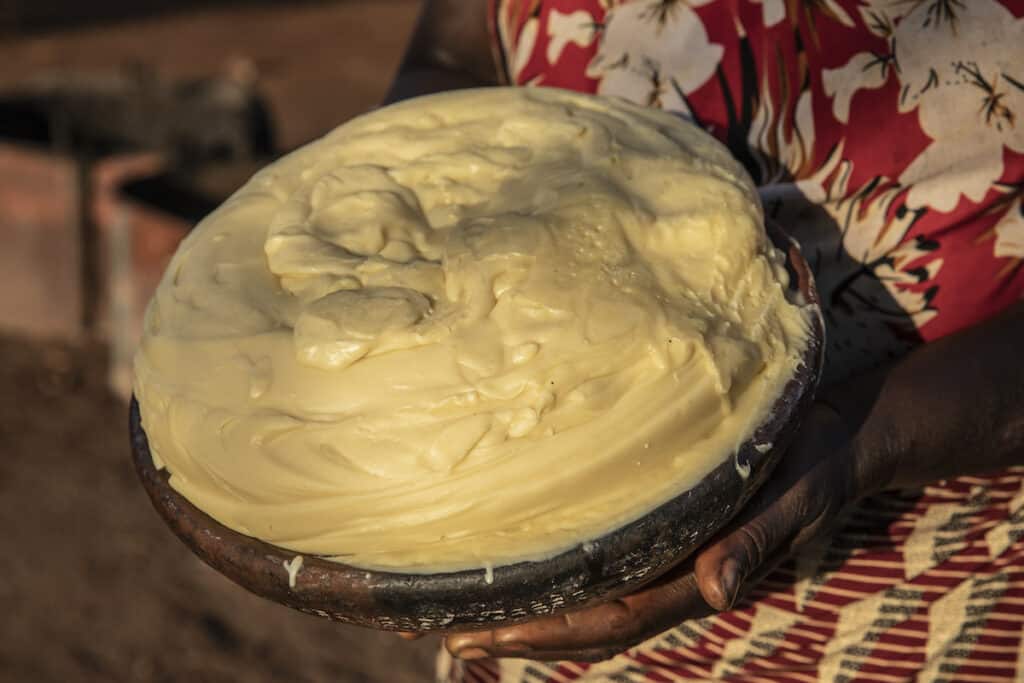 Overall, the global market for natural and organic cosmetics and personal care is forecast to grow in value from $35bn in 2021 to roughly $59bn in 2031. As a barometer of booming sales, volumes of shea licensed by the Fairtrade Foundation have more than doubled over the past two years.
The significant increase in the number of producer groups cultivating certified shea will enable a consistent, sustainable supply of Fairtrade shea butter to the sector. This is vital to satisfy the ongoing rise in demand for meaningful and ethical beauty products.
The Foundation believes beauty products should neither cost the earth nor compromise human rights. Whilst consumers increasingly think so too, the same cannot necessarily be said yet of the industry as a whole, argues Kerrina Thorogood, Partnerships Director at the Fairtrade Foundation:
"Shoppers are actively exploring the origin of ingredients in their beauty products and are concerned with ethical and environmental credentials. They want transparency and brands that make a difference, yet the wider beauty industry isn't talking enough about the people and stories behind the ingredients in products – including shea."
Fair to the farmers, good for the buyers
Fairtrade beauty products offer an additional market opportunity for farmers who already produce ingredients such as butters, nuts, and oils, giving them access to new markets. For buyers, establishing direct links with certified women groups makes supply chains more efficient.
When businesses source Fairtrade artisanal shea butter directly from women entrepreneurs who have processed it themselves, it keeps the added value in the hands of those women.
As well as directly supporting growers, investment into Fairtrade shea by businesses will also benefit Fairtrade's producer network, Fairtrade Africa, which provides local support to growers..
In 2021, Fairtrade launched a partnership with the Campaign for Female Education (CAMFED) and the Waterloo Foundation to support women-led shea co-ops (around 3,400 producers).
As part of this collaboration, Fairtrade Africa and CAMFED have supported the six Ghanaian shea co-ops with training and advice to help them reach the Fairtrade Standards. This includes business and finance management, and improvements to supply, facilities, quality, and business capacity.
In 2023, the total expected supply of Fairtrade shea from the six groups in Ghana is estimated to reach thousands of metric tons, making now the ideal time for brands to invest in Fairtrade shea.
By sourcing shea butter on Fairtrade terms, brands can ensure producers earn a fairer price, in line with the Fairtrade Standards. Signing up to partner with Fairtrade means businesses can trace purchases from end to end and guarantee that the Fairtrade Price and Premium has been paid.
For women shea producers, prices fluctuate heavily and it is often hard for them to guarantee a fair price and forecast sales for the months ahead.
They can use the extra Fairtrade Premium they receive to support their communities by investing in such as education, or forest-friendly interventions to support the sustainability of wild shea trees.
Certification helps fight the climate crisis, too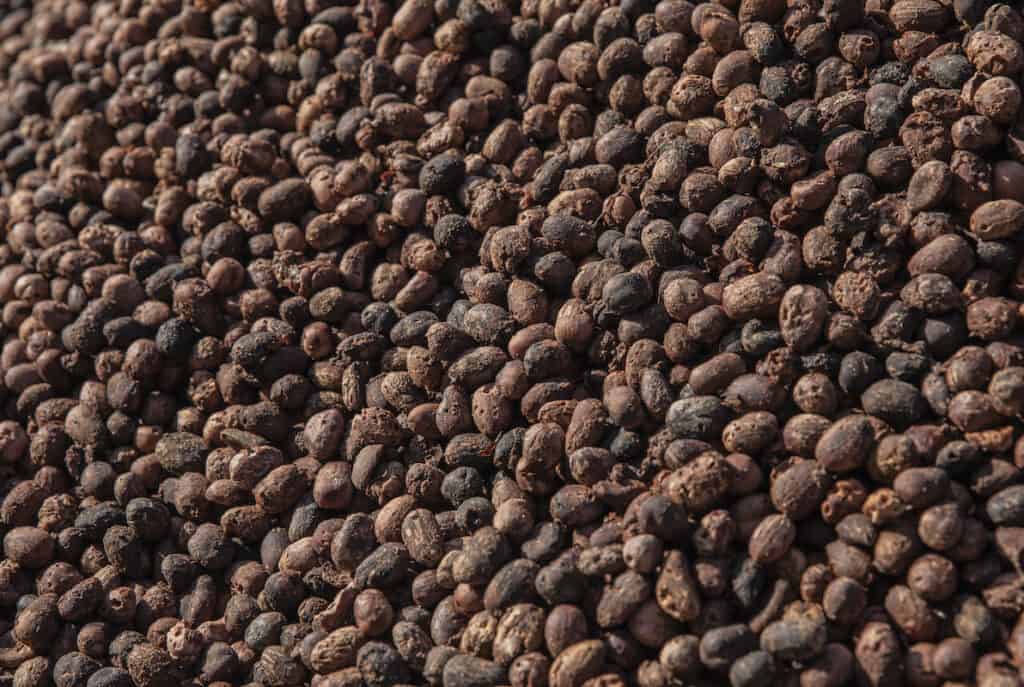 Fairtrade works to change the way trade works through better prices, decent working conditions, and a fairer deal for farmers and workers in low-income countries.
Fairtrade Foundation is part of Fairtrade International, an independent non-profit organisation representing more than two million small-scale farmers and workers worldwide.
Fairtrade International owns the FAIRTRADE Mark, a registered trademark of Fairtrade that appears on more than 37,000 products. A wide range of Fairtrade-certified beauty and wellness products – over 250 – are stocked on the high street, as well as online.
Beyond certification, Fairtrade International and its member organisations empower producers, partner with businesses, engage consumers, and advocate for a fair and sustainable future.
Fairtrade is also committed to fighting the climate crisis. Fairtrade Standards encourage producers to protect the environment by improving soil, planting trees, conserving water, and avoiding pesticides, while Fairtrade's programmes include climate academies for farmers to share best practice.
At the same time, Fairtrade makes training available to producers so that they can use the latest agricultural methods, such as intercropping and shade-grown coffee to adapt to conditions.
---
This June, Fairtrade will also be hosting a 60-minute roundtable learning experience. At the event, businesses will have an opportunity to find out more about Fairtrade shea butter, with speakers including award-winning health and beauty editor, journalist, stylist, creative director, content creator and brand consultant, Lisa Oxenham, and Linda Lariba Atibilla, a shea butter entrepreneur and President of Hope Givers Shea Butter Cooperative in Ghana.
Free to attend, the event takes place Tuesday 13 June, 2023: Fair Focus: Make Way for Fairer Shea Registration.
---
Further Reading:
---
---
Check out the full archive of stories on the SustMeme CSR & Business Channel, now available to Sponsor.
---