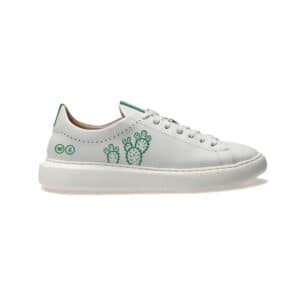 Designed to appeal to the style- and eco-conscious ethical consumer, an innovative cruelty-free vegan sneaker has been launched for release early next year. With cactus uppers, a sugarcane sole, bamboo lining and organic cotton laces, this unique sustainable-fashion footwear will harness plant-power throughout and promises to be a sweet fit for those looking to tread lightly, in every sense.
Developed by sustainable shoe experts Po-Zu, the new 'POZ' sneaker will be one of the first shoes available in the UK to successfully utilise cactus leather and combine it with other natural, plant-based materials to create a comfortable, lightweight and style-driven sneaker. The brand has launched a fundraising campaign to help bring its unique, ethical sneaker to life.
The greenhouse gases from the shoe industry are typically one of the greatest contributors to global warming. Po-Zu is championing a vital innovation in environmentally friendly shoe manufacturing by building the upper for its brand-new design 'POZ' from Cactus leather, a bio-based material made from the wonder-plant that is the Nopal cactus (commonly known as Prickly Pear), which is grown organically from rainwater alone and processed without any toxic chemicals, phthalates or PVC.
The result is a sneaker that sets itself apart by being ultra-light — both deeply cushioned and light on your feet, and kind and light on the planet. The sole is made from an innovative bio-based EVA resin, derived from Sugarcane, a fully renewable resource that grows quickly, and removes CO2 from the air, reducing greenhouse gas emissions and naturally cleansing our environment.
The lining is made from the antibacterial and hypoallergenic Bamboo. The midsole is made from a combination of Natural Latex and Cork. The laces are made from Organic Cotton with biodegradable aglets. 100% solvent free, 100% vegan and a low carbon shoe, POZ is proudly setting standards in the fashion manufacturing world.
The collection consists of sneakers and boots that will appeal to the style-conscious and the environmentally conscious customer alike. The sneakers come in Off White in a sleek, minimal design with a trademark, woven double dash 'pause' emblem in a choice of 8 colourways at the tongue and heel.
POZ sneakers and boots are made in Europe in a small family-owned factory in Portugal. Po-Zu only works with manufacturers that adhere to their Supplier Code of Practice, who are committed to ethical manufacturing, have a strict non-toxic policy, and recycle any waste products, including fabric off-cuts and water.
Founded in 2006 by Sven Segal, Po-Zu is proud to support Fashion Revolution and will donate £5 GBP ($6.50 US$/ €5.50 EUR) from the sale of every pair of POZ sneakers and boots to the Fashion Revolution Foundation, to help them drive cultural, industry and policy change.
---
Further Reading:
---
---
>>> Do you have sustainability news to broadcast and share? If you would like to see it featured here on SustMeme, please use these Contact details to get in touch and send us your Press Release for editorial consideration. Thanks.
---