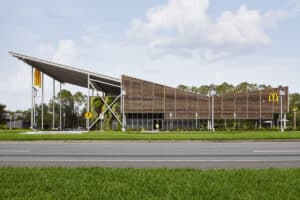 Contributing to the ongoing greening of the 'Golden Arches', the first-ever net-zero fast-food restaurant has been completed at a landmark tourist and holidaymaker destination in Orlando, Florida. Delivered as part of the global giant's 'Scaling for Good' programme, the architect-designed McDonalds Flagship facility at Walt Disney World has been wrapped in solar panels to create more energy than gets consumed on-site. Optimising use of natural ventilation, the unique design features an indoor-outdoor dining space, sheltered within a louvred framework of sustainably-sourced timber tech.
Situated under a shed, clad in solar panels, the 8,024 square-foot restaurant, designed by Ross Barney Architects, was envisioned and developed in response to the Florida climate.
Energy consumption has been reduced by optimising building and kitchen systems. In terms of power supply, onsite generation is provided by 18,727 square feet of photovoltaic panels, 4,809 square feet of glazing integrated photovoltaic panels (BiPV), and 25 off-grid parking lot lights, which together produce more energy than the restaurant uses.
As Orlando experiences significant humidity, the building is naturally ventilated approximately 65% of the year. Jalousie windows, operated by outdoor humidity and temperature sensors, close automatically when air-conditioning is required. An outdoor 'porch' — effectively, a substantial semi-open patio area, offering almost al fresco eating space — features Kebony wood louvered walls that help create an attractive extension of the indoor dining room.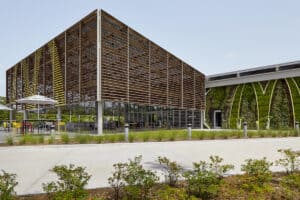 Developed in Norway, Kebony's revolutionary technology is an environmentally friendly and patented process which modifies sustainably sourced softwoods by heating the wood with furfuryl alcohol — an agricultural by-product. By polymerising the wood's cell wall, the softwoods permanently take on the attributes of tropical hardwood, including high durability, hardness and dimensional stability. This unique process also provides Kebony with its characteristic appearance, which ages well.
Additional sustainable design strategies employed on the project include paving materials that reduce the urban heat island effect, surfaces that redirect rainwater, 1,766 square feet of living green wall that increases biodiversity, new LED lighting, and low-flow plumbing fixtures.
With Ross Barney Architects keen to emphasise that a robust education strategy represented a key goal for the project, the architecture itself becomes a narrative tool, supported and supplemented by interior wall graphics, interactive video content, and gaming unique to this location. The restaurant seeks to help teach visitors of all ages how to become more dedicated environmental stewards.
Commenting on the groundbreaking development and design, Ben Roberts, US Marketing Director at Kebony said:
"This is a phenomenal project for McDonalds, and Kebony is extremely proud to be recognised in conjunction with the world's first net-zero quick-service restaurant. Featuring over 15,000 square feet of reSAWN's HALLO shou sugi ban charred Kebony wood, the building embraces sustainability and is a fantastic example of exceptional creativity in design."
Used worldwide in commercial, public, residential and marine projects, Kebony is suitable for both internal and external applications that demand high performance and great aesthetics, such as decking, flooring, cladding, roofing, windows, indoor and outdoor furniture. Over time, Kebony acquires a silver-grey patina whilst maintaining its performance characteristics. A study by Norwegian environmental consulting firm Bergfald & Co found Kebony has a substantially lower carbon footprint than its tropical hardwood equivalents, with improved durability and dimensional stability.
---
Further Reading:
---
---
>>> Do you have sustainability news to broadcast and share? If you would like to see it featured here on SustMeme, please use these Contact details to get in touch and send us your Press Release for editorial consideration. Thanks.
---