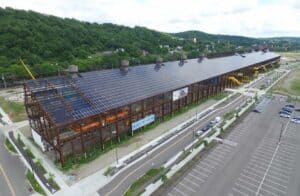 The last of the 4,784 silicon solar panels that will power Mill 19 at Pittsburgh's 178-acre Hazelwood Green site has now been installed, marking the completion of the largest single-sloped solar array in the United States. This record-breaking renewables project runs atop a quarter-mile long structure, with the slope of the roof angled at 20 degrees to capture the majority of the sun's rays. This landmark array on the former steel mill site will generate over 2 megawatts of power and produce enough energy to power 264 homes annually.
Conceived on a massive scale and completed by Scalo Solar Solutions, the $5M pitched-roof project covers 133,000 square feet across the frame of Mill 19.  The scheme has been made possible by the Richard King Mellon Foundation (RKMF), with Mill 19 itself the property of Regional Industrial Development Corporation (RIDC). The remaining 168-acre Hazelwood Green site adjacent to Mill 19 is separately owned by Almono LP, a collaboration of three major Pittsburgh foundations, including RKMF.
The panels were installed using an innovative access platform netting material, aptly called the Spider WorkWeb. The web was attached to the Mill's existing steel structure in a manner taut enough for the installers to walk on during installation. Each of the LG solar panels was preassembled and tested on the ground, then lifted and fitted into place.
The extensive Mill 19 structure includes the steel skeleton of the original mill building, formerly built by the Jones & Laughlin Steel Company in 1943. The tenants of this site include Carnegie Mellon University's Advanced Robotics for Manufacturing (ARM) and Manufacturing Futures Initiative, plus Catalyst Connection in Building A. Building B houses Aptiv, which recently entered into a joint venture with Hyundai to create autonomous or 'self-driving' vehicles.
A former brownfield site, Hazelwood Green is envisioned as a model of sustainable development. Mill 19 has been designed with the goal of achieving LEED v4 Gold certification, with a high-performance envelope providing maximum thermal efficiency and up to 96% daylight autonomy.
The entire 100% of the complex's total electricity usage will be offset by energy generated on site and stormwater will be conveyed through a rainwater garden to centrally located infiltration basins. Captured rooftop rainwater will be reused in the cooling tower and for flushing in the restrooms.
Pittsburgh: The Green Story of a Steel City
As of 2014, Pittsburgh became part of 100 Resilient Cities (100RC), a programme pioneered by The Rockefeller Foundation, which concluded officially last year, on 31 July, 2019. That same month, the Foundation announced an $8M commitment to continue supporting the work of Chief Resilience Officers and member cities within the 100RC Network.
These 100RC efforts aligned with commitments announced by Pittsburgh Mayor William Peduto in 2015 for City government-owned facilities, infrastructure, and fleet to achieve by 2030. These include:-
100% Renewable Energy Supply;
50% Energy Consumption Reduction;
50% Water Use Reduction;
100% Fossil Fuel Free Fleet;
100% Diversion from Landfill;
50% Citywide Transportation Greenhouse Gas Emissions Reduction; plus
Creating a Fossil Fuel Divestment Strategy for City of Pittsburgh Funds.
The Pittsburgh 2030 District comprises some 556 buildings that have voluntarily committed to 50 percent reductions in energy use, water consumption and transportation emissions (below baselines) by the year 2030. The Pittsburgh 2030 District is the largest of 22 North American 2030 Districts.
Pittsburgh Green Story is a collaborative and growing partnership of organisations who are champions of the city's legacy, and its current, and future green story. The media resource platform PittsburghGreenStory.com is a project managed by the Green Building Alliance and funded by the Richard King Mellon Foundation.
---
Further Reading:
---
---
>>> Do you have sustainability news to broadcast and share? If you would like to see it featured here on SustMeme, please use these Contact details to get in touch and send us your Press Release for editorial consideration. Thanks.
---