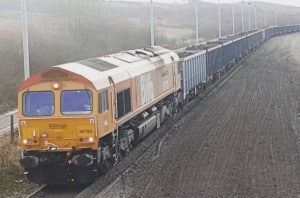 Helping get emissions targets on track, the shift from road to rail constitutes a key transition phase for transport and logistics in the ongoing decarbonisation of the waste management industry. Given the state of play with existing policy frameworks and infrastructure maps, it represents an essential early step towards better alignment of circular economy and climate change goals, both at national and company level.
Demonstrating the potential for imact reduction, UK sustainable waste management company Biffa has announced it has saved 6,600 tonnes of CO2 emissions by switching to the usage of rail links for the transportation of predominantly inert waste material to its facilities. Inert waste is defined as material which is neither chemically nor biologically reactive and will not decompose, or may do so only very slowly.
The Biffa Group's modal shift policy gathered momentum back in 2018 with announcement of its strategic rail partnership with GB Railfreight (GBRf) to increase capacity for transportation via rail, thereby reducing its reliance on road haulage. Since 2019, the Group has successfully transported over 600,000 tonnes of inert waste by rail.
Rail links were created with the Northern cities of Manchester in 2017 and Leeds in 2018, to allow waste to be transported to Biffa's landfill facility in Roxby, near Scunthorpe. Data since January 2019 has demonstrated a saving of over 11 million kilometres in tipper truck journeys by using rail and 6,600 tonnes of CO2 emissions.
This commitment to reducing carbon emissions forms part of a wider initiative by the company to tackle climate change, which underpins Biffa's long-term sustainability strategy, Resourceful, Responsible announced earlier this year. In the last few years Biffa has been developing its rail transport capabilities, transporting up to 27% of its specialist waste types, destined for landfill, by rail. The company's new target to transport 50% of its input to landfill by rail by 2025 looks set to be achieved.
Transportation and logistics remain an essential part of sustainable waste management, with efforts ongoing to reduce associated impacts, for instance, by working to curb vehicle emissions and help improve air quality in towns and cities.
For Biffa, fuel usage accounts for 15% of the company's carbon footprint, with approximately 90,000 tonnes of CO2 coming from the use of diesel alone. Furthermore, the drive to decarbonise will only intensify going forward, as the Group will also add an extra 250,000 tonnes of capacity per year when it opens a third site in East London at the end of 2020.
Commenting on progress to date, Mick Davis, Chief Operating Officer for Resources and Energy at Biffa, concluded:
"Reducing our emissions has been a fundamental part of our business strategy over the past years and we are continually evaluating how to sustainably optimise our operations. This achievement is a small but important step towards meeting the ambitious targets set out in our new sustainability strategy and transporting 50% of our waste to landfill sites by rail by 2025."
With over 8,000 employees working at more than 200 sites, Biffa operates across the waste management value chain, including the collection, treatment, processing and disposal of waste, as well as the production and sale of recovered commodities such as energy, paper, glass, metals and plastic. In FY20, the Group structured into two divisions — Collections and Resources & Energy — recording total revenue of £1,102.8M and entering the FTSE 250, in March this year.
---
Further Reading:
---
---
>>> Do you have sustainability news to broadcast and share? If you would like to see it featured here on SustMeme, please use these Contact details to get in touch and send us your Press Release for editorial consideration. Thanks.
---