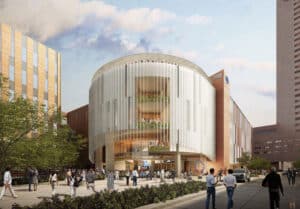 Back from the brink of serious financial difficulties just over five years ago, Thunderbird School of Global Management is now little more than 12 months away from celebrating the grand opening of a modern sustainable new state-of-the-art global headquarters, on the Downtown Phoenix campus of Arizona State University (ASU).
Designed to achieve LEED Silver certification, the new desert-friendly five-storey building will cover 110,000 square feet and mark a new chapter in the story of what is now an international business school thriving in the pandemic, despite half its students coming from outside the US. Thunderbird is a true turnaround tale.
On completion in the fall of 2021, the new facility will include a range of key features: the Global Forum, providing adaptable, multi-purpose event space and an LED globe that connects all members of the School's global network via live social media updates; an Innovation Lab, serving as the hub of experiential activity, with offerings such as a VR / AR technology-enhanced Language Lab; Global Heritage Lounges celebrating various regions and the school's history; plus, on the roof, the Pub — an icon from Thunderbird's early days.
The construction of such a cutting-edge hub of international leadership underscores ASU's commitment to Thunderbird and its students from around the world and to the importance of exceptional leadership and management education for generations to come.
From post-War Glendale to Downtown Phoenix
Originally, the school launched in 1946 at a decommissioned US Army airfield in Glendale that had been used to train pilots during World War II. In 2014, Thunderbird officially became part of ASU, and, in 2018, moved from the sprawling Glendale campus to temporary quarters in Downtown Phoenix, America's fifth-largest and fastest-growing city.
Commenting on the evolution of Thunderbird over time, ASU president Michael M Crow said:
"For more than 70 years, Thunderbird has been a hidden gem in Arizona. Now, it will be a crown jewel in the centre of our emerging global city, connecting ASU, our state and our country to the world, providing the best in leadership and management education."
Thunderbird's new home will have an open design that integrates meeting rooms, study space, offices, a large event venue and flexible areas for dining and collaborative work.
Connecting past and present, school alumni have also played a key role in shaping its future, explained Thunderbird's Director General and Dean, Sanjeev Khagram:
"Our new world-class headquarters is a fitting home for the world's number-one-ranked Master's in Management at the number-one-ranked school in innovation in the US. It will connect our students and alumni around the world in one physical and digital space.
"This building will go a long way in advancing our mission of educating global leaders who can maximise the benefits of the Fourth Industrial Revolution to create inclusive and sustainable prosperity worldwide. None of this would be possible without the generous contributions of our global network of over 45,000 Thunderbird alumni."
Thunderbird's new building will be located on land owned by the city of Phoenix, which is contributing more than $13M towards its construction. Town and gown are moving forward together, concludes Phoenix Mayor Kate Gallego:
"Thunderbird expanding its presence in Downtown Phoenix is about more than just a new building — it is about tapping into Phoenix's position as a global city. Everyday, our city is attracting more companies that compete on an international scale and Thunderbird is training the next generation of these global business leaders."
Construction is scheduled for completion in the fall semester of 2021 when the Thunderbird community will also be celebrating the 75th anniversary of the school's founding.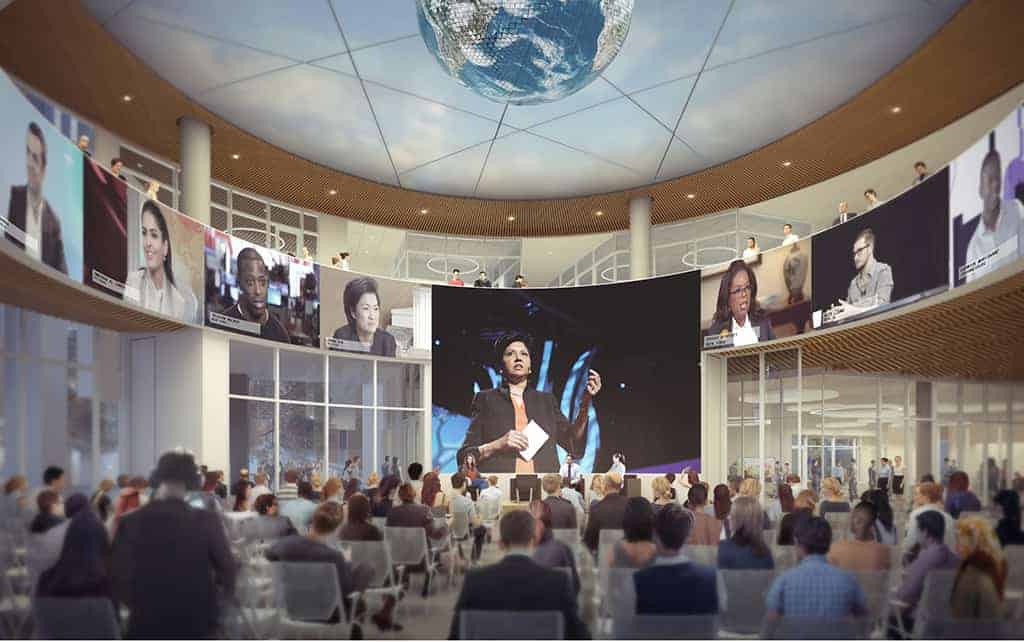 Thunderbird & ASU
Thunderbird School of Global Management is a unit of the Arizona State University Knowledge Enterprise. In essence, the new headquarters represents part of a broader revitalisation of Thunderbird that actually started when the school joined ASU in 2014 and includes revamping curriculum, hiring eminent professors to add to the school's renowned faculty and opening new satellite Centres of Excellence around the world to support recruiting, executive education, alumni and community engagement, professional English courses, thought leadership, applied research, and fundraising.
Thunderbird aspires to create sustainable and inclusive prosperity worldwide by educating future-ready leaders capable of tackling the world's greatest challenges. Thunderbird's Master of Global Management was ranked #1 in the world for 2019 by the Wall Street Journal and Times Higher Education. Arizona State University is ranked #1 in innovation by US News & World Report.
Arizona State University describes itself as having developed a new model for the American Research University, creating an institution that is committed to access, excellence and impact. ASU measures itself by those it includes, not by those it excludes.
As the prototype for a New American University, ASU pursues research that contributes to the public good, and assumes major responsibility for the economic, social and cultural vitality of the communities that surround it. Its Global Insitute of Sustainability and Innovation sits within the Julie Ann Wrigley Global Futures Laboratory and offers transdisciplinary degree programmes focused on finding practical solutions to social, economic and environmental challenges.
---
Further Reading:
---
---
>>> Do you have sustainability news to broadcast and share? If you would like to see it featured here on SustMeme, please use these Contact details to get in touch and send us your Press Release for editorial consideration. Thanks.
---