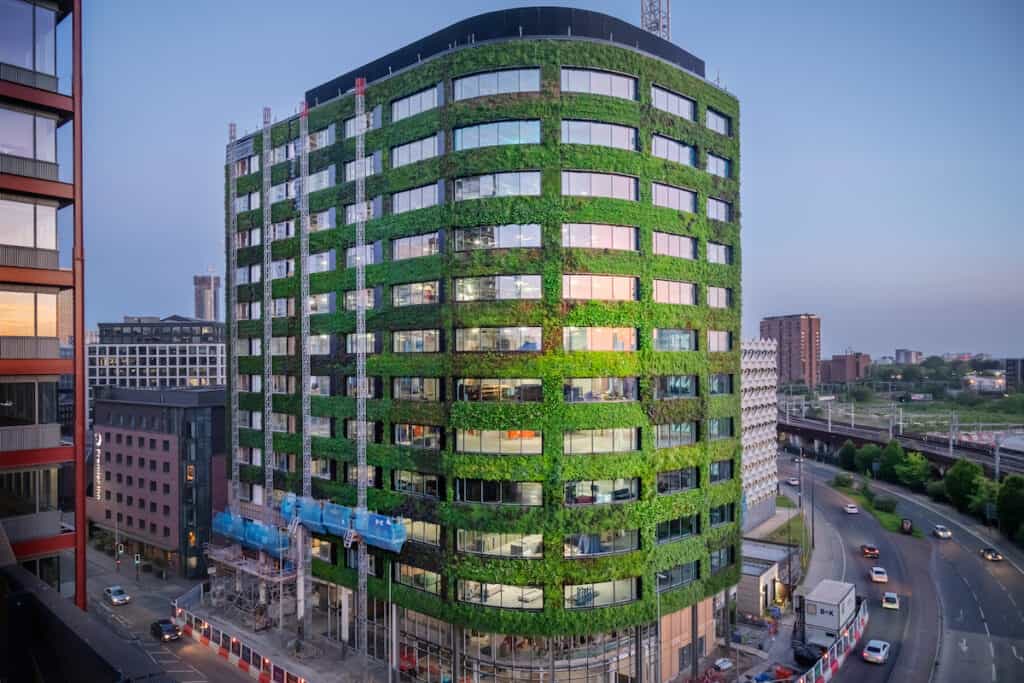 On completion in late summer, a landmark 12-storey green building in Salford, England, will become the first new office design in the UK to achieve a record-breaking NABERS 'Design Reviewed' Target Rating of 5.5. It will also hold the title of having Europe's largest living wall, which at 3,300sq m ranks second biggest in the world.
Developed by the The English Cities Fund (ECF), the £36M, 115,000sq ft Eden building brings a smart workspace opportunity to organisations seeking sustainable premises in the New Bailey area of the city.
ECF is a strategic joint venture between nationwide placemaker, Muse, Legal & General, one of the UK's leading financial services groups and a major global investor, plus Homes England, the Government's housing and regeneration agency.
Eden is a key part of ECF's £1bn transformation of the Salford Central area of the city into a diverse mixed-use destination, complete with a bustling commercial district, alongside a vibrant community of homes and amenities.
Local champion of this flagship development, Paul Dennett, Mayor of Salford said:
"Our city has a proud history of innovation, from the first steamboat to the first swing aqueduct, and we are thrilled to add Eden to that list — a sustainable endeavour." 
Smart, healthy and green (literally)
On target to achieve a BREEAM Outstanding rating, Eden is a London Energy Transformation Initiative (LETI) pioneer project, designed by Make Architects using the LETI Climate Emergency Design Guide.
The property will be enabled to run solely on 100% renewable electricity and has also been designed to meet UK Green Building Council (UKGBC) 2030-2035 operational energy targets.
Eden will be kitted-out with the latest in smart tech solutions to improve resource efficiency, with upgraded insulation in line with the Passivhaus standard, enhanced ventilation to improve the flow of fresh, clean air, along with an air-source heat pump for low-carbon heating, hot water, and cooling.
Visually iconic, Europe's largest living wall will remove air pollutants including carbon, reduce urban temperatures offering thermal benefits to occupiers, and deliver a 174% net gain in area biodiversity.
The façade offers a range of additional benefits by helping enhance occupier health, wellbeing and productivity. It also aligns strongly with WELL Building Standard principles, which have been embraced on the development and aim to improve health and human experience through design.
What is a NABERS rating?
Much like energy ratings for domestic appliance ratings, NABERS provides a rating for the energy efficiency of offices. On a scale of one to six stars, NABERS helps owners understand how their property performs compared to other buildings.
To date, just 20 buildings have been certified through the independent design review, ranging from 4 to 5 stars. One of only two projects with the highest 5.5 star target rating, Eden is the sole new-build design, with the other building being a refurbishment.
Key to the genesis of Eden, Phil Marsden, Director of Project Management (North West), Muse, adds:
"Eden's creation was motivated purely by the ambition to build the UK's most sustainable and environmentally considerate commercial building. We are thrilled with the result and have learnt so much; learnings we look forward to sharing."
What is Design for Performance?
The UK has historically had a design-for-compliance culture which has often led to a 'performance gap' between original design intent and how a building truly performs in-use.
To counter this, Design for Performance is the process where a developer or owner commits to design, build and commission a new office development or major refurbishment to achieve a specific NABERS UK Energy rating. Once operational, the building is then verified through the NABERS UK Energy for Offices rating scheme.
What about Whole Life Carbon?
During the design phase, partners undertook early-stage, whole-life, and upfront embodied carbon assessments to eliminate waste and reduce the building's carbon footprint.
Sustainable materials feature throughout where possible, with recycled steel used for reinforcement, 40% cement replacement for the substructure and 30% cement replacement for the superstructure.
These sustainable innovations result in Eden reducing its upfront embodied carbon intensity down to 662kgCO2/sq m, compared with over 1100kgCO2/sq m for a typical development of this type.
Taken together, all these features combine to deliver a basket-full of benefits for all stakeholders, concludes Simon Wyatt, UKGBC Members Advisory Committee and partner at Cundall, the international multi-disciplinary engineering consultancy:
"Eden is truly ground-breaking in the world of construction. ECF has been innovative in how it has gone about reducing the carbon impact of the build and the eventual operational performance.
"What this means for occupants and investors is greater ROI — a happier, healthier, and higher-performing workforce and work environment, reduced energy consumption, ESG targets hit. It is a win/win for all involved."
In 2017, Cundall's London office became the first building in the UK and Europe to achieve WELL Certification through the WELL Building Standard. Cundall is on track to achieve its goal of being a carbon positive business by no later than 2025, following the practice's certification as carbon neutral by the Carbon Trust in 2020. 
Places, partners and progress
Set up by three of the UK's leading regeneration and investment organisations, ECF works in partnership with the public sector to transform urban areas and create exceptional new places. In 2018, it announced the doubling of the fund to £200M, paving the way for new partnerships and fresh investment across England.
Last year, Homes England, Legal & General and Muse, reconfirmed their commitment to their long-standing partnership for a further 10 years, to December 2036. This will enable the ECF to continue to deliver against its mission, tripling its development potential to date.
This commitment will allow for an additional 6,600 homes to be built and for ECF to reinvest its capital into new, long-term urban regeneration schemes that will support the Levelling Up of towns and cities, creating places where businesses want to invest, and people want to live and socialise.
Part of the Morgan Sindall Group, nationwide placemaker Muse has almost 40 years' experience creating mixed-use communities across the UK. Muse is working with partners in 40 places across the UK, with close to 2,500 new homes and 800,00sq ft of workspace currently on site.
Established in 1836, Legal & General is one of the UK's leading financial services groups and a major global investor, with over £1.4tr in total assets under management, as at year end 2021.
As the government's housing and regeneration agency, Homes England uses its powers, expertise, land, capital and influence to bring investment to communities and get more quality homes built.
---
Further Reading:
---
---
Check out the full archive of stories on the SustMeme Built Environment Channel, Sponsored by Mitsubishi Electric Living Environmental Systems UK.
---