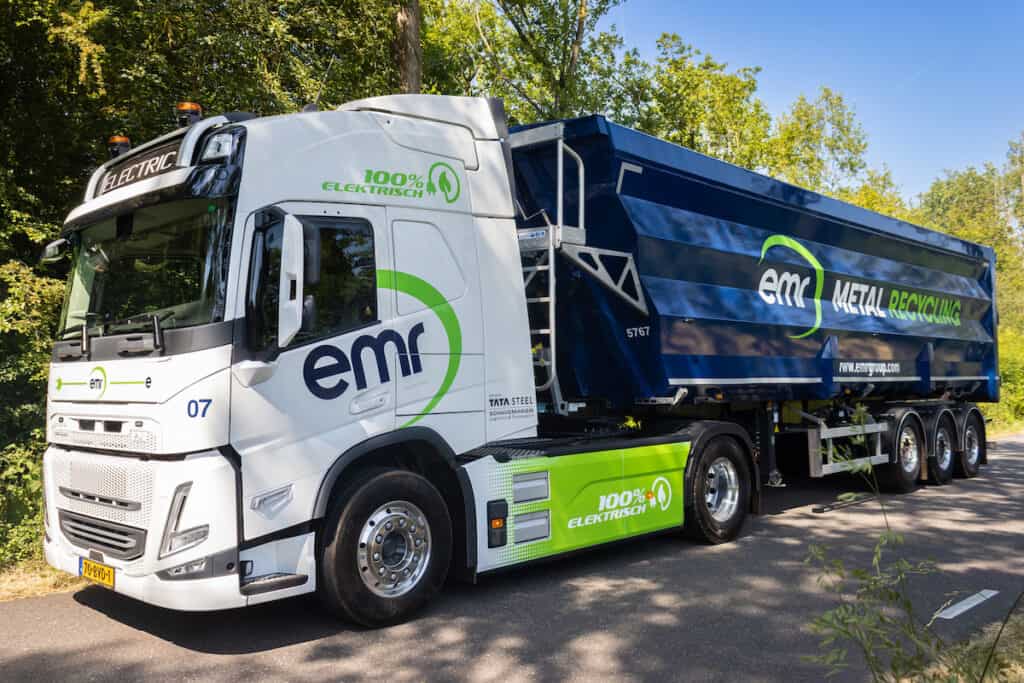 Whilst Amsterdam might be famous for its bicycles, a new mode of sustainable transport is now taking to the road there, in the form of an all-electric truck capable of transporting 30 tonnes of metal citywide.
Sustainable materials specialist EMR has welcomed its first ever all-electric truck to the Netherlands. The vehicle has been procured in cooperation with Schavemaker Transport and TATA Steel, to provide a low-carbon, sustainable solution for transporting recycled metal around Amsterdam.
The vehicle — a state-of-the-art Volvo FM Electric model — has a range of 300km per charge and can transport recycled metal from its EMR Amsterdam site to a local steel factory, enabling a greener circular economy.
The new truck's battery life will allow for four round trips between EMR Amsterdam and TATA Steel without needing to recharge, while its electrically operated tipper will allow EMR to deposit this metal using clean energy, too.
The truck is owned and run by Schavemaker Transport, continuing a long partnership between EMR and the haulier. This vehicle makes EMR Netherlands the first metal recycling business to benefit from using this technology on their daily route to the port city of IJmuiden.
Science-based targets hit the road
In 2020, EMR announced its market-leading, science-based target to reach net-zero emissions by 2040. The company Sustainability Strategy outlines a set of goals, which would help it to achieve this target, including transitioning to fully electric company cars and using electrified material-handlers on site.
The arrival of the new Volvo FM Electric truck highlights how EMR Netherlands is already preparing for the next stage of this journey, decarbonising its use of road transport.
This is not the first low-carbon transport initiative on the part EMR Netherlands, though. In 2021, the company switched two of its diesel vehicles to liquefied natural gas (LNG), providing a significant reduction in the carbon emissions associated with every journey. In Jan 2023, EMR Netherlands introduced its first extra-long vehicle, increasing efficiency by carrying three containers per journey, instead of two.
The sector is moving forward on sustainability, says Ferdy Kroon, Logistics Manager at EMR Netherlands:
"Road transport in the Netherlands is changing fast, with many older diesel-powered vehicles no longer meeting the standards required to operate in our towns and cities. The arrival of this Volvo FM all-electric truck showcases EMR Netherlands' commitment to operating in a cleaner, more sustainable way. As battery ranges grow and this technology continues to improve, I look forward to welcoming more of these high-performance vehicles into our operations."
EMR is a global leader in sustainable materials with physical operations in the UK, USA and Germany, as well as the Netherlands. The company recycles over 10 million tonnes of metal and plastics each year — anything from a can to an aircraft carrier. This saves over 15 million tonnes of CO2, compared to virgin ore.
---
Further Reading:
---
---
Check out full archive of stories on the SustMeme Transport & Mobility Channel, Sponsored by Global Mobility Call (GMC).
---