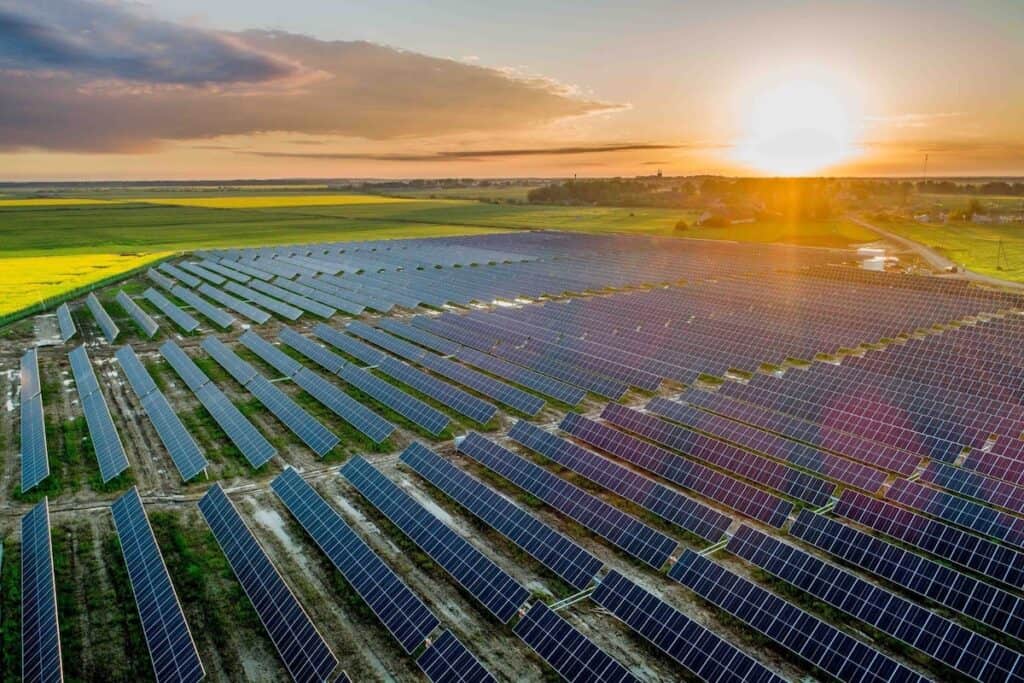 The process of brewing beer is highly energy (and water) intensive, which is why an innovative investment into solar power by a major alcohol brand in Lithuania is sending strong net-zero signals to the market.
Lithuanian brewer Švyturys-Utenos Alus (ŠUA), part of the Carlsberg Group, has entered into a novel Energy-as-a-Service power purchase agreement (PPA) with renewable energy company Green Genius.
Under the agreement, Green Genius will develop, construct, commission, and operate two first-of-their-kind PV-plus-storage systems in Lithuania that will provide renewable energy to the brewery and cover 100% of its annual demand with carbon-free electricity.
The Energy-as-a-Service agreement is also the first of its kind in Lithuania and the Baltics more broadly. It will help accelerate progress towards the Carlsberg Group's ZERO Carbon Footprint ambition.
The PPA agreement between the two parties linked to Green Genius's InnoSolveGreen project has been recognised by the European Climate, Infrastructure, and Environment Executive Agency (CINEA) under the Innovation Fund Small Scale Call 2021. The project was selected for its potential to reduce greenhouse gas emissions and accelerate the transition of European industries towards a carbon-free economy.
The project's total value is €7.5M, of which €2.6M is funded by the European Union Emissions Trading System – Innovation Fund, with Green Genius covering the rest.
The InnoSolveGreen project involves the installation and commissioning of two PV-plus-storage systems in Lithuania. The first on-site system will be implemented at the ŠUA site in Utena city, by May 2024. The second off-site system will be operational at a new utility-scale site near Butrimonys by January 2025.
Rooftop PV on-site, plus utility-scale off-site
The recent PPA builds on an existing partnership between Green Genius and ŠUA, established back in 2018, with the installation of a 1.0MW solar PV plant on the ŠUA brewery rooftops.
This time, Green Genius will install a new additional 1.5MW solar PV system on the remaining brewery's rooftops and increase the on-site solar PV capacity to the maximum extent.
To accommodate this significant expansion without impeding the local grid, a 2.0MWh battery energy storage system will also be installed and deployed to meet the brewery's electricity demands.
The on-site solar PV capacity will be complemented by the new 5.0MW off-site utility-scale solar PV plant near Butrimonys, which features a 4.0MWh battery energy storage system, too.
The combined on-site and off-site solar PV-plus-storage systems will help ŠUA brewery source 100% of its electricity from locally produced renewable energy.
Leading in Lithuania and the Baltic States
As an influential catalyst for regional climate action, Green Genius and ŠUA hope the pioneering project will inspire other Lithuanian and EU businesses to decarbonise and build energy self-sufficiency.
Outlining the wider ambitions for the scheme, CEO of ŠUA, Rolandas Viršilas says:
"For a long time, we have been using only electricity from renewable sources. Now we are raising the bar higher — we will use only local and only self-produced electricity that contributes new green electricity to the grid.
I believe that our example will encourage other Lithuanian businesses to take similar actions, because by investing in new green energy capacities, we are not only getting involved in the green transformation but also taking care of Lithuania's energy security, which, as the events of recent years show, is extremely important".
Highlighting the groundbreaking project nature, Ruslanas Sklepovicius, CEO of Green Genius, adds:
"It will be the first autonomous green electricity solution for industrial users in the Baltic States. Therefore, we see this project as an essential milestone toward sustainability and energy independence in the region".
ZERO Carbon Footprint and ESG
In Lithuania, ŠUA has a key role to play in helping realise the ambitions of the Carlsberg Group ESG programme, Together Towards ZERO and Beyond (TTZAB). Through TTZAB, the Group is working towards its ZERO Carbon Footprint goal, with global targets set to drive emissions down across the value chain to achieve net zero by 2040.
In particular, the Group is striving for zero carbon emissions at its breweries and for all renewable electricity to come from new assets (for example, through PPAs) by 2030. ŠUA is well on the way, having already converted its Utenos brewery to be carbon neutral in 2020.
Beer brands and renewable assets
Established in 1847 by J C Jacobsen, the Carlsberg Group is one of the leading brewery groups in the world, with products sold in 150 markets. The Group's beer portfolio spans both local and international premium brands, including Carlsberg, Tuborg, 1664 Blanc and Grimbergen, strong local power brands and alcohol-free brews.
In addition, its portfolio of other beverages includes both alcoholic and non-alcoholic beverages such as ciders, including Somersby, soft drinks and energy drinks. Carlsberg is listed on Nasdaq Copenhagen.
Green Genius is a renewable energy company developing, building, and operating solar, biogas, wind, and green hydrogen energy projects. Currently, the company holds a substantial pipeline of over 2GW of assets in various stages of development and construction in eight European countries.
With over 15 years of experience in renewables, Green Genius generates approximately 315GWh of green energy per annum, allowing it to save more than 210,000 tons of CO2. That equates to approximately the same amount as 10 million trees might absorb in a year.
Green Genius is a part of the international Modus Group of companies, present in 12 European markets.
---
Further Reading:
---
---
Check out the full archive of stories on the SustMeme Climate & Energy Channel, brought to you in association with Media Partner the London Climate Technology Show.
---