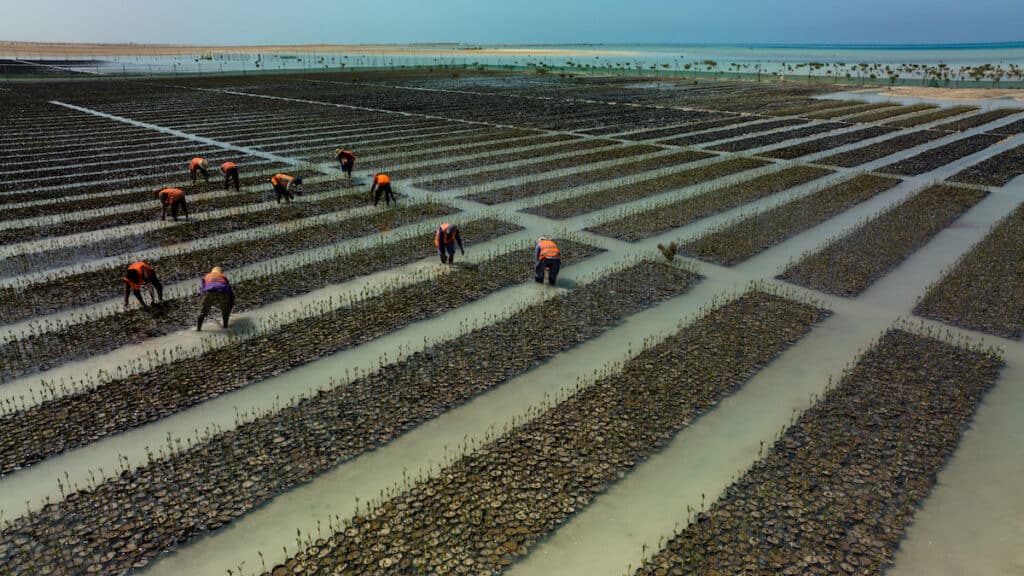 The developer behind two of the most ambitious regenerative tourism destinations in the world has opened its first dedicated mangrove nursery, as part of a plan to plant 50 million of these carbon-sequestering trees by 2030.
Red Sea Global (RSG), the developer of The Red Sea and Amaala destinations, officially launched its mangrove nursery in partnership with the National Center for Vegetation Cover on the occasion of the International Day for the Conservation of the Mangrove Ecosystem (26th July).
The launch aligns closely with the national objectives of the Saudi Green Initiative and RSG's commitment to conserving and revitalising the Kingdom's Red Sea coast, underpinned by an overarching ambition to deliver a 30% net conservation benefit by 2040.
Super ecosystem solutions provided by Nature
Mangroves offer a unique mix of benefits explains Group CEO at Red Sea Global John Pagano:
"While we will continue to explore novel approaches, embrace cutting-edge methodologies, and utilise innovative technology, often nature already provides the greatest solutions. The power of mangrove forests to store carbon, to manage flooding and stabilise coastlines, and to provide shelter for fish and other organisms, makes them one of nature's super ecosystems."
The seedlings will be cared for in the nursery for approximately eight months until they grow to 80cm, at which point they will be carefully transplanted in designated mangrove parks within the destination.
To give the seedlings the best chances of survival, RSG's experts chose to cultivate native mangrove species such as the Rhizophora Mucronate (red mangrove) and the Avicenna Marina (grey mangrove).
Carbon is key, says Raed Albasseet, Group Chief Environment and Sustainability Officer at RSG:
"The establishment of a sustainable mangrove ecosystem is a key part of our commitment to protect and enhance the natural environment of our destination. These trees are among the most efficient tools we have for carbon sequestration, with the capacity to absorb up to 5-10 times more carbon than other plants."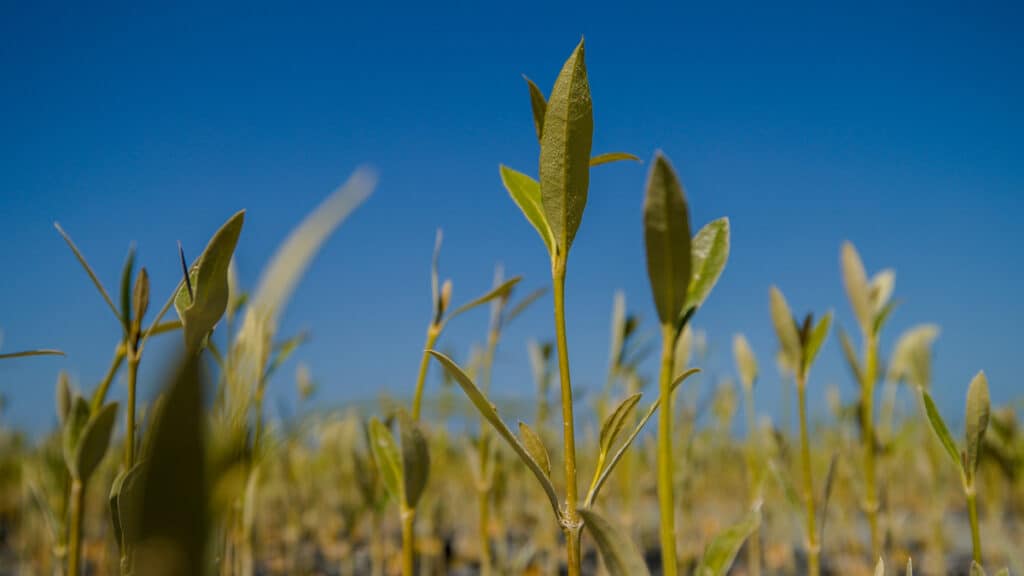 Seedling stewardship takes time and care
The mangrove nurseries themselves must also be protected from natural threats in their own habitats such as storms, extreme high tides, grazing animals, and algae that feed on them. Successful seedling stewardship takes both time and care, adds Tarik Alabbasi, Environmental Programs Director at RSG:
"The process of the cultivation and transplantation of mangrove trees is highly technical requiring significant planning and proficiency. Since mangrove forests require water to survive, nurseries are typically located near a source of water within the intertidal zone to ensure the optimal growth of the seedlings. We need to carefully track the tide cycles to find periods of low tide in addition to consistently monitoring the weather to avoid windy days."
The establishment of the mangrove nursery is the latest initiative launched by RSG to protect and enhance key habitats crucial to biodiversity. Previous projects include the first-ever successful transplantation of native Doum Palm Trees, achieved earlier this year, and the establishment of pioneering floating coral nurseries for reefs.
RSG also recently released findings from its latest Wildlife and Ecosystem Study. This builds on results of the largest ever environmental baseline survey completed by a developer, released last year and covering 250km of coastline, including The Red Sea and Amaala areas.
Parks to provide educational guest experience
At the new destinations, the dedicated mangrove parks will soon form part of the guest experience, open for visitors to explore and learn more about the important role they play in natural ecosystems.
The Red Sea destination is on track to welcome its inaugural guests this year, when the international airport and the first hotels will open. Amaala will be opened to visitors soon after, in 2024.
Red Sea Global (RSG) is a closed joint-stock company wholly owned by the Public Investment Fund (PIF) of Saudi Arabia. A cornerstone of Saudi Arabia's Vision 2030 ambition to diversify its economy, RSG is playing a key role in transforming the nation, by creating exciting opportunities for young Saudi talent and the private sector, as it develops built assets and destinations across multiple sectors that make a positive impact for people and planet.
---
COMING SOON: Guest Blog on SustMeme, from Dr Maryam Ficociello, Group Chief Governance Officer at Red Sea Global, will explore Marine conservation and regenerative tourism in the Red Sea region.
Further Reading:
---
---