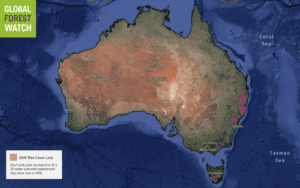 During the course of 2019, the Earth lost 3.8 million hectares of primary forest, which is equivalent to one football pitch gone every six seconds. Tree Cover Loss data released this week by Global Forest Watch reveal that primary forest loss in 2019 proved 2.8% higher than in 2018, making it the third worst year this century.
In terms of the associated climate cost, total forest loss equates to at least 1.8 Gt of carbon emissions, which amounts to the annual impact of 400 million cars.
Breaking the global numbers down by country, Brazil, DRC and Indonesia were once again the three nations hardest hit. Brazil single-handedly accounted for over a third of all loss of humid tropical primary forests worldwide.
In exceptional items, Bolivia and Australia both experienced unprecendented loss of total tree cover due to uncontrolled burning and extreme wildfire devastation.
Providing a glimmer of much-needed good news, both Ghana and Cote d'Ivoire reduced primary forest loss by over 50% in 2019, plus total loss in Indonesia was recorded at historically low levels for the third year in a row.
In all, the tropics lost 11.9 million hectares of tree cover in 2019, according to data from the University of Maryland, released on Global Forest Watch (GFW). Nearly a third of that loss, 3.8 million hectares, occurred within humid tropical primary forests — areas of mature rainforest that are especially important for biodiversity and carbon storage.
Fires in Bolivia due to both climate impacts and human activity
Bolivia experienced record-breaking tree cover loss due to fires — both within primary forests and in surrounding woodlands — posting figures 80% greater than the worst ever seen in previous years.
These fires in Bolivia resulted from a combination of both climatic conditions and human activity, with many thought to have been started by people clearing agricultural land for planting, but spread out of control into forests due to sustained winds and dry weather.
Large-scale agriculture, particularly soy and cattle ranching, is flagged on GFW as part of the problem for deforestation in Bolivia, with government restrictions on burning relaxed just months before the fire spike.
Australia's wildfires caused staggering Tree Cover Loss
Outside of the tropics, naturally occuring wildfires scorched Australia towards the end of 2019 and into early 2020, causing a massive surge in tree cover loss. This made 2019 easily the country's worst year on record, with a six-fold increase in figures compared to the 12 months before.
In fact, GFW notes that the true impact of Australia's fires on tree cover loss is likely worse, as burning that continued into 2020 is not captured in the latest yearly data for 2019.
Time to double down on forest protection
Analysing the numbers in a blog for for the World Resources Institute (WRI), Mikaela Weisse and Liz Goldman argue that, despite apparent successes by some countries in curbing forest loss, the 2019 data underscore one fact: The fight to curb tropical forest loss is far from over.
Most countries and companies will fail to meet their 2020 commitments around forests, they note, with tropical primary forest loss as high as ever and the coronavirus pandemic posing some additional threats.
The urgent message is that governments can build back better. Investing in the restoration and sound stewardship of forests will create jobs, contribute to more sustainable economies and protect the forest ecosystems our world needs.
Global Forest Watch is an online platform that provides data and tools for monitoring forests. By harnessing cutting-edge technology, GFW allows anyone to access near real-time information about where and how forests are changing around the world. Since its launch in 2014, over 4 million people have visited Global Forest Watch from every single country in the world.
---
Further Reading:
---
---
>>> Do you have sustainability news to broadcast and share? If you would like to see it featured here on SustMeme, please use these Contact details to get in touch and send us your Press Release for editorial consideration. Thanks.
---