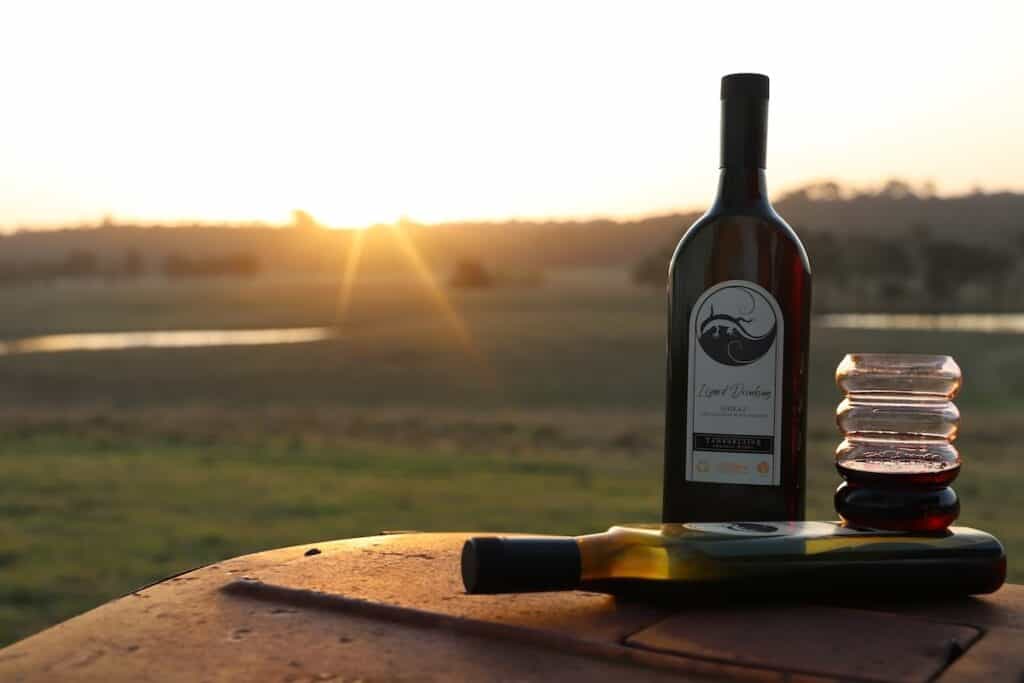 In a first for circular packaging innovation, a leading producer of organic wines in Australia has chosen eco-flat bottles for the launch of its new brand, in the Orange wine region of News South Wales.
Setting new industry standards, Tamburlaine Organic Wines will launch its Lizard Drinking branded organic wines in eco-flat bottles, made from Australian 100% recycled PET (rPET) by packaging pioneer Packamama.
Weighing in at just 63g and manufactured in Australia, the light and space-saving Packamama flat-pack bottle design helps minimise the carbon footprint of wine production, contributing to a circular economy.
Working with Packamama, Tamburlaine's commitment to organic farming practices is further extended to packaging, reinforcing the winemaker's dedication to sustainability and responsible consumption.
Quench your thirst with a triple first
The new Lizard Drinking brand will be available from Tamburlaine in Chardonnay and Shiraz varietals and is a humorous reference to the Australian idiom, 'flat out like a lizard drinking'. The brand name also cleverly gives a nod to the innovative flat shape of the Packamama bottles.
This launch is actually a triple first: It is the first organic wine in Packamama eco-flat bottles in Australia; the first wines in Packamama bottles from New South Wales (specifically the Orange wine region); and the first wines to be bottled at the winery.
These new wines will be showcased at the SparkLabs Cultiv8 2023 Showcase & Future Food Dinner, which fittingly takes place in Orange, on the opening day of next month, 1 November.
Influential agri-food accelerator SparkLabs Cultiv8 has backed and mentored 50 startups since its launch in 2017. Earlier this year, Packamama was selected as part of the 2023 cohort for its CleanTech Programme.
Natural fit for a sustainable partnership
As a launch partner, Tamburlaine not only makes great wines, but also embraces a brand ethos that is a natural fit for sustainable packaging, explains Santiago Navarro, CEO and Founder of Packamama:
"New South Wales (NSW) produces more than a quarter of Australia's wines. This equates to close to 500 million bottle equivalents annually and so it is an important State for us to enter. Pioneer Mark Davidson is a great wine personality to launch NSW with as he champions a sustainable future for wine, respecting tradition but also pushing the boundaries."
Reinforcing this sense of allyship, Mark Davidson, Chief Winemaker and Managing Director, Tamburlaine Organic Wines first recognised the eco-flat rPET bottle potential coming out of the UK as far back as 2019:
"I was part of the change 20 years ago when Australia (and New Zealand) shook up the wine world with screwcap closures replacing the old-school cork seals.. Now, in a world cleaning up its act environmentally, we are on the cusp of more change to old habits thanks to innovation like the eco-flat Packamama bottle. These provide a fully recyclable and convenient alternative for the majority of quality wine destined to be consumed soon after purchase."
Climate-tech packaging to shrink carbon footprints
Packamama is the climate-tech packaging business designed for a circular economy. Believing in the far-reaching opportunity that packaging offers to be a force for good, the manufacturer is on a mission to help create a greener future for the drinks industry, starting with better wine bottles to tackle the wine trade's carbon footprint.
From its HQ in the UK, Packamama is rapidly expanding its production network of industry leaders to cover not only Australia, but also soon France and the US, too.
Organic, biodynamic, vegan-friendly and low-sulphur
After years of research and development, Tamburlaine Organic Wines has become one of Australia's largest producers of organic wines, with vineyards in the Hunter Valley and Orange region. First established in 1966, the Hunter winery was purchased in 1985 by a small group of friends and relatives led by Mark Davidson.
Committed to producing world-class wines in harmony with the environment, Tamburlaine offers award-winning organic, vegan-friendly, low-sulphur and no-added-sulphur wines, plus low- and no-alcohol wines.
Tamburlaine's vineyards are certified organic and biodynamic. From 2016, Tamburlaine also removed the use of animal proteins traditionally used throughout the industry.
For consumers who cannot tolerate the normal sulphur levels in wine, Tamburlaine also extended its range of wines to include options without added sulphur – commercially referred to as being 'preservative free'.
Named after Christopher Marlowe's famous play and historic character Tamburlaine the Great, the winery has enjoyed strong critical success, with over 100 Wine Show trophies Australia-wide and in London since 2017.
---
Further Reading:
---
---
Check out the full archive of stories on the SustMeme Circular Economy Channel, Sponsored by Dow.
---