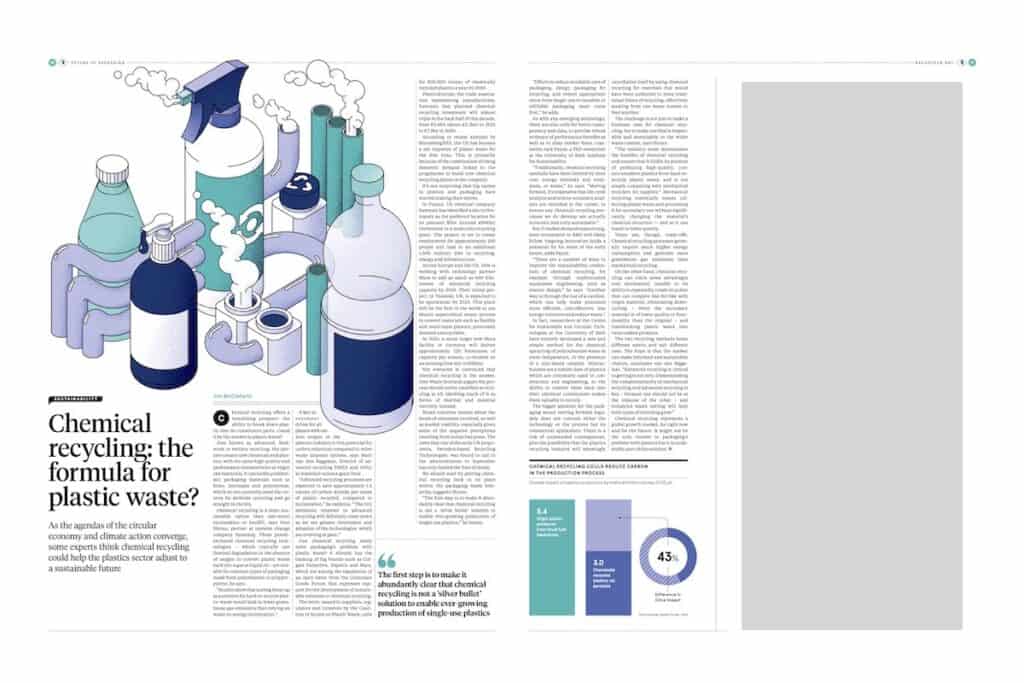 New writing… Pleased to say I have another article published in The Times newspaper — exploring to what degree chemical recycling could provide the answer to the problem of plastic waste, featured as part of a special Raconteur report into the Future of Packaging.
Like a modern-day molecular alchemy, chemical recycling offers the tantalising prospect of being able to break plastic waste back down into its constituent parts, in order to create new chemicals and plastics with the potential to perform like virgin materials.
Also known as advanced, feedstock or tertiary recycling, the process can tackle some of the more problematic packaging materials, such as films, laminates and polystyrene, that do not currently meet the criteria for kerbside recycling and go straight in the bin. Therefore, as an alternative to last-resort incineration or landfill, chemical recycling is a more sustainable option.
The solution already has the backing of big brands such as Colgate Palmolive, PepsiCo and Mars, who are amongst the signatories of an open letter from the Consumer Goods Forum that expresses support for the development of sustainable solutions to chemical recycling.
The letter, issued to suppliers, regulators and investors by the Coalition of Action on Plastic Waste, calls for 800,000 tonnes of chemically recycled plastics a year by 2030.
In response, PlasticsEurope, the trade association representing manufacturers, forecasts planned chemical recycling investment will almost triple in the back half of this decade — up from €2.6 billion in 2025, to €7.2 billion in 2030.
Furthermore, according to recent analysis by BloombergNEF, the United States has now become a net importer of plastic waste for the first time, primarily thanks to rising domestic demand linked to the build programme for new chemical recycling plants there.
So, with expert comment from researchers, manufacturers and analysts, in packaging and plastics alike, the piece discusses the merits, applications and business case for investment in Chemical recycling: the formula for plastic waste? (uploaded as a full page PDF to view/download).
The full Future of Packaging report December 2022 is also available to view/download in full here.
---
Further Reading:
---
---
SUSTMEME: Get the Susty Story Straight!