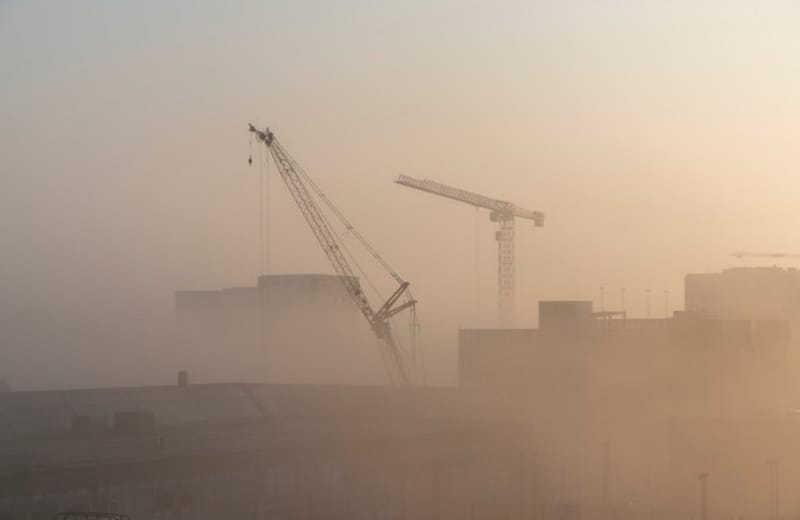 As a global sporting spectacle that takes place only every four years, the World Cup happens on a huge scale — with teams from 32 countries, millions of live spectators and billions more TV viewers — and, as a result, the carbon footprint of the event is potentially massive. Before even a ball has been kicked, however, new analysis suggests that FIFA has scored an environmental own goal, by grossly underestimating the actual impact by almost 50%.
The official report from FIFA forecasts that the total carbon footprint of the World Cup in Qatar will be 3.6 million tonnes of CO2 equivalent, roughly approaching Iceland's emissions for an entire year. By way of comparison, the Rio Olympics in 2016 registered a similar carbon footprint.
However, according to Carbon Market Watch, total emissions are estimated to be as many as five times higher (18 millions tons of CO2-equivalent emissions). So, to understand better the calculations behind the predictions, as well as the discrepancies, climate tech Greenly, a B-Corp specialist in carbon accounting, has investigated the numbers.
The construction of brand new infrastructure
In total, eight stadia have been planned for the World Cup, of which only one facility existed prior to Qatar being named the host of the tournament: the Khalifa International Stadium, built in 1976 — the only non-air-conditioned stadium in the competition. Another stadium will be completely dismantled at the end of the competition.
According to Carbon Market Watch, the construction of the six new permanent stadiums has generated a carbon footprint eight times greater than FIFA's estimate. In total, the actual figure would approach 1.6 million tonnes of CO2e compared to the 200,000 tonnes that have been computed on the basis that the stadiums would be used for 60 years of sporting competitions.
Even if the air-conditioning system installed is 40% less energy-consuming — because it is powered by solar energy — these open-air stadia can only be cooled using a considerable amount of energy (which is also difficult to quantify). Furthermore, the air-conditioning system broke down during the test match on 9 September.
Many peripheral constructions have also been built to support this development, including roads, new hotels (many of them luxury), shopping complexes and theme parks. In the absence of precise data, however, it is difficult to quantify their carbon footprint and their energy expenditure during and after the event.
The climate cost of air travel and transport
According to Greenly's calculations, the air travel of the 1.2 million fans to the Arabian Gulf countries for the World Cup could amount to around 2.4 million tonnes of CO2 equivalent. This does not even include the 160 daily shuttle flights between Doha and its neighbouring cities to transport spectators to and from the sporting venues — amounting to approximately 1 plane every 10 minutes.
Assuming these flights are operated with Airbus A320s with a capacity of 150 passengers and occupied to 75% of their capacity (the average occupancy for a traditional flight), 160 round trips between Doha and Dubai would amount to 2160 tonnes of CO2e. Filled to 100%, it would amount to 2880 tonnes, or 83,520 tonnes of CO2e over the 29 days of the competition.
Furthermore, little is known about the situation with regards to the transport of the 32 delegations expected to attend the World Cup, particularly if they prefer to use private jets rather than regular flights. A private jet emits 5 to 14 times more CO2 on average than a regular commercial flight.
The invisible impact of digital pollution
The Cup in Qatar is expected to attract an estimated 3.2 billion viewers, a figure similar to that of the previous World Cup in Russia in 2018.
According to FIFA's report from Russia, the previous World Cup recorded more than 34.66 billion viewing hours. However, it is important to note that the electricity production required to run TV sets is also a source of CO2 emissions, when such production involves the use of fossil fuels.
The average electricity consumption of an LCD television equals roughly 0.1 kWh per viewing hour, while the world average carbon intensity of electricity is 475 gCO2e/kWh. Therefore, Greenly estimates that the carbon footprint of broadcasting and related activities alone will be in the region of 1 to 2 million tonnes of CO2 equivalent.
Whilst providing only a rough guide, even these elementary calculations clearly suggest the official estimates are wrong, says Alexis Normand, CEO and co-founder of Greenly:
"It is important to remember that these are but estimates, and thus, should not be taken at face value. However, it shows that figures announced by Qatar fall short of reality by a significant degree," 
A World Cup far from carbon-neutral
This World Cup is being touted as the first carbon-neutral World Cup, even though the amount of CO2 emissions announced is higher than those of the Russian and Brazilian editions – 2 million tonnes of CO2 each.
Qatar intends to offset its emissions by buying carbon credits and, to validate the credibility of the projects, the organisers have turned to the Global Carbon Council. However, with one month to go before the competition, only three carbon offset projects have so far been validated, representing a mere 5% of the stated objective.
Even if Qatar does buy 3.6 million carbon credits, reevaluation of the environmental impact of the tournament suggests that the action will remain insufficient, since the carbon footprint remains largely underestimated.
All in all, the official figures released so far by FIFA and Qatar fail to tell the whole sustainability story of the World Cup, concludes Alexis Normand:
"It is impossible to accurately estimate the carbon footprint of the World Cup in Qatar. However, with our calculations alone, we are already close to 6 million tonnes of CO2e, which is almost double the emissions announced by Qatar."
---
Further Reading:
---
---
>>> Do you have sustainability news to broadcast and share? If you would like to see it featured here on SustMeme, please use these Contact details to get in touch and send us your Press Release for editorial consideration. Thanks.
---