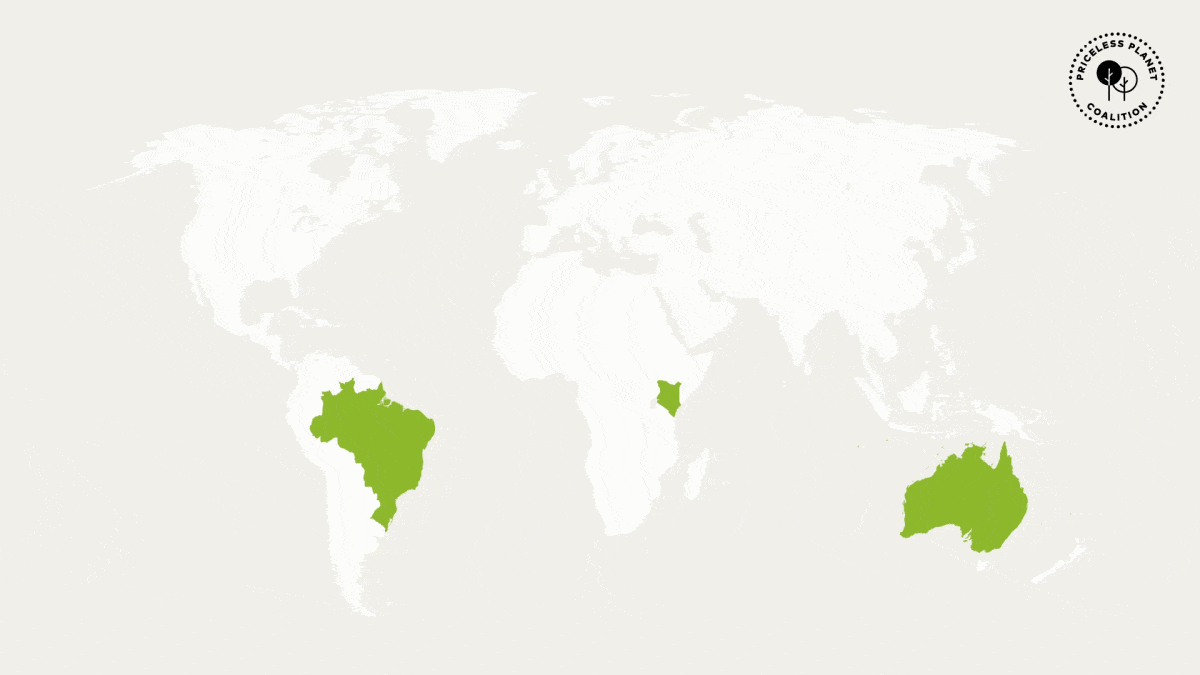 Reforestation matters. As reported previously on SustMeme, the planet was already losing a football pitch worth of rainforest every 6 seconds back in 2019 and things got even worse the year after, with degradation accelerating by a further 12%. The resulting carbon emissions from this primary forest loss in 2020 (2.64 Gt CO2) were equivalent to the annual impact of 570 million cars — more than double the number on the road in the United States. The very latest figures for tree loss from the University of Maryland will be released on Global Forest Watch this April.
In support of efforts to combat this damaging trend, global payments tech giant Mastercard is expanding the reforestation work of the Priceless Planet Coalition to include 15 new restoration projects, for a total of 18 globally. These projects will help accelerate progress toward the Coalition's goal of restoring 100 million trees.
Consumer desire to back initiatives that drive positive change for the environment is on the rise around the world. According to the Mastercard Economics Institute, consumer donations to environmentally focused charities grew 48.4% globally in 2022, when compared to pre-pandemic 2019 levels, outpacing donation growth to other organisations.
The project portfolio of the Priceless Planet Coalition includes diverse geographical representation in the following locations: Asia Pacific (Australia, Cambodia, China, India, the Philippines); Latin America (Brazil, Colombia, Guatemala); Europe (France, Portugal, Spain, Scotland); Middle East & Africa (Madagascar, Democratic Republic of Congo, Kenya, Malawi, United Arab Emirates); and North America (Mexico, United States). The expansion builds on the Coalition's existing planting progress under way in Australia, Kenya and the Amazon in Brazil.
Reforestation is widely acknowledged as one of the most impactful and cost-effective ways to positively counteract climate change. The Priceless Planet Coalition is not only focused on planting trees, but on re-growing forests in places with the greatest need and the most potential to have positive impact on climate, community and biodiversity goals.
Guided by its restoration partners, Conservation International and World Resources Institute, the Coalition employs science-based best practices to identify new project sites, select the appropriate tree species and ensure long-term forest health through ongoing monitoring, while also providing economic opportunities for local communities.
On such a global problem, working together is key, says Jorn Lambert, Chief Digital Officer, Mastercard:
"The Priceless Planet Coalition is focused on addressing the urgent global climate crisis by restoring the right trees in the right places. By collaborating with our global network of Coalition partners, we are able to further scale our forest restoration work and create collective action for the planet."
Companies, communities and consumers united in climate action
The Priceless Planet Coalition unites companies, communities and consumers in climate action and now includes more than 100 partners globally, including sustainably minded merchants, fintechs and global banks. Each partner is helping to fund forest restoration through consumer engagement and donation campaigns that encourage people to take climate-friendly actions or make direct contributions through a donation platform.
Natural capital is an asset to be valued and optimised using best practice, says Bo Lidegaard, historian, diplomat, former climate change negotiator, and advisor to the Coalition.
"There's growing acknowledgement that investing in the preservation and restoration of the natural world around us is critical also to tackling climate change. The Priceless Planet Coalition is designed in a way to maximise impact for the planet, rooted firmly in the best science and quality planning and monitoring."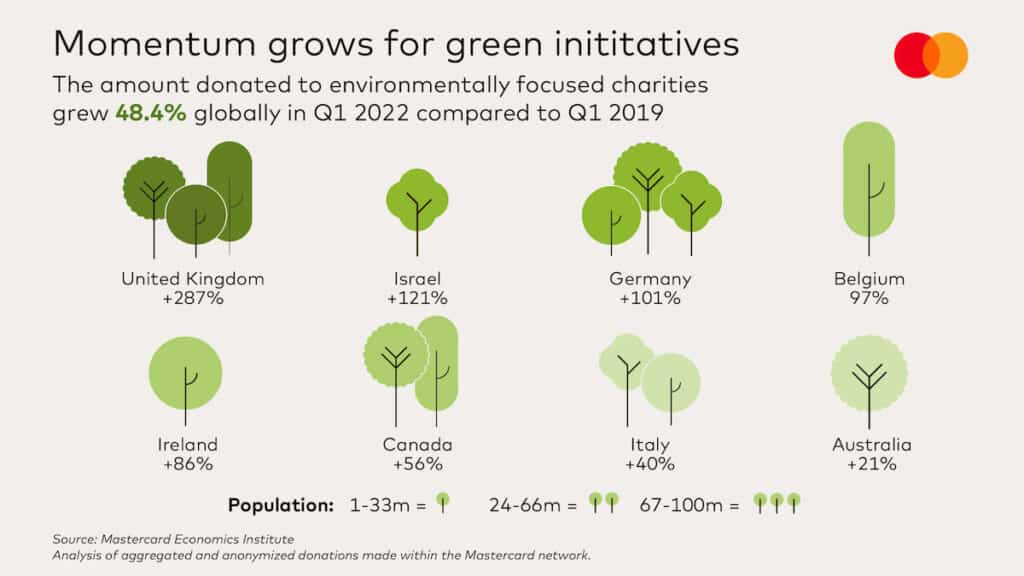 Consumer momentum for eco causes on the rise
Momentum for consumer support of environmental initiatives is growing steadily around the world. Recent insights from the Mastercard Economics Institute, which analyses macroeconomic trends through the lens of the consumer, show that donations to environmentally focused charitable organisations have soared in recent years.
Europe leads on this trend, with donations increasing in the UK (287%), Germany (101%), Belgium (97%), Ireland (86%), and Italy (40%) in the first quarter of 2022 compared to pre-pandemic 2019. Similarly, countries like Israel (121%), Canada (56%) and Australia (21%) also experienced significant growth during this time period.
Through innovation and trusted partnerships, Mastercard is committed to building a more inclusive and sustainable world with a digital economy that works for everyone, everywhere. The company accelerated its net zero timeline to 2040 and recently expanded its compensation model for all employees, linking it to three priorities across Environmental, Social and Governance (ESG).
As a global technology company in the payments industry, with connections across more than 210 countries and territories, Mastercard is also developing a range of products to enable more sustainable commerce via its Global Sustainability Innovation Lab.
---
Further Reading:
---
---
>>> Do you have sustainability news to broadcast and share? If you would like to see it featured here on SustMeme, please use these Contact details to get in touch and send us your Press Release for editorial consideration. Thanks.
---