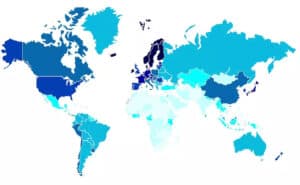 Where does your country rank for global sustainable competitiveness? Out now, the results of the Global Sustainable Competitiveness Index 2021 reveal the true measures of success for a nation-economy looking beyond GDP and redraw the world map, comparatively, on a country-by-country basis.
Historically, the success of a country has commonly been expressed in terms of its gross domestic product (GDP) — the total monetary or market value of finished goods and services. However, figures for GDP fail to reflect the underlying sustainability factors that should increasingly drive economic development and influence policy decision-making on environmental and social issues.
In first place for 2021, topping the Global Sustainable Competitiveness Index (GSCI) for a sixth successive year, is Sweden. Jumping up to second spot is Finland, followed by Switzerland, Denmark and Norway.
Overall, a small majority of countries worldwide (53%) are showing positive trends. However, when it comes to the metrics for Natural Capital, in particular, the bad news is that most actually show signs of deteriorating.
The five pillars of sustainable competitiveness for a nation-economy
Published since 2012 by the sustainable intelligence think-tank and consultancy SolAbility, the Global Sustainable Competitiveness Index (GSCI) is the most comprehensive ranking of countries currently available. The GSCI measures competitiveness of countries based on 131 measurable, quantitative indicators derived from reliable sources, such as the World Bank, the IMF, and various UN agencies.
The 131 Indicators are grouped into the five pillars of a nation-economy: Natural Capital; Social Capital; Resource Efficiency & Intensity, Intellectual Capital & Innovation; plus, Governance Efficiency.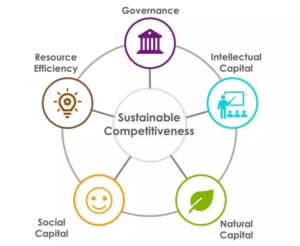 Key Take-Aways from the Global Sustainable Competitiveness Index 2021:
Scandinavia continues to top the ranking, with Sweden leading the Global Sustainable Competitiveness Index for 2021 — only Switzerland, in third place, breaks up this pattern of regional dominance;
Only two countries in the Top 20 are not European: Japan on 13, and New Zealand, 14 — South Korea follows on 21;
China is ranked 32 — very strong on Intellectual Capital, but low on Natural Capital;
The USA is ranked number 30, ranking particularly low in Resource Efficiency and Social Capital — potentially further undermining the global status of the US in the future;
Germany ranks 8th on the list, the UK 17th; Brazil is at 49, Russia 51, and India 130;
Some of the least developed nations have a considerably higher GSCI ranking than their GDP would suggest — for instance, Nepal, Guyana, Laos and Belize;
Asian nations (South Korea, Japan, Singapore, and China) lead the Intellectual Capital Index, the basis of innovation — however, their prospects of achieving sustained prosperity are potentially compromised by Natural Capital constraints and increasing Resource consumption;
The Social Capital Index ranking is headed by Northern European (Scandinavian) countries, which can be attributed to a combination of economic growth and a widely accepted social consensus.
The Global Sustainable Competitiveness Report 2021 is available to download in full, along with scoring and performance data, plus individual 6-page reports for each of the countries — all GSCI resources can be accessed through SolAbility.
---
Further Reading:
---
---
>>> Do you have sustainability news to broadcast and share? If you would like to see it featured here on SustMeme, please use these Contact details to get in touch and send us your Press Release for editorial consideration. Thanks.
---