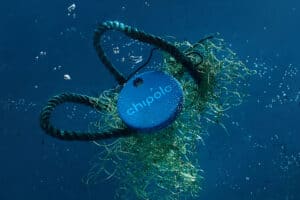 Misplacing or losing your everyday essentials can be at best frustrating, and at worst a real problem. Now, however, the process of finding them again can be made not only quicker and easier, but also more sustainable, thanks to technology designed to support marine conservation and ocean clean-up.
An innovative new Ocean Edition of the popular Chipolo ONE item-finder has been launched to help collaborative efforts to tackle the millions of metric tons of ocean plastic entering marine environments every year, plus contribute towards funding non-profit clean-up programmes.
Described as the first sustainable Bluetooth item-finder on the market, the Chipolo ONE Ocean Edition features a sustainably sourced outer shell made from plastic waste collected from the oceans that would otherwise be left to accumulate and cause risk to marine habitats and the wildlife.
The new Ocean Edition is designed to take action against the projected tripling of ocean plastic flowing into our seas, which is expected to reach a rate of 29MMT per year by 2040 — further causing harm to our climate and ecosystems.
With the help of trusted global marketplace Oceanworks.co, material recovered from fishing nets, trawls and ropes floating in the sea was collected in the shallow areas of ocean near the shoreline and turned into pellets, in order to then create the polypropylene plastic encasing the Chipolo ONE item finder.
Commenting on the collaborative approach, Rob Ianelli, Founder & President of Oceanworks said:
"Chipolo came to Oceanworks with a vision and determination to make their products sustainable. Our team has been impressed with the speed at which Chipolo have created the Ocean Edition, despite the manufacturing challenges with recycled ocean plastics that brands typically find themselves up against when innovating in this way. We live in a world of first-mover advantage and Chipolo has clearly stepped up their game when it comes to being sustainable while meeting consumer needs."
Without sacrificing any of the technological capabilities or style of the original Chipolo ONE, the Ocean Edition is available for just $30 USD/£30 GBP, with Chipolo also pledging $1 for every purchase towards the non-profit organisation Oceanic Global to support ocean clean-up efforts.
The Bluetooth tracker is lightweight and water-resistant for attaching to all essentials. The Ocean Edition comes equipped with all the advanced and free features of the Chipolo ONE including:
Notifications reminding you to take your essentials active up to a distance of 60m to 200ft;
A two-year battery life, following which consumers can take part in the replaceable scheme developed to reduce waste;
Use of the Chipolo app for IOS and Android, to find and track an item;
Access to the community of Chipolo users to receive location updates about a lost item;
Support from Google Assistant, Amazon Alexa and Siri for ringing the Chipolo using just your voice.
Explaining the thinking behind the launch, Primož Zelenšek, CEO and Co-founder of Chipolo said:
"Sustainability has always been a focus of Chipolo. With the success of our replaceable battery scheme we knew our consumers cared, that's why we wanted to use this ethos in every aspect of creation of the Ocean Edition, from the recycled plastic coating, down to the packaging using kraft brown paper and a woodfree paper sleeve that's completely recyclable."
Founded in 2013, Chipolo is an innovative multinational technology company, recognised as one of the leading brands on the Bluetooth tracker market. With Chipolo products, people can connect their belongings to the Chipolo app and from there on into a global community that is also open to external business partners and their products. Present in more than 200 countries and growing rapidly, Chipolo has already sold more than two million devices and is exponentially advancing its network by joining communities with Milwaukee, 4iii, Noodle and Wistiki.
---
Further Reading:
More on the clean-up programmes of non-profit organisation Oceanic Global;
More about Oceanworks.co, a trusted global marketplace that sources recycled materials from oceans worldwide;
Product and purchase information for the Chipolo ONE Ocean Edition, also available on Amazon.
---
---
>>> Do you have sustainability news to broadcast and share? If you would like to see it featured here on SustMeme, please use these Contact details to get in touch and send us your Press Release for editorial consideration. Thanks.
---