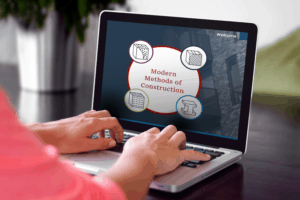 Deciding where you want to go is one thing; knowing how to get there is quite another. The launch this month of Offsite for Everyone will provide a big boost to hopes of the UK construction industry achieving the ambitious sustainability goals set out in the Government's Construction 2025: Strategy.
The Strategy targets 50% faster delivery, with 33% lower costs and 50% lower emissions. Critical to any chances of success will be the sector-wide embrace of offsite construction technologies and methods, which is where the new learning resource will help drive the modernisation needed.
At a major virtual event on 20th October, the Supply Chain Sustainability School will officially launch Offsite for Everyone, a comprehensive new suite of learning materials to guide the construction industry in its adoption of offsite construction and further the use of Modern Methods of Construction (MMC).
The launch day will feature a six-pack of taster workshops, as well as a 'fishbowl' debate with industry experts. Keynote speaker on the day is Mark Farmer, Founding Director and CEO of Cast, author of the influential Farmer Review 2016: Modernise or Die, which challenged the construction industry to prepare and transform itself to seize future opportunities and mitigate risks, embracing offsite technologies and methods.
Speakers will include: Emily King, Client Solutions Director, Mid Group; Alex Gosney, Head of Procurement-Infrastructure, Laing O'Rourke; Joe Dyde, Business Manager, Buildoffsite; Dominic Coyne, Director, Build Space; John Handscomb, Partner, Akerlof; and Oliver Novakovic, Technical and Innovation Director, Barratt Developments.
The need for change in construction
Meeting the targets set in the Government's Construction 2025: Strategy will require a shift both in behaviour and towards offsite methods of construction. To make that happen, it will be essential all parties working in the built environment have a robust understanding of the fundamentals and benefits of offsite construction.
The changes will affect not just business models, but job roles too, which is why Offsite for Everyone is targeted at both organisations and individuals, explains Ian Heptonstall, Director of the Supply Chain Sustainability School:
"We hear so much about the need to change the way we build, but very little about what have to do differently in our day-to-day jobs. Our new free to access, CPD-accredited, learning materials take six key job functions; design, project management, procurement, logistics, quantity surveying and site management, and for the first time outline what we must do differently if we are to reap the many benefits of offsite."
The suite of learning materials
With 105 Partners and over 14,000 member companies, the School is in a unique position to help organisations of whatever size improve their offsite construction maturity, whether new to the sector, or already active in the market.
The learning materials in Offsite for Everyone range from full-day courses, virtual courses and e-learning modules, to videos – all of which are free for anyone to use. With funding from the Construction Industry Training Board (CITB), the materials have been developed by the School in partnership with the Manufacturing Technology Centre (MTC) and National Open Colleges Network (NOCN).
For architects and designers, it is critical to the successful implementation of offsite that they follow a Design for Manufacture and Assembly (DfMA) process and consider offsite at an early stage – so, embedding knowledge of MMC within design professions is essential to increasing pre-manufactured value in the UK construction industry, says Nigel Ostime, Project Delivery Director at Hawkins\Brown:
"Implementing offsite requires a different mindset, which, once adopted, brings additional benefits, such as better collaboration (and therefore fewer disputes) and a better understanding of the construction and manufacturing supply chain, leading to reduced risk from building defects.
"However, each sector has its own specific requirements, so it is important to understand which MMC categories are best suited to each building type. The free-to-use School learning resources provide clear advice on this and have proved an invaluable resource for our designers, as well as forming networking and knowledge-sharing opportunities with likeminded professionals, constructors and manufacturers."
Construction recruitment business Build Space supported the School to develop the training modules, introducing key contacts to the course development team to bring relevant case studies and expert insight. The firm now requires that all candidates placed into offsite construction complete the relevant Offsite for Everyone training modules. Dominic Coyne, Director at Build Space explains:
"We have been helping offsite construction contractors build their teams for over 10 years and during this time we have seen some massive advances in the market. Quality, sustainability, design and cost have all improved immeasurably and constant advances being made need strong training to support them.
"The School training is a gamechanger, in a market with a major skills shortage, it is a great way of bridging the knowledge gap."
Procurement will have a key role to play in the future of offsite, says John Skivington, Group Director at LHC, which specialises in public sector frameworks and is working with social landlords on around 4,000 homes, promoting offsite manufacturing as a means of achieving better value on housing and construction projects:
"Through intelligent procurement, offsite can enable safer, greener buildings to be built more productively and for a lower lifetime cost. The range of offsite methodologies (in the MMC Definitions Framework) allows clients and designers a wide spectrum of choice for application of offsite, from low to high levels of pre-manufacture."
Ultimately, construction is changing and offsite is core to achieving a safe and successful transition towards more sustainable ways of working, says specialist in site and project management, Ken Farnon, Director at Cooley Construction Services, which places offsite at the heart of its construction and procurement strategies:
"The modern approach to construction is evolving and offsite solutions play a pivotal role in ensuring that the industry meets its goals of quality, efficiency and safety."
The Supply Chain Sustainability School
The Supply Chain Sustainability School is a multi-award-winning initiative which represents a common approach to addressing sustainability within supply chains. With more than 40,000 registered users, the School provides free practical support in the form of e-learning modules, tailored self-assessment and action plans, sustainability training and networking. The School is delivered by an independent third-party consultancy, Action Sustainability. Leadership is provided by a School Board comprising elected representatives of Partners, responsible for fiscal governance and strategic direction. A Code of Ethics is signed by all 100+ Partners as part of the School Constitution.
---
Further Reading:
---
---
>>> Do you have sustainability news to broadcast and share? If you would like to see it featured here on SustMeme, please use these Contact details to get in touch and send us your Press Release for editorial consideration. Thanks.
---