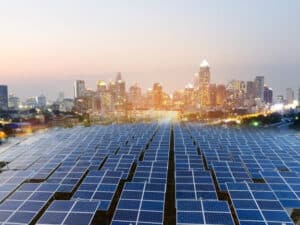 The push to power the State of New Mexico towards its carbon-neutral goals is set for a multi-billion-dollar boost in the form of cutting-edge 'digital twin' technology. Digital twins are virtual replicas of buildings, infrastructure and physical assets, fully interconnected with data in and around them. They help optimise project performance, plus predict and visualise future outcomes.
New Mexico is launching a new smart infrastructure and carbon-neutral energy era on a grand scale, after its 2019 Energy Transition Act (ETA) positioned the US state as a global leader in the fight against climate change. Its ambition will be enabled by a partnership between The Agile Fractal Grid (AFG) — developing a new integrated power and broadband network — and Cityzenith, creator of the revolutionary digital-twin platform SmartWorldPro.
The state and these partners predict the multi-billion-dollar project will transform life and the economy in New Mexico (which has a population of 2.35M and GDP of $104bn) and then ripple outwards, as other energy operators, states and nations see the benefits: 1,000s of new businesses, 100,000s of new jobs, better and faster data links, higher infrastructure efficiency, and up to six new smart cities.
The fossil fuel power of the 5th largest US state will also be replaced by a cleaner smart energy network, featuring North America's biggest solar and wind array, and generating ample surplus for trading on energy markets.
The New Mexico residents themselves will experience smart IT benefits in entertainment and hospitality venues, retail, transport hubs, health and hospitals, security, telecoms, power utilities, employment, and manufacturing.
Key to all this potential is Cityzenith's SmartWorldPro, a breakthrough software able to unify all planning data and diverse software. It speeds hi-res 3D digital-twin modelling of the replacement infrastructure towards efficient design before construction, and streamlines ongoing operation and development of the new assets.
Speaking about the State-wide initiative, Cityzenith's CEO Michael Jansen said:
"It's the kind of visionary project SmartWorldPro was designed for and we are already modelling New Mexico's biggest city, Albuquerque (915,000) before rolling out across the state over a 10-year programme.
"SmartWorldPro can integrate with AFG's futuristic portfolio of AI, smart building, and other technologies towards a 'Smart Connected Community' for cities, large venues, and even whole states."
Projecting both further ahead and afield, AFG CEO John Reynolds added:
"The project is a highly efficient deployment of services for 21st-century public, commercial, and industrial needs. But individuals will also be impressed by Living-as-a-Service™, the emerging bundled entertainment, ticketing, hospitality, housing, transportation, food and beverage, wellness, and utilities platform.
"And Cityzenith's SmartWorldPro means we can show and deliver this data-rich 'smart lifestyle' to everyone in New Mexico – urban and rural. Longer-term, this sustainable power, comms, and lifestyle 'reset' could span North America, and national 10GB broadband may be just 10 years away."
Agile Fractal Grid is based in Boston with offices in Seattle, Provo, Charlotte, and Fort Myers. The company's services platform provides important infrastructure for communications, distributed power at scale, and a variety of smart-city applications for both industry and for outright quality of living. Its Digital Twin is used for massive rollouts at scale. Its Tech-YOU-Topia constellation is poised to support new business upskilling at scale.
Cityzenith is based in Chicago with offices in London and New Delhi. The company's SmartWorldPro2™ Digital Twin platform was created for anyone designing, constructing, and managing complex, large-scale building projects, properties, and real estate portfolios.
Cityzenith recently launched its Clean Cities – Clean Future mission with a pledge to give the company's Digital Twin technology to the world's most polluted cities, one at a time, to help them achieve their carbon-neutrality goals.
Valued this year at just $3.1bn, the global digital twin market is forecast to achieve spectacular growth over the near future, with an almost 15-fold increase predicted to make it worth around $48.2bn by 2026.
---
Further Reading:
---
---
>>> Do you have sustainability news to broadcast and share? If you would like to see it featured here on SustMeme, please use these Contact details to get in touch and send us your Press Release for editorial consideration. Thanks.
---