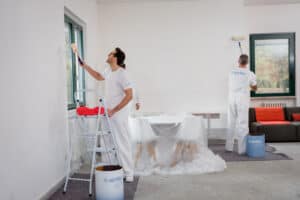 COVID-19 has jumped the topic of indoor air quality even higher up the health and wellbeing agenda for residential and commercial property portfolios alike. In response, a leading player in the UK real estate market is pioneering application of an innovative antiviral paint solution for interiors that is proven to fight both pollution and bacteria.
Grosvenor Britain & Ireland is the first UK landlord to adopt a ground-breaking environmentally friendly paint to drive sustainability, air quality and wellbeing across its portfolio.
Airlite paint mimics nature, actively purifying the air, neutralising pollutants and bacteria as well as breaking down viruses like influenza.
Independent studies have shown that Airlite is effective in breaking down pollutants. In Mayfair and Belgravia, Grosvenor supports 9,000 residents, around 1,000 businesses and 50,000 workers every day. Painting 50 typical 6-floor offices in Grosvenor's portfolio would neutralise the same amount of nitrogen oxide (NOx) as planting 100,000sq m of mature trees in the area.
The paint eliminates 99.99% of bacteria and destroys viruses on painted surfaces after 15 minutes of contact. It actively breaks down NOx to purify the air and reduce toxins indoors by up to 88%, as well as VOCs released from building materials, cleaning products and other solvents.
Airlite also has a carbon footprint up to 76% lower than paints currently used in Grosvenor properties; plus contributes to major building certification schemes such as BREEAM, LEED and WELL.
The air purifying, anti-viral and antibacterial qualities remain active for the lifetime of the paint.
For Grosvenor, trials with suppliers and tenants have confirmed the product's quality and led to its adoption. The paint has already been used in Grosvenor's headquarters in Mayfair and by tenants including renowned florist Pulbrook & Gould at its new Belgravia flagship store.
Tor Burrows, Director of Sustainability & Innovation, Grosvenor Britain & Ireland commented:
"Adopting this ground-breaking product will help us to drive the environmental performance of our buildings and air quality for those who live and work in Mayfair and Belgravia. Its ability to also kill bacteria and strains of influenza is a game-changing advancement for the wellbeing of all those in our places."
Further explaining the innovate benefits of the paint, Chris Leighton, Managing Director UK of Airlite, added:
"Previously, paint was solely decorative, but now, it can play an active role in your health.
"Especially in urban areas where pollution is at its highest, Airlite provides an escape from dirty air. This helps prevent respiratory problems arising and gives homes and workspaces the security and cleanliness that haven't been available from paints before now."
Grosvenor Britain & Ireland is part of a global property business that has been developing and managing land and property for over 340 years. With its heartland in London's West End, Grosvenor also creates and manages sustainable new neighbourhoods in London and across the South of England.
In 2019, Grosvenor set ambitious zero carbon, zero waste and biodiversity goals — working both in its directly managed properties and with tenants, the business will look to leverage the full sustainability and health benefits of Airlite for residents, workers, retailers and visitors.
---
Further Reading:
---
---
>>> Do you have sustainability news to broadcast and share? If you would like to see it featured here on SustMeme, please use these Contact details to get in touch and send us your Press Release for editorial consideration. Thanks.
---