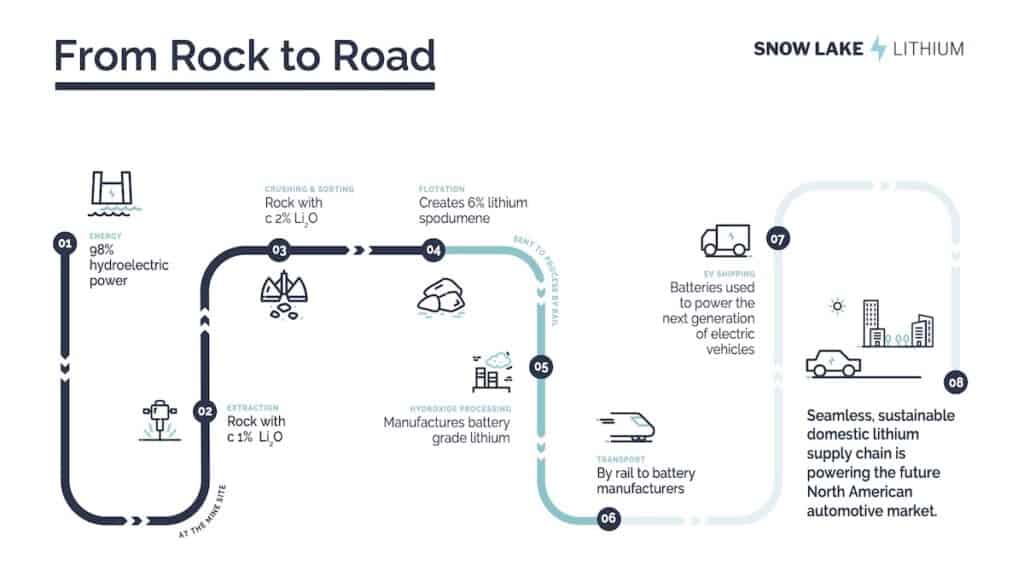 With sales of electric vehicles growing rapidly, the global automotive and energy storage industries are already competing to access the necessary raw materials, especially lithium, that provide key components for the batteries involved. Responding to rising market demand, Snow Lake Lithium Ltd (Nasdaq:LITM) has this month outlined plans to develop the world's first all-electric lithium mine, in Manitoba, Canada.
Snow Lake Lithium is committed to creating and operating a fully renewable and sustainable mine that can deliver a completely traceable, carbon-neutral and zero-harm product to the electric vehicle and battery markets. The company aspires not only to set the standard for responsible lithium mining, but also to be the first producer in the world to achieve Certified B Corporation status in the process.
The project aims to help develop a domestic supply of this critical resource for the North America electric vehicle (EV) industry. As the sector ramps up manufacturing capacity in support of the drive to go electric, it risks having to rely on importing lithium hydroxide from China and Asia, due to shortages in the US.
To enable the seamless integration of the new supply chain, Snow Lake Lithium is looking to establish a joint venture to create a lithium hydroxide processing plant and seeking a partnership with an automotive OEM or a battery manufacturer to deliver this.
Explaining the urgency of sourcing domestic supply to meet demand, Philip Gross, CEO of Snow Lake Lithium said:
"We are facing a once-in-a-century industrial pivot as North America accelerates towards an electrified future. If we don't act now to secure a seamless lithium supply chain from rock to road, the car industry here will not exist in 10 years' time.
Based in Manitoba, Canada, Snow Lake Lithium is ideally located to serve the North American automotive industry with access to the US rail network via the Artic Gateway railway, which reduces transportation from thousands of miles by road and boat to just several hundred by train.
Wholly owned by Snow Lake Lithium, the Thompson Brothers Lithium Project is forecast to produce 160,000 tonnes of 6% lithium spodumene a year over a 10-year period. The 55,318-acre site has only been 1% explored so far and contains an identified-to-date 11.1 million metric tonnes indicated and inferred resource at 1% Li2O..
The expectation is that the mine will transition to commercial production in late 2024, by which time it will be operated by almost 100% renewable, hydroelectric power to ensure the most sustainable manufacturing approach.
The Manitoba region itself has a rich history of mining, which will provide access to some of the most talented and experienced specialist workforce in North America, added Philip Gross:
"Mining runs through Manitoba's DNA. So, the evolution of the EV supply chain offers a unique opportunity to deliver economic growth and secure a sustainable future for mining for the province."
---
Further Reading:
---
---
>>> Do you have sustainability news to broadcast and share? If you would like to see it featured here on SustMeme, please use these Contact details to get in touch and send us your Press Release for editorial consideration. Thanks.
---