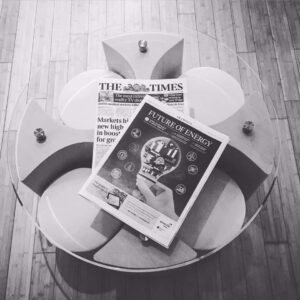 New writing… Pleased to say I have had another couple of pieces published in The Times newspaper today, as part of a special Raconteur report on the Future of Energy.
The Overview article which opens the report looks at how energy is not only being stripped of carbon emissions post-Paris, but it is also being disrupted by digitisation:
• 'Power play is an energy shake-up'.
My second piece on Page 4 reviews how progress on renewable energy has suffered setbacks in the UK, but opportunities ranging from the continent of Africa to the coffee shops of London show green alternatives to coal, oil and gas still offer long-term promise:
• 'Fears for UK green targets after Brexit'.
The full 16-page Future of Energy report is available to view/download here.