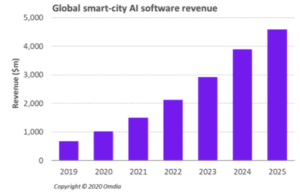 The advent of 4G and 5G internet of things (IoT)-based connectivity is driving the online migration of applications, helping generate a sevenfold increase in smart-city artificial intelligence (AI) software revenue by 2025.
In total, the global smart-city AI software market is set to soar to $4.9bn in 2025, up from just $673.8M in 2019, according to research by Omdia.
Wireless data communications standards are underpinning the move of smart-city applications into the online realm, where they can capitalise on the latest AI innovations. The growing capabilities of AI are, in turn, enabling data and insights collected through IoT to be monitored, analysed and acted upon, explains Keith Kirkpatrick, principal analyst for AI at Omdia:
"From video surveillance, to traffic control, to street lighting, smart-city use cases of all types are defined by the collection, management and usage of data. However, until recently, connecting disparate components and systems together to work in concert has been challenging due to the lack of connectivity solutions that are fast, cost-effective, low-latency and ubiquitous in coverage. These challenges now are being overcome by leveraging advances in AI and connectivity."
The arrival of 4G and 5G wireless data technologies is making it easier to collect and manage data. The deep analysis afforded by the application of AI technology can then identify patterns or anomalies within that data.
Using the power of AI, smart-city systems can create municipal systems and services that not only operate more efficiently, but also provide significant benefits to workers and visitors. These benefits might include reduced crime, cleaner air, improved traffic flow and more efficient government services.
---
Further Reading:
---
>>> Do you have sustainability news to broadcast and share? If you would like to see it featured here on SustMeme, please use these Contact details to get in touch and send us your Press Release for editorial consideration. Thanks.
---