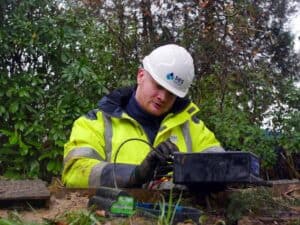 The promise of the Internet of Things (IoT) stretches far and wide, but a new collaboration between digital tech comms and traditional utilities illustrates its potential to dig deep and work in the wet too, by supporting efforts to help save billions of litres of water lost to leaks every day.
Vodafone has signed a 10-year deal with SES Water to revolutionise how water leaks are detected and prevented. SES Water will use Vodafone's Narrowband Internet of Things (NB-IoT) technology to create an intelligent water distribution network that aims to cut leakage by 15% over the next five years and pave the way for more than halving it by 2045.
In the UK alone, it is estimated that on average 3 billion litres of water is lost to leaks every day — the equivalent of 1,268 Olympic swimming pools. While SES Water has one of the lowest leakage records in the UK and has met its reduction target for the last 21 years, the company has set itself a challenging target to go further.
The project, now under way across east Surrey, west Kent, West Sussex and south London, follows Vodafone's smart water network pilot with South East Water last year. Vodafone and SES Water have been working over the past few months with partners to install specialist digital water meters, sensors and acoustic loggers on underground mains water pipes.
These devices were then connected using Vodafone's NB-IoT network, which operates within a very narrow radio band frequency enabling wider coverage and deeper penetration than traditional networks, so is perfect for use underground or within buildings.
Data will be collected and transmitted across the system, and advanced analytics will be used to monitor readings and alert SES Water immediately in the event of a leak, low pressure or other network abnormalities.
Acoustic loggers 'listen' for escaping water within the network to determine when leaks have occurred and to assist in pinpointing the precise location. Readings from smart meters will provide valuable insight into customer demand patterns so that SES Water can help customers to better manage their water usage, help reduce their bills and be alerted to leakage occurring on customers' pipework before it can cause any damage.
Highlighting the innovation involved, Anne Sheehan, Director, Vodafone Business UK, said:
"Internet of Things technology can make a real difference to the health of our planet. With World Environment Day serving as a reminder of the importance of sustainability issues, we are delighted to share a great example of the pivotal role technology plays in preventing water wastage, and helping SES Water in improve the service they provide their customers, while also meeting important regulatory and environmental standards."
Daniel Woodworth, SES Water's Network Strategy Manager, added:
"This collaborative project has been worked on for a number of months and will help us revolutionise how we detect and prevent any water leak — either on our mains or our customers' pipes — as soon as it occurs. In the future it could even enable us to predict and prevent pipeline failure before it happens."
NB-IoT operates at low power so that specially designed batteries within IoT devices in the field, such as sensors, can last up to 10 years. This, combined with good coverage indoors and underground, ensures that NB-IoT solutions are more sustainable, as well as being less expensive to install and run.
Vodafone is the world's largest IoT provider connecting over 100 million devices worldwide. Vodafone UK connects people, businesses and devices to help customers benefit from digital innovation. Its services span mobile, fixed-line connections, home and office broadband and the Internet of Things.
SES Water supplies to approximately 730,000 people in England, UK, across east Surrey, parts of West Sussex, west Kent and south London. Its water supply area covers some 322 square miles (835 sq km).
---
Further Reading:
---
---
>>> Do you have sustainability news to broadcast and share? If you would like to see it featured here on SustMeme, please use these Contact details to get in touch and send us your Press Release for editorial consideration. Thanks.
---