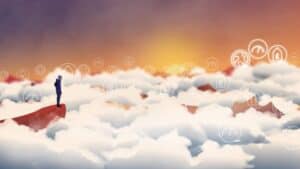 The sharp rise in virtual networking and video meetings when working from home has driven up demand for cloud computing throughout lockdown and beyond —but at what carbon cost? This week saw the launch of a real-time Index by UK tech specialist YellowDog that specifically adds in the carbon impact to allow assessment of sustainability across the 25,000 different options for cloud computing — this is the first time such a climate-aware evaluation has been possible.
The COVID-19 pandemic has accelerated the boom worldwide in cloud-based services such as Zoom, as well as the likes of Netflix. However, the range of different cloud-computing services is vast, complex and confusing, often frustrating sustainability aspirations for a digital recovery.
The number of combinations of processor, memory, bandwidth and related options, including geographic reach, are immense. The number of cloud instance types available today already stands at over 25,000 variants and is increasing by hundreds each month. Until now, finding the most cost-effective option with the lowest carbon footprint had proved almost impossible.
In response, YellowDog, a leading provider of multi-cloud workload management software, has launched an Index that enables businesses to choose the best source of compute by dramatically simplifying the analysis of the cost, performance, availability, and carbon impact.
The impact of the YellowDog Index is that, for the first time ever, cloud customers are able to instantly find the best source of compute that precisely matches their needs, on a spot to long-term basis. Using the Index, people can base their purchasing decisions not just on their technical requirements, but also on cost, availability, and, increasingly, the requirement of meeting renewable energy and carbon reduction targets.
This data is only now visible through the freely available Index, which covers all the major providers, monitors the changing pricing of cloud compute daily and integrates environmental data from Greenpeace and the latest numbers from the US Energy Information Administration.
The technology behind the YellowDog Index is an integral part of the company's Assura product, employed by organisations in areas such as financial services, meteorology, life sciences, and aerospace. However, the new Index also has a much broader appeal to all users of cloud compute, says Gareth Williams, CEO of YellowDog:
"Our software enables any business to find the best source of computing power. This may be where it's the cheapest, it has the lowest carbon impact or the highest performance at that moment in time. We've created a freely available Index so any business can evaluate and then choose the optimal cloud compute offerings anywhere in the world."
"Being able to assess the amount of renewable energy used for each cloud, alongside its cost effectiveness and computing power, is becoming increasingly important for some clients. This allows any business to navigate the vast, complex world of cloud computing and demonstrate how it meets its corporate sustainability objectives."
Founded in 2015 in Bristol, UK, YellowDog is a leader in software that delivers the Best Source of Compute for hybrid- and multi-cloud workloads. The YellowDog Platform is an intelligent, predictive scheduling and orchestration solution used all over the world for multiple applications. The company already works with cloud partners including Amazon Web Services, Microsoft Azure, Google Cloud Platform, Oracle Cloud Infrastructure, and Verne Global.
---
Further Reading:
---
---
>>> Do you have sustainability news to broadcast and share? If you would like to see it featured here on SustMeme, please use these Contact details to get in touch and send us your Press Release for editorial consideration. Thanks.
---