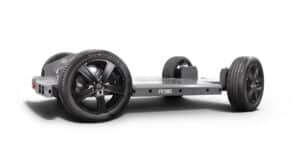 The transition to a low-carbon economy calls for innovation in many forms, across all industries and geographies. Critical to the development and commercialisation of key technologies — capable of driving mass-market adoption and mainstreaming — are the pioneers. In the vanguard of this sustainable revolution are the 10 early-stage companies who have this week been named as the BNEF Pioneers for 2020.
Now in its 11th year, the BNEF Pioneers competition has expanded its traditional focus from companies developing cutting-edge renewable energy products and services, to companies that are leading the transition to a low-carbon economy through a broader set of approaches. As a result, this year's winners are pursuing some of the most exciting opportunities in areas as diverse as advanced materials, distributed energy, industrial digitalisation, intelligent mobility, metals, satellites, and energy storage.
With assistance from BloombergNEF (BNEF) staff, an independent panel of industry experts selected the 10 winners from a pool of well over 100 applicants from 24 countries. The panel evaluated candidates against three criteria: the potential to scale the opportunity; the level of innovation of the technology or business model and novelty each company brings to market; plus, momentum as demonstrated by strong commercial development.
The 2020 BNEF Pioneers are:
Reviewing the roll-call of winners for 2020, Michael Wilshire, selection committee chair and head of strategy at BloombergNEF, commented:
"This year's BNEF Pioneers are addressing a diverse range of challenges faced by businesses and society. We are seeing continued strong innovation in the use of digital hardware and software technologies, advanced materials, storage, satellites, and recycling that will make our energy, transport and manufacturing industries cleaner, and more flexible and efficient.
"Three of this year's winners are in advanced transport. One is literally reinventing the wheel, putting intelligence and drives into each of the four wheels of a chassis to create a new flexible and modular platform for building new vehicles. Other companies are developing batteries that can be charged at lightning speed, or predictive systems for planning urban transport systems.
"A number of our Pioneers are using digital technologies to optimize energy systems and industrial processes, including factory automation and robotics, software platforms for digital transformation and virtual power plants assembled from decentralized assets.
"Several Pioneers have developed new materials or processes. These include a process for steel to be made without carbon emissions, an innovative technology for smart thermal storage and cooling, and new ways to recover useful plastic from waste. And this year we have our first Pioneer in space, which uses satellites to track greenhouse gas emissions."
Acknowledging the accolade, as one of the 10 winners, Daniel Barel, CEO and Co-Founder, REE Automotive (REE) said:
"We are delighted to be named as a 2020 BNEF Pioneer. Featuring revolutionary wheel corner modules and chassis design, the REE platform (pictured) enables EVs that are space optimised, autonomous ready and faster to develop, while providing customers with the freedom to design the vehicle they need in a flexible, cost-effective way. We are honoured to be recognised by the BNEF experts for our innovative approach and production-ready e-Mobility technology".
With a team of experts spread across six continents, BloombergNEF (BNEF) is a leading provider of primary research on clean energy, advanced transport, digital industry, innovative materials, and commodities. BNEF is powered by Bloomberg's global network of 19,000 employees in 176 locations, reporting 5,000 news stories a day.
---
Further Reading:
---
---
>>> Do you have sustainability news to broadcast and share? If you would like to see it featured here on SustMeme, please use these Contact details to get in touch and send us your Press Release for editorial consideration. Thanks.
---