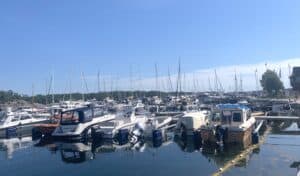 In a year of pandemic lockdown and associated economic disruption, it might seem unlikely to learn that any holiday destination would be worried about enjoying too much of a good thing in terms of tourist numbers, but where water scarity is involved, more can actually mean less, for everyone. Happily, a timely investment in seawater harvesting technology is proving the solution to exactly that dilemma for one high-traffic location.
Baltic Sea island idyll Sandhamn is seeing record numbers of boat folks visiting this year as Swedes look for holiday alternatives to their usual Mediterranean seaside haunts due to Covid-19.
That's the good news for the island. The bad news is that for the 100 or so people who live there all year round and rely on tourism, the upswing in visitors is further threatening the island's scant water resources that are running seriously low as a result of climate change and overuse.
In response, a unique seawater harvesting partnership has been developed between the Royal Swedish Yacht Club, KSSS, and Sweden's global watertech company Bluewater. Now in its third year, this climate-adaptive initiative has brought hope to the picture-postcard town that its income-attracting marina and surrounding beaches will not cause the Stockholm archipelago island community to run out of water.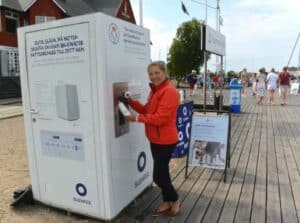 The two organisations have teamed up to harness Bluewater's innovative water purification technology to pump, purify and dispense pure water on a massive scale to the 10,000 boats expected to visit the KSSS marina at Sandhamn this summer during its 20-week boating season.
The solution to water scarcity is desperately needed, says Bluewater project leader Marie Båge:
"Already the marina has seen a big increase in boat numbers, which could have spelled disaster for the island's shrinking water reserves."
Bluewater's unique seawater harvesting technology was chosen by KSSS to provide boating tourists to Sandhamn access to over 40,000 litres daily of freshwater directly harvested from the sea. This is water that they can use for drinking, cooking or showering — and even to wash down their boats.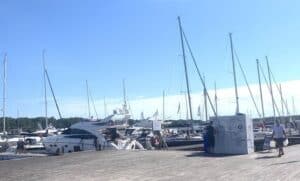 The Bluewater system involves harnessing the company's highly advanced direct-flow PRO 600 model to purify water pumped from the heavily polluted Baltic Sea, removing all traces of bacteria, viruses, chemicals, and microplastics. The purified water is stored in 12 cisterns for acess via dispensers and standpipes. The system can purify up to 40,000 litres per day, which over the season translates into a massive half-a-million litres of water that will not need to come from the island's threatened aquifers.
Bluewater, which has put environmental concern and ending the need for single-use plastic bottles of water at the heart of its business vision, is also offering the yachties the opportunity to buy the company's slick BPA-free stainless steel and glass bottles. The bottles have already proven a big hit at sporting and musical events around the world with organisers wanting to make an eco-friendly commitment to removing single-use plastic.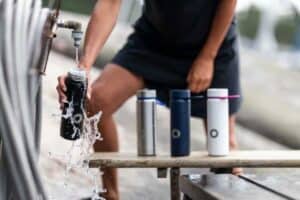 Bluewater bottles were used at all the stopovers of the last edition of The Volvo Ocean Race from Alicante in Spain to Auckland, New Zealand, and Newport, Rhode Island, in the USA. Bluewater also helped the world's top golf authority, the R&A, end the sale of throwaway plastic bottles at the 2019 edition of The Open golf tournament at Portrush in Northern Ireland, where some 40,000 spectators purchased a bottle from the Stockholm-based company.
Bluewater is a world leading, Swedish water purification company with regional sales offices in the USA, China, South Africa and Europe. Bluewater innovates, manufactures and comercialises compact water purifiers for residential, business and public use that harness the company's patented reverse osmosis technology to remove virtually all pollutants from tap water, including lead, bacteria, pesticides, medical residues, chlorine, microplastics, and lime-scale.
---
Further Reading:
---
---
>>> Do you have sustainability news to broadcast and share? If you would like to see it featured here on SustMeme, please use these Contact details to get in touch and send us your Press Release for editorial consideration. Thanks.
---