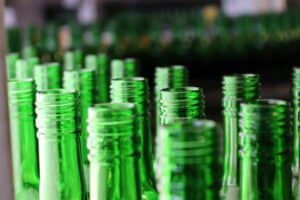 An aspirational mission to create the most sustainable glass bottle ever seen has been lauded a major success by the industry, following initial results from a groundbreaking trial. It is hoped that this world-first initiative will pave the way for an industry-wide reduction in carbon emissions, as the glass sector moves away from fossil fuels, and towards low-carbon alternatives.
The revolutionary project was undertaken by glass container manufacturer, Encirc (a Vidrala company), working alongside industry research and technology organisation, Glass Futures. The trial proved that new bottles are able to be made from 100% recycled glass, using only the energy from burning ultra-low-carbon biofuels.
Made out of waste organic materials, biofuels are a renewable and more sustainable fuel source than those traditionally used by the glass sector, with potential to reduce the carbon footprint of each bottle by up to 90%.  By using up to 100% recycled glass to create the new bottles, the trial has been able to further minimise the lifetime impact of these products. 
More in-depth results from the trial, taking place at one of Encirc's plants in Derrylin Northern Ireland, are expected to come in over the next few weeks and will feed into UK Government policy around decarbonisation. The project forms part of the Department for Business, Energy and Industrial Strategy (BEIS) Energy Innovation Programme, within which Glass Futures is leading a £7.1M project to help determine the most effective route to switch the glass sector to low carbon fuels.
A key focus for Glass Futures, and the biofuel project, is further reducing the sector's carbon footprint and the impact of the glass manufacturing in the UK, futureproofing an industry directly employing 23,000 people.
Commenting on the breakthrough, Fiacre O'Donnell, Director of Sustainability, Vidrala (parent company of Encirc), said:
"The results we're seeing from this biofuel trial are truly remarkable, and paint a very bright and sustainable future for our industry. We're also looking into the development of hydrogen, and advancements in electric melting to truly discover the future of glass production. These ultra-low-CO2 containers we're making are being produced for some of the biggest names in the drinks industry, showing how united we all are in our quest for total sustainability.
"By working with Glass Futures, we have helped pioneer the development of a glass bottle which is net-zero-ready, meaning it will truly have no negative impact on the environment throughout its entire lifecycle."
Adrian Curry, Managing Director at Encirc added:
"This is a truly momentous occasion for glass. We have set the standard globally with this trial and now the glass industry needs to work towards realising what we've proved is possible."
Heralding the achievement Aston Fuller, General Manager of Glass Futures, concluded:
"The trial is delivering fantastic results for the manufacturer, end user and consumer. Glass is a fully recyclable and highly sustainable product, but through this trial we are beginning to see the dawn of net-zero technologies."
Encirc, part of the Vidrala group, is a market leader in glass container design, manufacturing, bottling and logistics solutions for the UK, Irish and European food and beverages industries. With over 1,500 employees, it operates from its three purpose-built sites in Derrylin, Co Fermanagh, Elton, Cheshire and Corsico, Italy. The company produces more than three billion glass bottles and other containers annually, and can fill up to 250 million litres of bulk shipped beverages every year.
Glass Futures and the BEIS Industrial Fuel Switching Competition Phase 3
Led by Glass Futures on behalf of the UK Government Department for Business, Energy and Industrial Strategy (BEIS), the £7.12M fuel-switching project is evaluating alternative technologies for the glass sector. It is exploring the associated technical, economic and environmental aspects of electric, hydrogen, bio-fuel and hybrid-fuel melting technologies with the objective of designing a flexible demonstration-scale glass furnace.
This project involves multiple industry partners and includes biofuel trials on a full-scale commercial line and a large lab-scale hydrogen demonstration. If successful, these low-carbon fuel technologies have the potential to remove up to 1.2 million tonnes CO2 emissions per year by 2030, totalling more than 20 million tonnes by 2050.
The study and subsequent report will highlight what can be achieved on different glass manufacturing production platforms and will influence the most suitable routes for industry and government to work across in delivering the range of options best suited to decarbonise a given site. The Glass Futures study, which is due to be completed in December 2021, will investigate and recommend the most cost effective and environmentally efficient routes to decarbonise.
Collaborating to deliver net zero, Glass Futures Ltd is a not-for-profit Research and Technology Organisation connecting the glass industry and academia to create a Centre of Excellence in glass comprising R&D, innovation, training and up-skilling. Central to the proposition is a demonstration-scale glass making facility of 30 tonnes per day capacity.
---
Further Reading:
---
---
>>> Do you have sustainability news to broadcast and share? If you would like to see it featured here on SustMeme, please use these Contact details to get in touch and send us your Press Release for editorial consideration. Thanks.
---