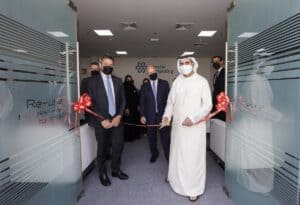 Having become the first company in the world to receive a BSI Kitemark for a circular production process, a carbon-neutral laptop remanufacturer from the UK is now expanding its state-of-the-art production facility at the Ras Al Khaimah Economic Zone (RAKEZ), in the United Arab Emirates (UAE).
The investment of AED8M (over £1.6M) by Circular Computing will boost its facility to 27,460sq m in total and support a production rate of 50,000 rebuilt laptops per month within two years, creating around 300 new jobs in Ras Al Khaimah.
The Circular Computing production process sees pre-used laptops remanufactured to be 'equal to or better than new' in terms of appearance and function. The BSI Kitemark is a prestigious product and service quality mark, first registered in 1903 by the British Standards Institution, now recognised worldwide.
Circular Computing's remanufacturing process creates a positive environmental impact through sustainable savings of 316 kgs of CO2, 1,200 kgs of resource preservation and 190,000 litres of water. The company's products are also 100% carbon neutral and it plants trees for every laptop sold. So far, Circular Computing has planted nearly 200,000 trees, which should absorb almost 120 million kgs of CO2 from the atmosphere.
Defining step on the remanufacturing journey
Held in recognition of both the Kitemark award and the significant new investment in production space and jobs, a re-opening ceremony was conducted at Circular Computing's newly expanded facility, attended by Sheikh Mohammed bin Humaid Al Qasimi, Managing Director of RAKEZ, and Her Majesty's Consul General Simon Penny from the British Embassy in Dubai. Speaking at the occasion, Rod Neale, Founder of Circular Computing, said:
"This is about sustainability without compromise. In 2015, we decided to build the world's first factory dedicated to bringing professionalism, legitimacy, purpose and scale to the re-use of laptop products and we have spent the time from then to today learning and earning our skills. Today is a defining step.
"The BSI Kitemark certification confirms the end of one journey, to develop the technology and skills to be able to deliver a product that is defined as 'as new', and the beginning of a new journey, which is to make the buying of pre-used tech that has been remanufactured to an 'as new' state a normality."
Congratulating Circular Computing on its back-to-back achievements, Ramy Jallad, Group CEO of RAKEZ, said:
"It is very rewarding for us to see our clients achieve milestones and embark on expansions aligned with their vision. We are happy to be part of Circular Computing's impactful and sustainable journey."
Presenting the team at Circular Computing with the first ever BSI Kitemark in Circular Remanufacturing, Simon Penny congratulated RAKEZ for supporting the company's sustainable growth plans and added:
"Circular Computing is a great British company demonstrating the circular economy in action. Old laptops are saved from landfill and sustainably remanufactured, supporting communities, education providers and businesses in adopting sustainable IT and working towards being carbon neutral."
RAKEZ is a business and industrial hub established by the Government of Ras Al Khaimah in the United Arab Emirates. It hosts over 15,000 companies coming from over 100 countries and operating in more than 50 industries.
Circular Computing is the world's first secondary equipment manufacturer. Its carbon-neutral remanufactured HP, Dell and Lenovo laptops deliver 97% of the performance and up to 40% cost savings compared to the latest models.
HP has now begun promoting Circular Computing carbon-neutral laptops to purchasers alongside the tech giant's own new editions, plus Atos has just announced a new global partnership to sell the firm's remanufactured products.
---
Further Reading:
---
---
>>> Do you have sustainability news to broadcast and share? If you would like to see it featured here on SustMeme, please use these Contact details to get in touch and send us your Press Release for editorial consideration. Thanks.
---