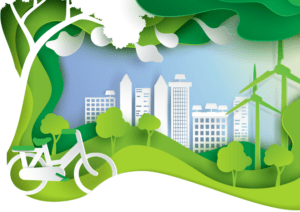 In a ranking of the greenest cities in the UK, placed first overall, with the highest average score across 10 data points, is Durham. In second spot, but best for recycling, is Swansea. Another North-East sucess story, Newcastle comes third on the list.
This recent pre-COVID analysis of 59 UK cities by The Solar Centre has revealed which urban centres across England, Scotland, Wales and Northern Ireland are contributing most to the environment. The research collected the latest government data for 10 distinct environmental factors, to assess how well different areas were performing overall towards climate change goals and sustainability targets.
One interesting disconnect concerns the significant discrepancies revealed across different environmental factors. London, Manchester, Birmingham, Bristol and Southampton, for instance, are all in the top 10 for CO2 emissions per capita, but all in the bottom 20 for air quality.
As a result, London and Manchester both end up amongst the least environmentally friendly cities. The bad news for residents and businesses located in and around the banks of the River Tay in central Scotland is that Perth comes bottom, ranked the least green city in the UK.
Durham comes out top across 10 categories, with a highest average score of 7.77. Swansea and Newcastle are second and third respectively, with Perth coming last with a score of 3.91.
Durham has the best score for air quality, as well as scoring highly for the quality of its green parks and number of nearby nature reserves. Other cities that scored well for air quality were Bangor, Carlisle, Sunderland, Dundee, Peterborough, Preston and Inverness.
Since the 2008/09 financial year, County Durham has reduced its carbon emissions by 47%, according to results from the latest financial year (2018/19). At present, the city of Durham itself has a number of key initiatives planned or in place, as part of its strategy to reduce emissions overall by 80% by 2030.
These plans include a programme of solar panel installations and allocation of £2M to retrofit buildings to improve energy efficiency, plus working with schools to educate pupils properly on energy consumption.
In second place on the ranking, Swansea boasts an excellent recycling rate — a success factor common to all cities in Wales, which is the first UK nation to meet the EU's 50% recycling requirement. Outside of Wales, some of the best-performing cities for recycling are Bath, Ely, Perth, Oxford, Armagh and Cambridge, all of which also meet the 50% requirement.
Interestingly, whilst Newcastle upon Tyne is second in England, its close neighbour Sunderland places in the bottom five in the UK overall. Both score quite poorly for recycling rates, however Newcastle far outranks its Tyne and Wear rival for the quality of its parks and number of nearby nature reserves.
Another notable finding is that a lot of major cities are doing well in terms of CO2 emissions and energy consumption per capita, with London, Manchester, Birmingham, Bristol and Southampton all featuring in the top 20 for both categories. However, when it comes to air quality, all five are in the bottom 20.
Most major cities have in place, or are planning, clean air zones in order to reduce greenhouse gas emissions in highly populated areas. London has had the first ultra-low emission zone in place since April 2019, whilst Manchester, Bristol and Birmingham all plan to introduce clean air zones in the future.
Reflecting on the results of the research, Brian Davenport, Director of The Solar Centre, commented:
"We are pleased to see how well some cities are doing towards helping the environment and the tireless work of Durham and others is so important to the health of our planet. It is also good to see major cities taking big steps to reduce their carbon emissions. Hopefully, more cities in the UK can introduce similar initiatives in the future and continue to work towards the government's goal of reducing greenhouse-gas emissions to net zero by 2050."
With a commitment to sustainable energy innovation, The Solar Centre employs the latest battery, LED and solar technology to ensure year-round reliability across its product range. The eco brand supplies a large number of businesses and organisations of all sizes, including high street retailers, e-tailers, government departments, local and county councils, schools, colleges, universities, NGOs and charities.
---
Further Reading:
---
---
>>> Do you have sustainability news to broadcast and share? If you would like to see it featured here on SustMeme, please use these Contact details to get in touch and send us your Press Release for editorial consideration. Thanks.
---